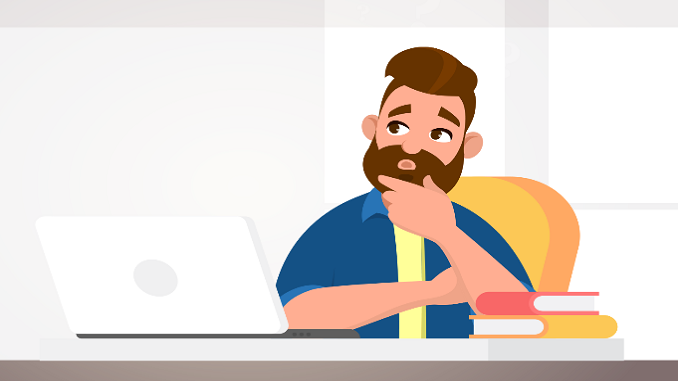 As many of my Twitter followers are aware, I let them know that Conister was offering Bounce Back Loans within two minutes of them making their systems live.
My stats revealed that I sent over some 282 people to the Conister website, and as such I was confident, that the majority of those applying and hopefully being approved would be followers or lurkers of my Twitter account. That has proven to be the case.
Looking at the number of people who have gone on to be approved and paid out day after day, those stats have proven to be reliable.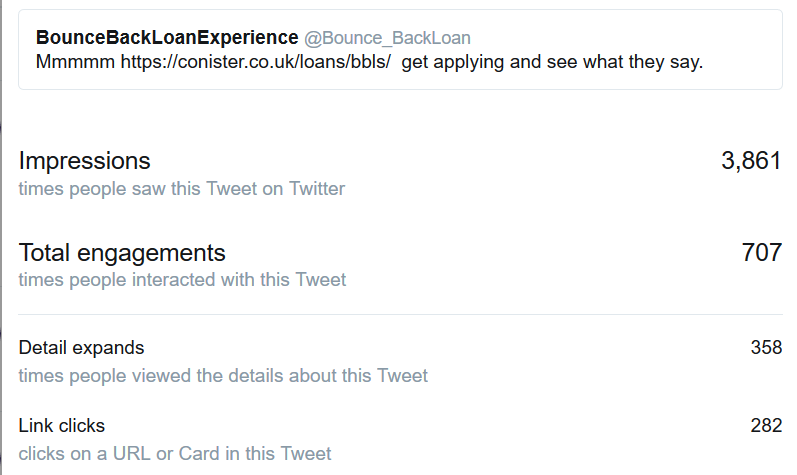 However, there has been no end of problems experienced by those that did apply, and they are very well documented on this website and on my Twitter account too.
Ongoing Conister Bounce Back Loan Problems
Conister Still Leaving People in Limbo
Open Letter to Conister Bank – How to Fix Things
Conister Approving BBL Applicants Then Declining Them
Conister Making Mistakes and Errors Day in Day Out
Conister Slam the Door to Bounce Back Loans Applicants
Timeline of Conister Bounce Back Loan Disaster
Today I am going to reveal some facts and figures surrounding their Bounce Back Loan scheme, which will certainly be an eye opener for many of you.
Keep in mind that compared to many other British Business Bank accredited Bounce Back Loan lenders they have a tiny team processing applications, and whilst they did enter into the spirit of the scheme by allowing non account holders to apply for a BBL with them, they are not in any way shape or form set up to handle volume.
Read on as you will discover they are still plodding through applications, at what can best be described as at a snail's pace, based on the fact they made their scheme live on August the 26th.
Conister Allocated £10m to Lend Via BBL's
Conister had set aside to lend as part of their Bounce Back Loan scheme some £10m, that by the way is the minimum amount any bank or lender has to have available if they apply to become an accredited BBL lender.
That equates to approximately 333 Bounce Back Loans, as the average amount applied for by business owners is some £30k.
Conister Announcement
The following announcement is from Conister, and as you will see, the number of applicants based on how many they could service via their allocated funds is at the heart of their many problems.
"We have received an allocation limit of £10m for the BBLS scheme. In the interest of fairness, we initially planned to split our funding allocation evenly between new and existing customers but due to the huge volume of new applications we received, refocussed this to new customers.
For reference, to date we have received 4,607 applications with a total amount of £162,739,000 – most of this was within 72 hours of going live.
We have since made the decision to close new applications but are in the midst of processing 301 customers with a total amount of £11,675,997.
We have so far approved 60% of these applications and are monitoring the situation very closely.
We will adjust our focus where possible in order to service the needs of small businesses across the UK."
So, after 42 days they have so far "approved" 180 applications, which, if they work weekends is some 4 applicants per day! Hardly Earth shattering, in fact on average with all lenders counted, each of those lenders collectively on average, all things being equal (which they are obviously not) are processing slightly less than 4 applications per hour, but Conister are doing that per DAY!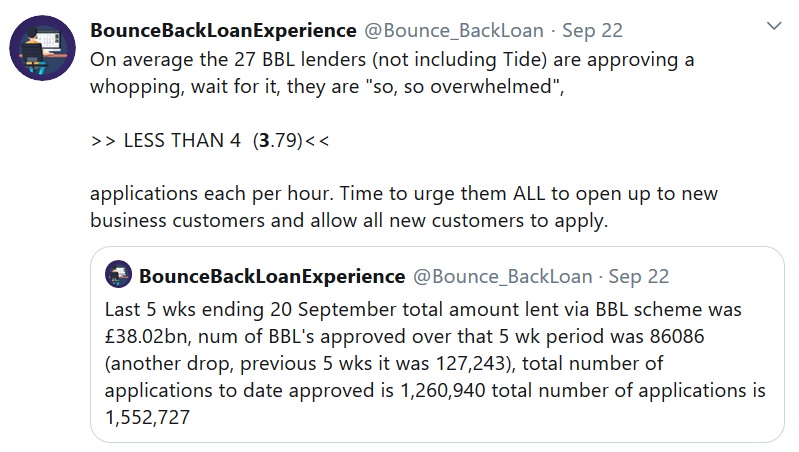 A Small Selection of Followers Tweeting They Had Been Paid
Below are just a tiny number of my Followers and Lurkers on Twitter that managed to secure a Bounce Back Loan from Conister.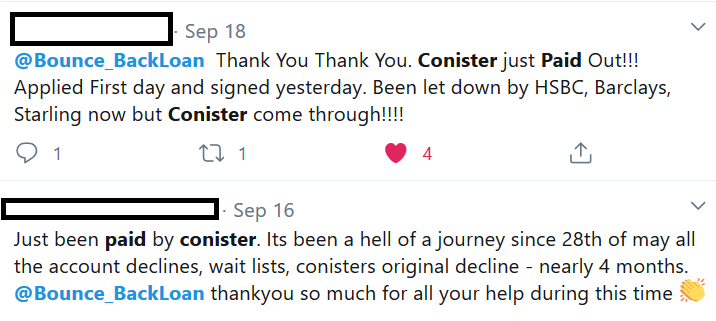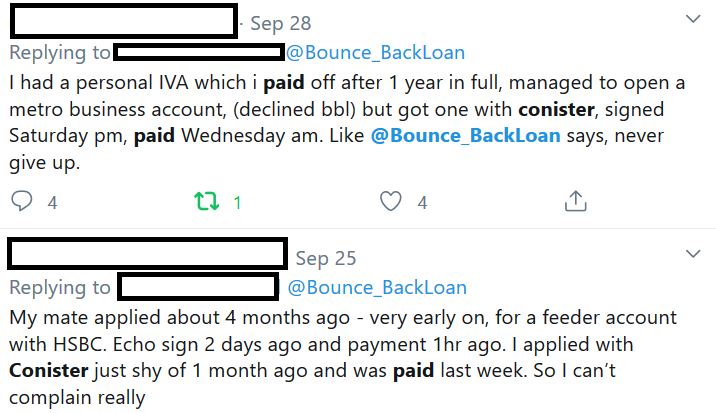 Applying for a Bounce Back Loan
If you are new here and are looking for a list of banks that are accepting new customers then click HERE.
CEO Email Addresses
One way to get some action or some form of update from a bank when you have been waiting a long time for a BBL or bank account (including feeder and servicing accounts updates), is to contact the CEO of the bank and a full list of CEO email addresses are on this page of the website