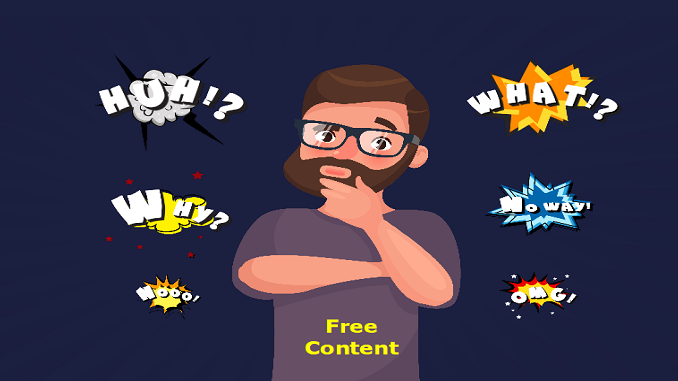 The alarm bells started to sound in my head the other week when it became apparent the Back British Business website was not working as it should do, and there had been a lack of updates from them.
Back British Business are of course the law firm that had been offering a "challenge your Bounce Back Loan" service.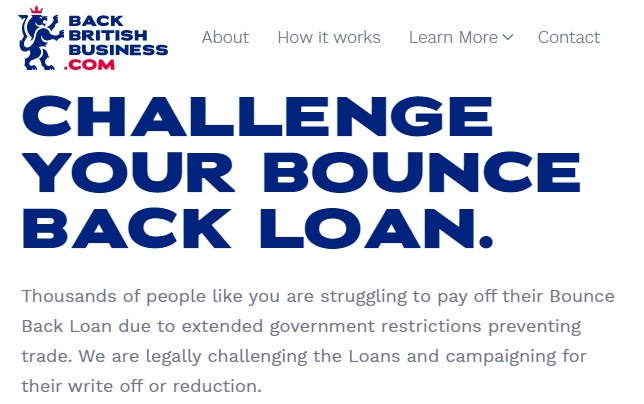 Having met the Lead Lawyer and their team in person, and having interviewed them a couple of times, I contacted them to ask them why their website was not allowing new clients to sign up to their service, and I also asked for an update on their legal challenge.
Well, Wasif Mahmood the Lead Lawyer was happy to give me an update, and as you will see from that update below, there is good reason they have chosen to stop accepting new clients for now, but he has assured me that those who did sign up are being looked after regarding the requirements of their individual retainers with them.
As I mentioned many times, most people were taking a "wait and see approach" regarding using their services and as such whilst a great many people did show an interest, and many did sign up, not many people with a BBL were in a position to sign up and pay for their legal challenge.
I have been told by Wasif that if he does finally get a positive outcome or even a decent engagement with the Financial Ombudsman Service or any bank, for those current clients, he will let me know.
Below, in full, is their update.
Update from Back British Business
After careful consideration, and a lack of engagement both from the Financial Ombudsman Service (FOS) and the banks, Back British Business (BBB) are no longer taking any future cases forward.
We had hoped for engagement from the banks and for a response from the FOS so that they could consider the legal points we had raised, but sadly have not received any meaningful response to the enquiries we made.
As it stands, BBB cannot in good conscience continue to sign up people to a claim that have not had an outcome as desired, due to the lack of engagement from the banks and the FOS.
We want to reassure our existing customers that we will undertake the necessary steps to ensure that we have met the requirements of our individual retainers with you.
Whilst a decision has been made to end this initiative, we will keep an eye on the responses as they are received and, subject to client permissions, we will happily report back through Mr Bounce Back on those outcomes.
END OF UPDATE
Financial Ombudsman Service Official Response
I did reach out to the Financial Ombudsman Service for comment, and Nicky Bason from their Press Team initially  said he had no knowledge of the legal firm or the legal challenge, I then told him in detail who they were, the terms of the Bounce Back Loan scheme regarding the FOS's duty and a few other things he should have been more than aware of, which magically appeared to jog his memory.
He then told me he remembered who they were and that any such cases that work their way through their system that a decision is given upon (starting with the initial Case Worker) if the complainant then appeals that initial decision and the case then works its way through to a real life Ombudsman (as happens when someone submits a complaint but appeals the initial decision) the final Ombudsman decision will be made public in due course.
I do track all of those outcomes by the way, and you will find 100+ of them related to Bounce Back Loan complaints on the link below, but none of them as yet relate to the challenging of a Bounce Back Loan.
Link>> BBL Complaints and Outcomes
My Thoughts
How do I feel about the above news? Well, it did become apparent to me and probably you too that whilst some people could afford to pay to challenge their Bounce Back Loan, many simply couldn't afford to do so and as I say many therefore adopted a wait and see approach.
As the law firm are still going to be doing what they set out to do in the requirements of their individual retainers for those who did sign up to utilize their services, no one has been ripped off, which would have been an outrage if they were.
It comes as no real surprise that the Financial Ombudsman Service (FOS) are pulling the stunts mentioned above, for let's face it, Baroness Zahida Manzoor CBE who is the Chair of the Board of the FOS, who is also a Member of the House of Lords, did vote NO (Not Content) for extra protections for those with a Bounce Back Loan in the House of Lords back on July the 20th 2020 when Baroness Bowles of Berkhamsted tabled such an amendment to the Business and Planning Bill: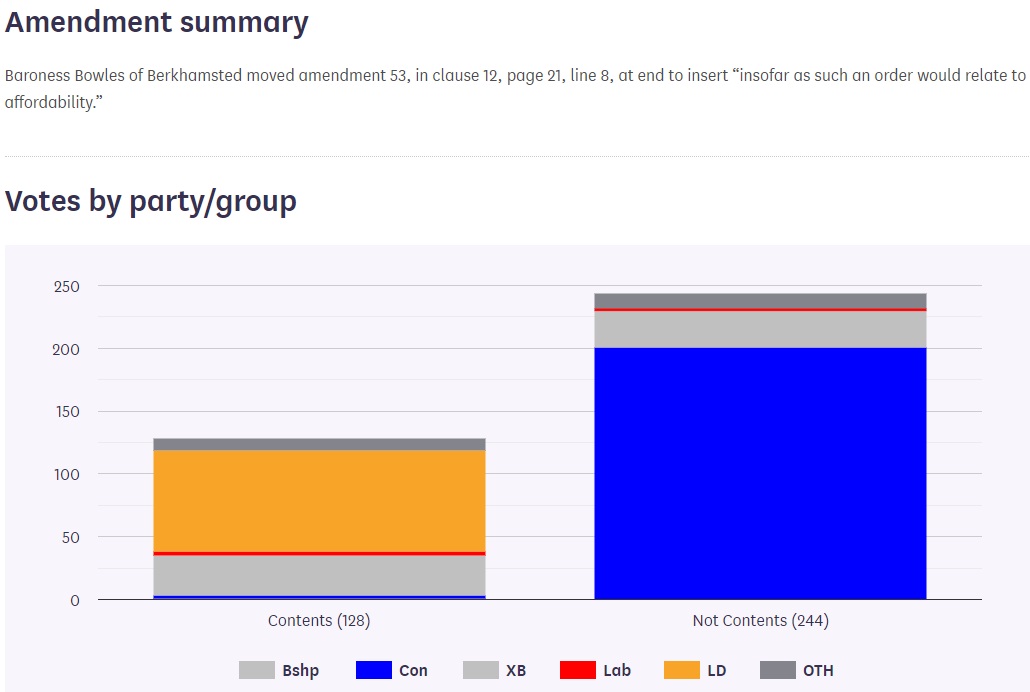 Oh Look Lord Agnew voted NO, so did Baroness Morgan of Cotes, who at the time, please do not choke on your coffee, was the Strategic Adviser, Step Change Debt Charity (interest ceased 18 June 2021) and many other Conservative Lords did vote NO too, many of whom had shares in Bounce Back Loan lenders.
You will find plenty of them listed on the link below:
Members of the House of Lords with Links and/or Financial Interests in CBILS, CLBILS, BBL and Recovery Loan Lenders
I did of course complain, as I felt they had a conflict of interest in voting no, but alas the complaint was tossed aside like a used tissue: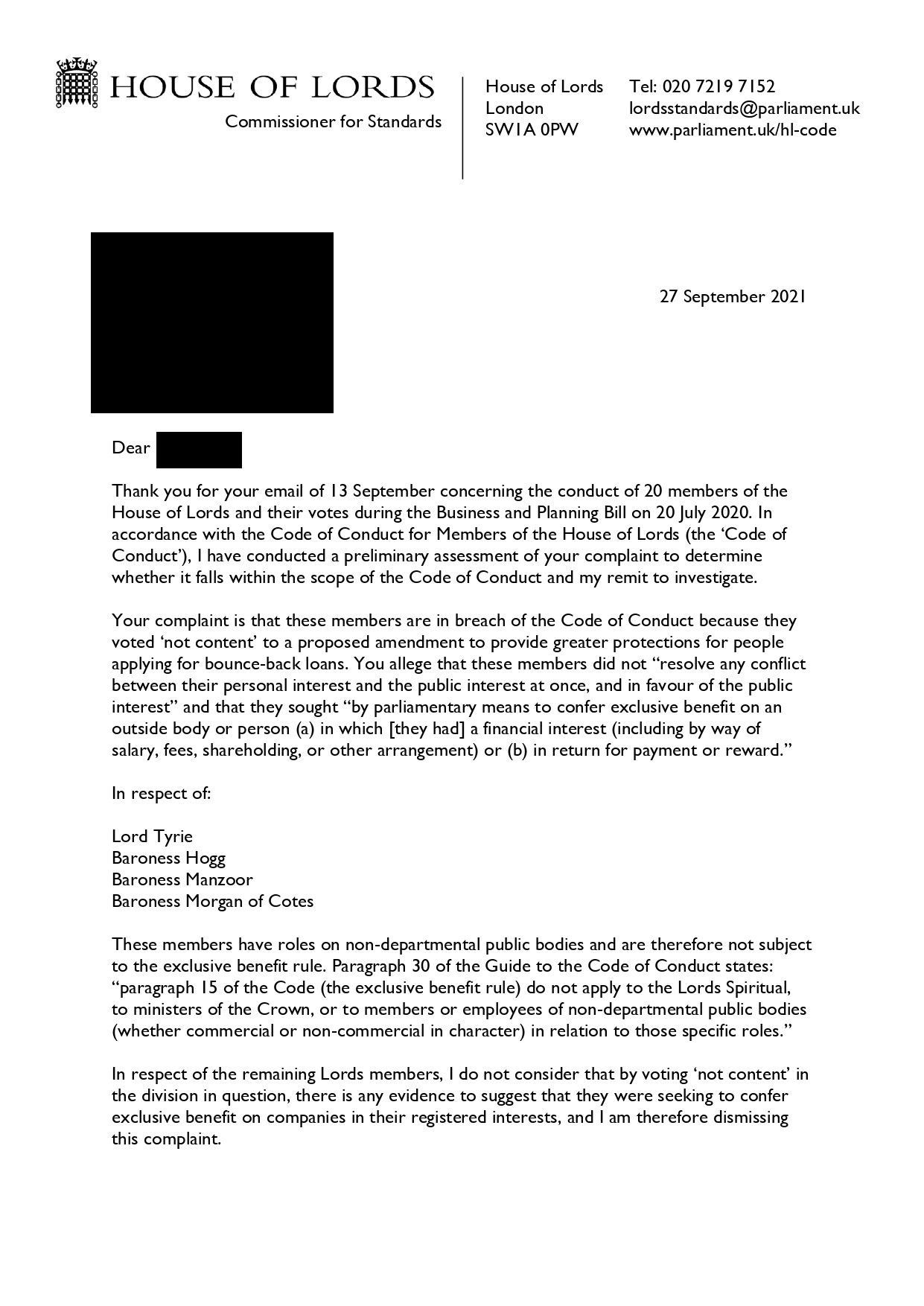 That Bill subsequently landed on the desk of Her Majesty the Queen to sign into law, and thus becoming the Business and Planning Act 2020, by doing so it stripped away many of the legal protections those with a Bounce Back Loan would usually have, and for good measure it was backdated to the start date of the BBL scheme (May the 4th 2020).

Let that sink in, the Chair of the Financial Ombudsman Service, an organisation supposedly there to help settle disputes involving unfair treatment and complaints between banks and their customers voted NO for added protections for those with a Bounce Back Loan.
You couldn't make it up, but no surprise for you to learn she is a Conservative member of the House of Lords. You will find plenty of Members of the House of Lords with links to BBL Lenders in the article below:
Members of the House of Lords with Links and/or Financial Interests in CBILS, CLBILS, BBL and Recovery Loan Lenders
However, what is now becoming more and more obvious is that the number of people who cannot afford to repay their Bounce Back Loans is sky rocketing, at the last count over £1.9billion in claims for the government guarantee on BBL's have so far been submitted by banks and lenders that were part of that scheme.
With enforcement of those debts only being instigated if organised crime is suspected or those who default on their BBLs hide away their assets, and as a credit rating marker being the only current "punishment" for defaulting (unless someone takes the insolvency/bankruptcy route and have found to have done some form of wrongdoing when they applied for or with the proceeds from a BBL, in which case a several year disqualification/bankruptcy restrictions order will usually be forthcoming), you can see why many people are not repaying when they haven't got any money to do so and have not Bounced Back.
Obviously, Rishi and the other Government Ministers who get grilled on the subject of Bounce Back Loans continue to dream up new soundbites and initiatives to investigate wrongdoing and out and out fraud.
They have the Taxpayer Protection Taskforce looking into any dodgy goings on and NATIS, the door kicking Bounce Back Loan police squad are feeling the odd collar here and there:
https://mrbounceback.com/category/bbl-door-kicker-files/
But remember being skint through no fault of your own having taken out a BBL and not being able to repay it, is a whole different ball game than being an organised crime master who scammed 200 BBL's.
Once again it will be another wait and see approach moving forward as to how the Bounce Back Loan scheme will progress but based on the fact over 300,000 people have so far taken the PAYG options, I would expect a fair number of them to default once the PAYG options have been used up and expire in the months and years ahead.
What is becoming increasingly obvious is that the British Business Bank did what was asked of them, so did the banks/lenders, even warning of the dangers posed by launching the scheme in the way it was launched, but it is now at the stage whereby the finger of blame for the failings of the scheme is being directed by the Government at the British Business Bank, the banks/lenders and even those who took out a Bounce Back Loan.
You can see why many of the banks/lenders are doing the absolute minimum that is required of them to ensure if someone defaults on a BBL their guarantee is safe, and in return are ensuring, at this stage of the game at least, they are not enforcing the majority of those debts.
Rishi and Co were given ample suggestions and opportunities to make changes to the BBL scheme to help people experiencing financial problems paying them back, alas they flatly refused to listen, and it is their fault there will be so many defaults and in turn claims on the guarantee, not your fault, not the banks and not the British Business Bank either.
Deciding What You Should Do
As it is blazingly obvious, many people have missed payments and have already defaulted on their BBLs and have no intention of repaying them with money they do not have, that £1.9billion figure I quoted earlier will continue to rise.
However, if you are struggling to make your BBL payments or feel you may soon be struggling and want to come to an arrangement with your bank/lender then do watch my Fireside Chat with NatWest, as it will give you an insight into what the banks/lenders should be offering you by way of forbearance and other things:
HERE>>
https://mrbounceback.com/struggling-to-repay-your-bounce-back-loan-watch-my-latest-fireside-chat/
If you want to know the procedure banks/lenders should be following regarding handling missed payments, defaults, and everything else then read and digest that procedure.
HERE>>
https://mrbounceback.com/finally-revealed-the-process-for-recovering-overdue-bounce-back-loans/
Many people are happily repaying of course, and that is all well and good, but do not think you are alone or the only one who is struggling to repay or have missed any repayments or has defaulted, as you are not by any stretch of the imagination alone or the only one.
As always, I will continue to report on the BBL scheme moving forward, along with the twists and turns of that never ending saga.
Final Words
Just so you know, at no time have I been paid in any way shape or form by Back British Business for interviewing/reporting on them, in much the same way as I was not paid for my Fireside Chats with NatWest and the upcoming one with the British Business Bank, I remain powered by YOU via website subscriptions and donations, to keep on reporting the twists and turns and ever-changing landscape of the BBL scheme.
If you wish to donate you can do so on the following link:
HERE>>
Or if you wish to subscribe to the website, you can do so on the link below:
HERE>>
If you cannot afford to do either, then fear not I will be around and doing what I do for as long as I possibly can do so, as the ongoing Bounce Back Loan saga should have a good couple of years of madness still to come, at least.
Haters Are Always Going to Hate
It does look like I have upset a few people with my BBL news updates, social media posts and possibly my Fireside Chats as these two, some would call dodgy characters have chosen to block me.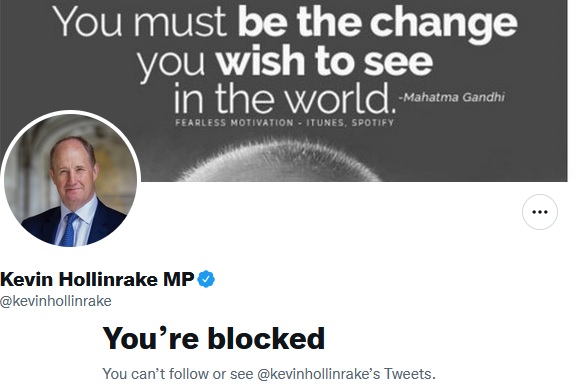 Kevin appears to be upset by me revealing the somewhat sordid details of his huge multi-million Pound CBILS.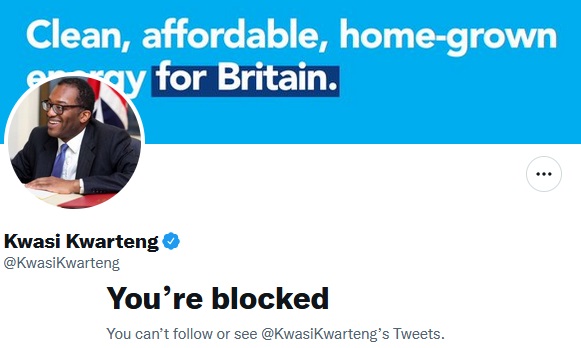 Maybe I upset Kwasi?
Read>>
Kwasi Kwarteng Secretary of State for BEIS Bags a Huge Donation from Helios Investment Partners LLP and Low and Behold the British Business Bank Pick One of that Firms Partners as Chair for their Working Group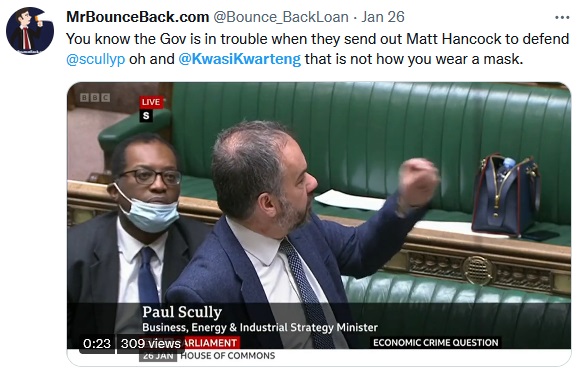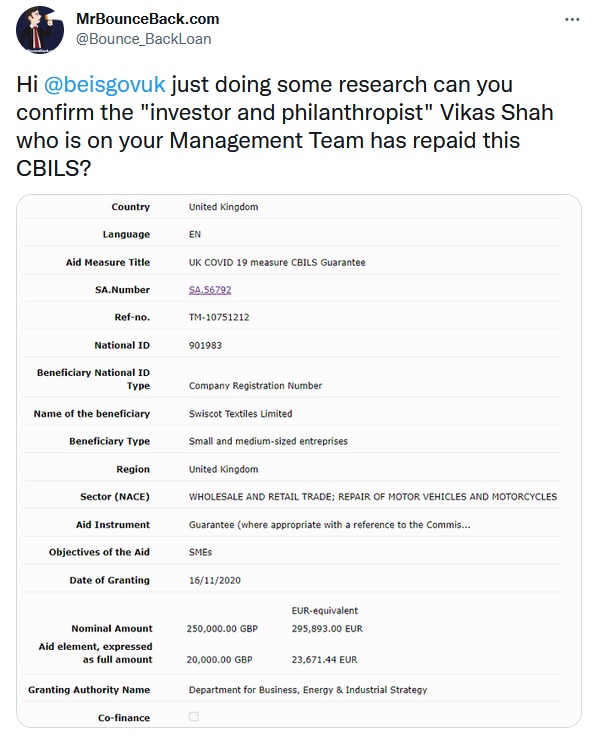 You may be a Member of the Treasury, Public Accounts or BEIS Strategy Committees, and if so then shame on your all for not sparing a moments thought to those in a dark place struggling and/or unable to repay their Bounce Back Loans, whilst getting your collective underwear in a twist, salivating over the ne'er do wells who skanked the scheme, without a moments thought for those in need of help and support.
Lest we forget that the latter, that being the BEIS Committee had me labelled as some kind of nutjob, when I visited the Palace of Westminster: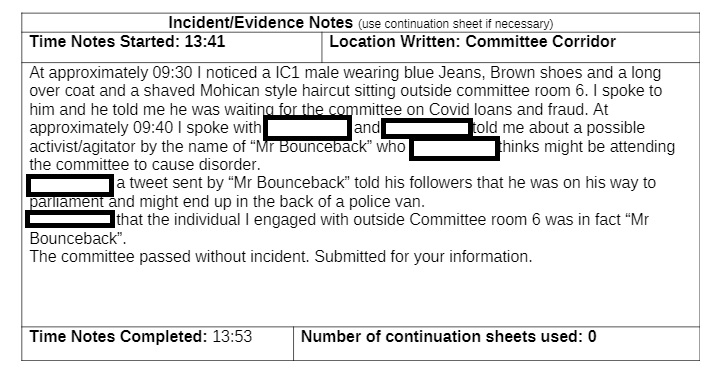 When my sole aim was to put into place the foundations for my NatWest Fireside Chat, which has been widely praised as being of great help to people confused and in a very dark and lonely place by the options available to them.
Why oh why was it left to me to think of doing such a thing, when MP's should have been demanding one be filmed, maybe that is why not one single MP of any party, (to my knowledge) has cared to put out a tweet alerting any of their Constituents or Followers who have a Bounce Back Loan but may be struggling of that video.
Oh well, it's all part and parcel of the madness that is the BBL scheme.
Do tune in by the way if you haven't watched it yet: