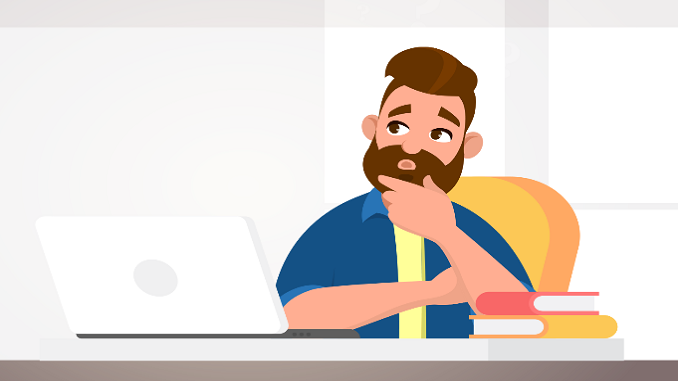 Today I will be naming all British Business Bank Accredited Bounce Back Loan Lenders, and letting you know some of their respective failings when it comes to their implementation of the BBL Scheme.

Be aware it has been suggested that some more lenders may be approved soon, so we will have to wait and see if any are.
Also, news stories albeit on some obscure online news websites also indicate that Paragon Bank has taken delivery of a new SME business account on-boarding and automated BBL processing system too, but we will have to wait and see if they are going to open up their scheme to non-customers or not.
Not Complying with HM Government's Request
Now it may surprise you to learn, but HM Government has requested that all BBL accredited lenders open up their BBL schemes to everyone eligible, and not keep the Government guaranteed scheme exclusively available to their respective current customers.

The following lenders therefore are the ones who need shaming for not doing so. Remember that currently, I worked out that on average based on the number of accredited lenders and the number of BBL's approved each week each bank was approving just FOUR BBL's each on average per hour!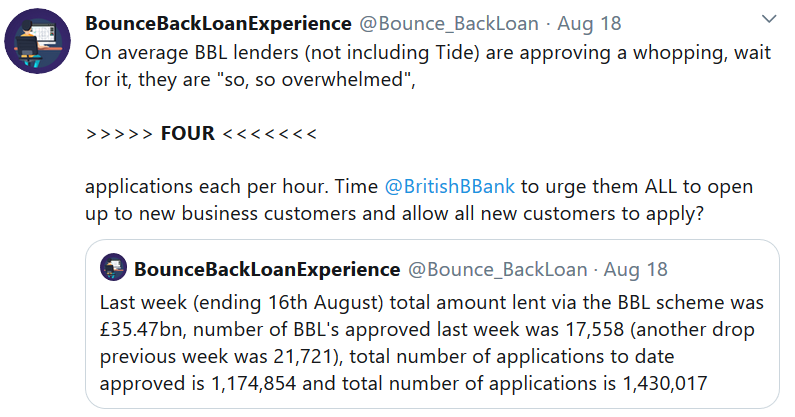 Therefore, none of the following banks can in any way shape or form proclaim they are still so backlogged with applicants they cannot open their schemes to every eligible customer.
But if that is the case then that does warrant HM Government and in turn the British Business Bank extending the scheme beyond its scheduled ending date, that being the 4th of November.
Be aware that the approved BBL figures were released weekly up until the 16th of August, but for obvious reasons, one possibly being to stop people like me working out only four BBL's on average per hour are being approved, the powers that be decided to stop releasing those figures weekly and opt to release them monthly instead.
That decision means I have had no figures to check for almost four weeks now, that will change this week of course as I will have access to the now monthly figures this coming Tuesday morning.


I never did hear back from HM Treasury or the British Business Bank.

Perhaps the Imaginary Bounce Back Loan saga has something to do with the figures now being released monthly and not weekly? Who knows…..
Lenders That Have Failed to Comply with HM Government Request
I say shame on the following Accredited British Business Bank Lenders, for as of the time of compiling this news update none of them have opened up their respective BBL facility to all eligible non-customers.
Why should a Government guaranteed scheme be kept exclusively to your customers? You have had long enough to give each of your eligible customers a Bounce Back Loan, and as per HM Government's request you should sooner rather than later open it up to non-customers.
Adam and Company

AIB

Arbuthnot Latham

Bank of Ireland

Bank of Scotland

Capital on Tap

Close Brothers

Coutts

Danske Bank

Funding Circle

Investec

Lloyds Bank

NatWest

Paragon

Santander


Skipton

Co-Operative Bank

RBS

TSB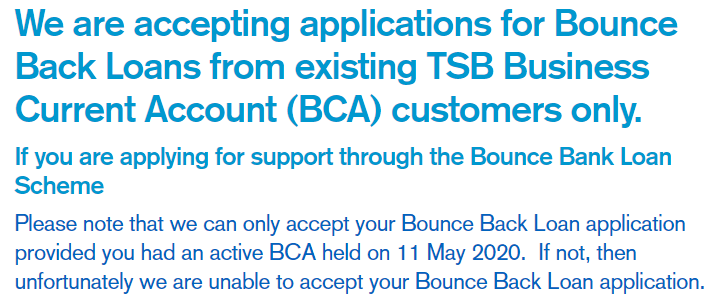 Ulster Bank

"We Have No Money Left to Lend Lenders"
The following two British Business Bank Approved BBL Lenders have no more money currently left/allocated to lend as part of the Bounce Back Loan scheme.
Conister

Tide

Mysteriously Removed from Accredited Lender Page

Lenders Accepting New Customers
The following lenders are accepting new customers and will allow them to apply for a Bounce Back Loan. However, just be aware of the following notes about each of them.
Barclays
NOW SLAMMED THE DOOR SHUT TO NEW CUSTOMERS

Clydesdale
Fair play to Clydesdale they are accepting new customers and will then let those with one of their newly opened Business Bank Accounts go on to apply for a Bounce Back Loan.
Just be aware that if you are on the wretched Imaginary Bounce Back Loan Database as I have named it, they will possibly approve you for a BBL then decline you.
You will need to get proof you have not got an Imaginary Bounce Back Loan from for example Tide (or whichever lender added your details onto the BBL database saying you had a BBL when you haven't, then supply that proof to Clydesdale who will then overturn the decline and approve you again!
You may have an Imaginary Bounce Back Loan listed if you simply went onto the Tide waiting list.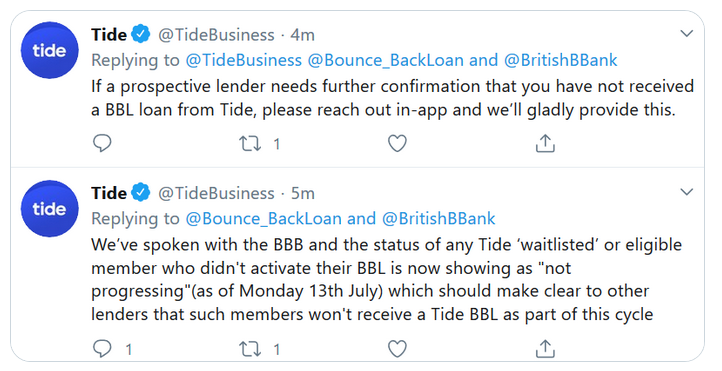 HSBC
NOW SLAMMED THE DOOR SHUT TO NEW CUSTOMERS

Metro Bank
NOW SLAMMED THE DOOR SHUT TO NEW CUSTOMERS

Starling Bank
Starling Bank have a waiting list or interest list, and when you apply to go on that list you could be waiting weeks or months to get an invite to apply for a BBL.
Be aware that Starling Bank have their own criteria for who they deem suitable for a BBL with them, over and above the standard Bounce Back Loan criteria, so being on their waiting/interest list is no guarantee you will either be invited to apply for or get a BBL if you are invited to apply.
Read more about the risks of being on the Starling Bank interest/waiting list HERE.
Yorkshire Bank
Yorkshire Bank are the sister bank of Clydesdale Bank and as such read the above about Clydesdale as it is the same with Yorkshire Bank.
Delayed Bounce Back Loan Payouts
One final thing to note, many banks may say once you have been approved payment will be in 24 hours, be aware that many of them do sadly miss that payout timeline, so if you have been approved and your BBL does not hit your account in 24 hours do not be overly concerned it could take a day or two longer.
That is certainly the case with HSBC BBL's paid via a feeder account and Metro Bank to name but two banks.
Applying for a Bounce Back Loan
If you are new here and are looking for a list of banks that are accepting new customers then click HERE.
CEO Email Addresses
One way to get some action or some form of update from a bank when you have been waiting a long time for a BBL or bank account (including feeder and servicing accounts updates), is to contact the CEO of the bank and a full list of CEO email addresses are on this page of the website