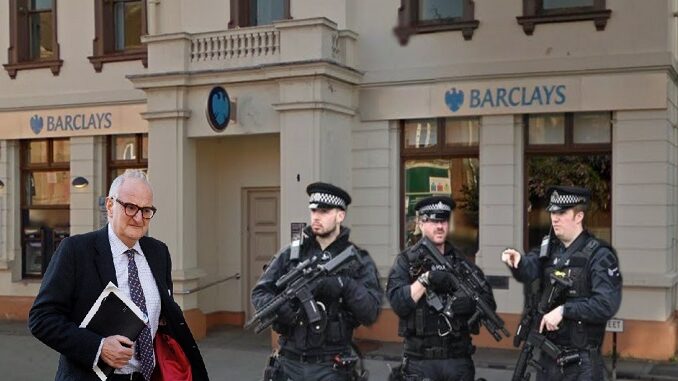 Just a quick update, as you may have heard on my latest webcast or you will have seen in my daily BBL news updates, Barclays have been aggressively going after Company Directors who blagged, in one way or another, a Bounce Back Loan from them, utilizing the services of the Bounce Back Loan "Bounty Hunters" as I like to call them, who have Lord Agnew the one time HM Treasury Counter Fraud Minister as the face of that service.

Well, due to the successes by those Bounce Hunters (Manolete Partners), the British Business Bank have approved an extension of their Pilot to go after even more Company Directors and another major BBL Lender is also now going to be making use of their services. I will let you know who the newly signed up BBL Lender is shortly, as the BBL Bounty Hunters doesn't want anyone to know, just yet….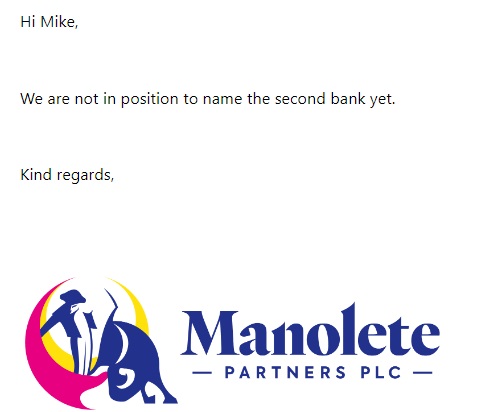 In a Trading Update Manolete have stated the following
"We have recently learned that Manolete's already exceptional results on the initial cases in the Barclays Bounce Back Loan ("BBL") Recovery Pilot has led to the British Business Bank giving approval to Barclays to extend the scale of the pilot. We have also received confirmation that another well-known bank is soon to start their own BBL Recovery programme with Manolete."
Research
BBL Lender Uses "SWAT Team" / "Bounty Hunters" to Go Tracking Down Ne'er Do Wells Who Scammed Them Out of Bounce Back Loans for a Share of Any Recoveries – Early Results Reported as Being "Impressive"
Lord Pickles Decides That Lord Agnew Can Become a Bounce Back Loan Bounty Hunter But With a Few Caveats – Read the Rules He Has to Abide By
Lord Agnew Joins a Bounce Back Loan Bounty Hunting Type Firm That Offers Their Services to Banks Wishing to Locate Their Wayward BBLs!
Latest Fireside Chat
Recent Cases
Here is a tiny selection of ever-growing number of recent cases which saw Barclays going to the High Court to secure winding up orders against Companies and the Directors thereof who blagged them out of a Bounce Back Loan.
Here is One of the Companies That Barclays Recently Got Wound Up in the High Court with the Help of the "Bounty Hunting" Firm Lord Agnew has Become the Face Of
Despite Resigning as a Director In October 2020, an Accrington Based Man Is Given a 10 Year Ban After Barclays Secures a High Court Winding Up Order For Claiming His Business Turnover Was £250,000 When It Was £0 to Blag a BBL From Them
Barclays Secures Another High Court Order to Wind Up Another Company for Blagging a BBL From Them Resulting in that Company's Co-Directors Being Slapped with a 9 and 10 Year Ban for Claiming Their £0 Turnover was £225,000 to Blag a £50K BBL
Cash and Carry Boss Transfers to Himself and Carries Off His Company's Barclays Bounce Back Loan Cash Obtained by Over-Egging His Turnover, the Bank Applies to the High Court and Get a Winding Up Order Resulting in an 11 Year Ban
11 Year Ban For Director Who Failed to Explain How He Estimated His Business Turnover to Get a £50k BBL (Then Transferred to Himself and His Ex-Wife), After Barclays Secured a High Court Winding Up Order against His Company for Not Repaying His BBL
Barclay's Secure Another High Court Winding Up Order Against a Company Whose Director Acquired a BBL for His Business That Wasn't Even Eligible and Did Not Use the Funds for the Benefit of That Business, He Is Today Starting an 11 Year Ban
Company Director Given a 12 Year Disqualification for Fraudulently Applying for and Getting a £50k Bounce Back Loan and a Litigation Funder Secures a High Court Order for a Settlement
Barclays Go to the High Court to Get a Company Wound Up Due to the Director Who is Based in Hackney Blagging a BBL Off Them, He Is Today Starting a 10 Year Ban
Barclays Granted Another High Court Order to Wind-Up a Company That Blagged Them Out of a Bounce Back Loan Resulting in the Directors of that Firm Getting a 2 Year 6 Month and a 10 Year Ban
Here is Another of the 100+ Cases Related to BBL Skulduggery That Barclays Took to the High Court to Get a Company Would Up – Resulting in a 6 Year Ban for the Director of that Company Who Admitted at Interview to Using the BBL for Personal Benefit
Barclays Get the High Court to Wind Up Another Company That Didn't Repay a Bounce Back Loan With Its Director Getting an 11 Year Ban After She Admitted It Never Had Any Turnover, Despite Claiming on the BBL Application Form Its Turnover was £198,000
Barclays Granted Another High Court Order to Wind Up a Company Whose Director Blagged a Bounce Back Loan from Them and Transferred it to Himself Resulting in Him Being Given an 11 Year Ban