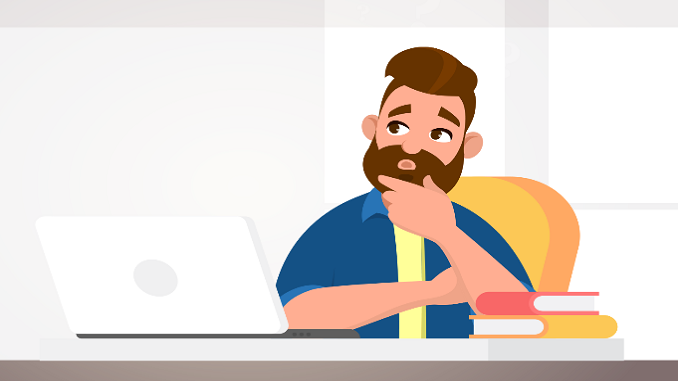 Nothing surprises me anymore about the Bounce Back Loan scheme, in fact this little "job" I have given myself can be depressing at times when I receive complaint after complaint from people close to the edge through no fault of their own.

One thing that has been at the top of my "agenda" for quite some time now is the fact that the lenders that have signed up to that scheme are not offering new customers a business account, and as such unless you are prepared to sign up to Starling Bank and add your name onto their BBL "interest list" you are not going to get a BBL if you are not already a customer of any of those lenders.
Starling have however just updated their website and are now guaranteeing that they "will contact everyone on their interest list before the scheme ends", what they will say when they contact you does remain to be seen though.

I did however send Andy Burnham a tweet some time ago asking if he would have a word with the Co-operative Bank in Manchester and see if they would start accepting new customers, as you can see below, however whether that spurred him into action or not who knows but he went one better.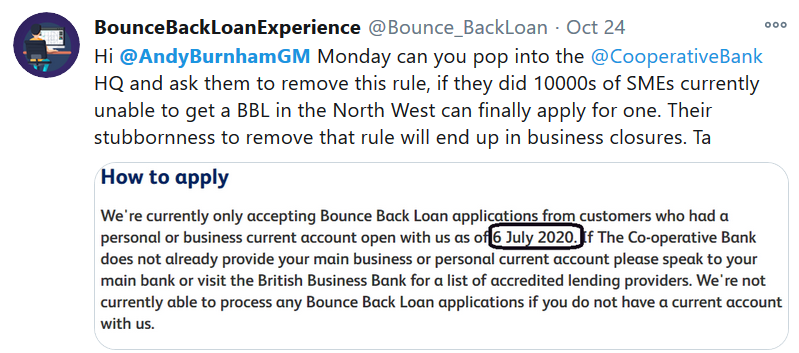 Yesterday morning at 7am my air raid siren went off here at Mr Bounce Back Acres, alerting me to a new Bounce Back Loan lender, and to my surprise I discovered that lender was The Growth Company over in Manchester.
They are a "not-for-profit, commercially driven organisation dedicated to economic development, inward investment, skills, employment and enterprise".
However, what I did find of interest is that they have a Bounce Back Loan lending facility worth some £10million which has been handed over to them by the Greater Manchester Combined Authority (GMCA) and as such they will be making Bounce Back Loans available to Greater Manchester based businesses of between £2,000 and £50,000.
Be aware though that those BBL's are available on a first come first served basis and when the funds have been used up no additional funds will be forthcoming. With the average value of BBL's being £30k that means that The Growth Company should be able to service around 333 Bounce Back Loans.
Whilst not huge in the greater scheme of things it is certainly a step in the right direction, and hopefully a move by the Greater Manchester Combined Authority that will be followed by other Local Authorities in other parts of the UK.
I did put the word out to my Twitter Followers and on this website the second I became aware their BBL scheme was live, and have received mixed feedback so far from those who have applied, some declined and some who are seeing their applications reviewed.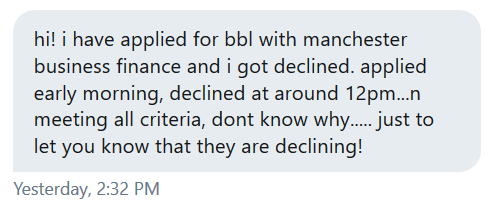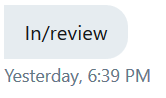 £10million does not go very far in Bounce Back Loans, however fair play to Andy and his team it's a start and one he needs patting on the head for. So, listen up Mayors and Local Authorities, he has set the stage now for you lot to now dig deep into your pockets and help out your local small business owners, so do the right thing as the banks have failed many of them and you are as good as the Lender of Last Resort something I did ramble on about back in October by the way.
It is of course a fucking scandal that the banks are sticking their middle fingers up to a huge number of small business owners across the land by stubbornly refusing to open up their new account systems to new customers and therefore declining them the right of applying for a Bounce Back Loan.
Top Ups – Now Another Scandal
Sadly I am now seeing 1000's of complaints about Bounce Back Loan top-ups, those who have received a BBL in the past who have managed to apply for a top-up are facing huge delays with banks such as Barclays sending out text messages saying it could be a week before their top-up application is processed.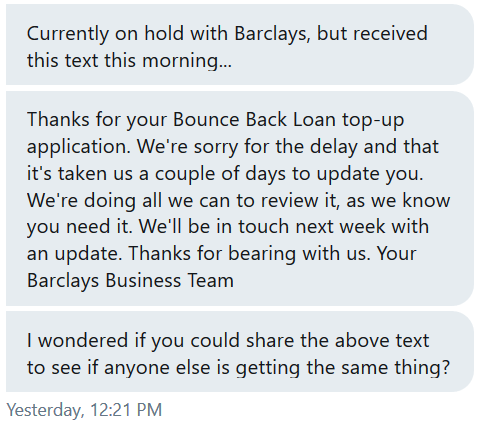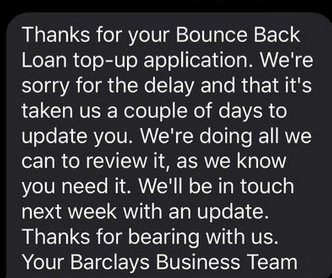 I am also seeing other lenders such as Lloyds decline top-ups, and Starling Bank are refusing the let their customers know when they are going to start processing them, and several lenders are not even offering top-ups yet either such as Metro Bank.
HSBC do have the added problem of having to bring back to life their Feeder Accounts and they have told me that is going to take quite some time to achieve.
If you are waiting, and I know there  are huge numbers of you doing so, for a top up, then keep the faith it is going to be sadly a very long journey for you before they start to get paid out.