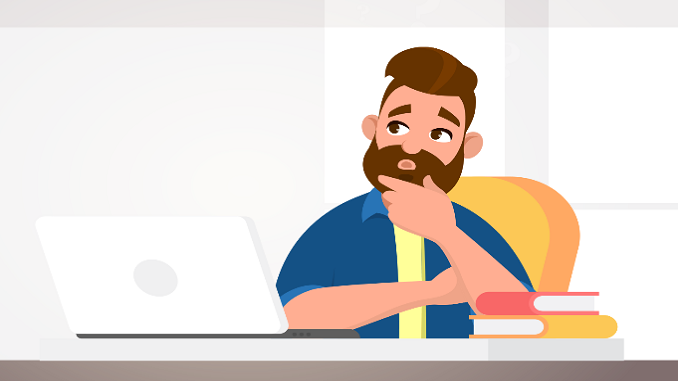 The ongoing problems with the Bounce Back Loan register/database has taken a couple of additional turns for the worse, as it now appears (awaiting for confirmation from anyone else affected) that those not only on the Tide waiting list, but it **appears** also those who have applied with Conister may also start to get declined for a BBL with other lenders, even if they have not been granted a BBL from that lender.


The above Tweet is the first person to tell me of this problem with Conister applicants, so I will be monitoring it.
Also, with Metro Bank having approved lots of people for a Bounce Back Loan then having decided to decline them after approving them, I fear that those people who experienced that will now have their details on the BBL register.

That means when they apply with another lender, if they are lucky enough to find one lending, they could be declined for a BBL as the register indicates they already have one, when they have not.
For the record I have been telling the British Business Bank about the problems with that register which is often called the BBL or BBB database by some, for months, but alas they appear not to care.
NatWest continue to approve Bounce Back Loans and then go on to lock then close down their bank accounts and remove the BBL from some of their customers who applied for one and got one from that bank. I get complaints about this several times a week and that too is going to cause problems with people left bereft of a BBL due to that loan being logged on that data base.
One such complaint received late last night.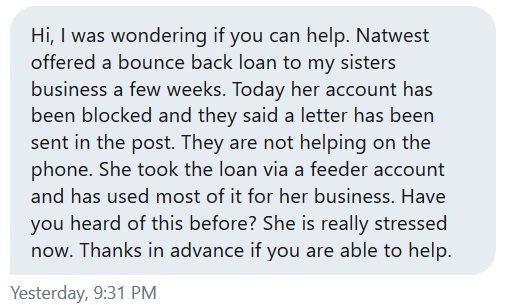 Obviously if a bank suspects and can prove wrong doing, they can lock accounts and remove a BBL, however the sheer number of people complaining compared to other banks leads me to believe there is something very wrong with the system they have adopted for processing such loans, and possibly opening accounts too.
Lloyd's have stated they are going to be allowing those wishing to apply for a Bounce Back Loan to open a feeder/servicing account rather than being forced to open a business account with them.
However, and this is important, they have not stated, yet if that only applies to their current customers or is also something non-customers can avail themselves of which is something HSBC for example will allow non-customers to do via their Feeder Accounts. We will find out one day this week when said feeder accounts become available.
Applying for a Bounce Back Loan
If you are new here and are looking for a list of banks that are accepting new customers then click HERE.
CEO Email Addresses
One way to get some action or some form of update from a bank when you have been waiting a long time for a BBL or bank account (including feeder and servicing accounts updates), is to contact the CEO of the bank and a full list of CEO email addresses are on this page of the website