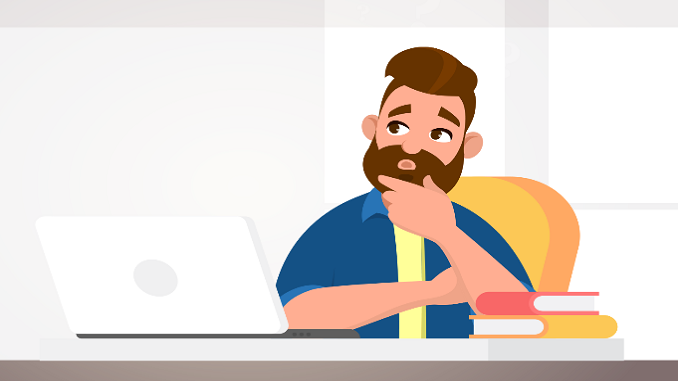 Friday's have always been a day on which most banks tend to fire out Bounce Back Loans, and therefore I do have high hopes that many of you are going to be sorted out finally today and then will be on your way. If not the weekend will be a long one, and probably one filled with added anxiety.

HSBC have a track record for paying out BBL's on a Friday, and this is often the day those hanging on for weeks waiting for a feeder account or a business account finally get them set up. If you do make sure your next move is applying for a BBL.
The final stage after applying is an EchoSign, which comes via an email market "urgent" sign that and payment can be the same day if you have opened a business account with HSBC, two working days if you have a feeder account, or an extra few days if you have a feeder account but the nominated account you have asked for the funds to be sent to isn't a standard bank account, such non-standard accounts are for example Tide, Anna, Coconut, Revolut etc.
Conister
Conister were up to their old tricks again yesterday and is was a mass decline email sent out to everyone telling them that they have a Bounce Back Loan with another lender or words to that effect and therefore their application is declined that applicants got sent out. Many people told me they haven't got another BBL, many saying they did have their name at one time or another on the Tide waiting  list (that old BBL destroying problem again).
That email was as always sent out even to those whose applications are being processed, so much like previous ones, if you do have an application in with that lender and its part way through being processed and you got that email odds-on your application is still being processed.
For the record I did get word they had been paying out yesterday from several of my Twitter followers, who received their funds in their business account with other banks from Conister, including Starling, Tide, Revolut and Mettle. Several of those payments were for the full £50,000 for those of you that are nosy and like such information!!!! ?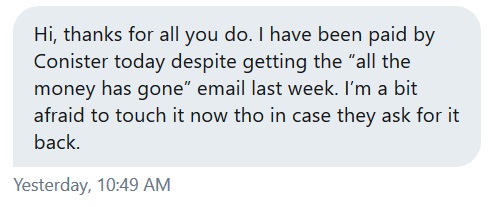 Keep in mind as it stands they have reached their limit as far as how much they have to lend (another mass email), but whether you are still in with a chance of getting one if you have applied but have heard nothing, there is no real way of telling unless they start asking you to fill out additional forms to get a BBL.
Basically, they are doing everything by hand and as such processing BBL's at a snail's pace.
Metro Bank
It is best that I put into bullet points the situation with Metro Bank:
You can open an account with Metro Bank online in minutes
Some get declined instantly
Some get reviewed which can take several days
A review can lead to an account being opened or declined
Once you do have a business account you can apply for a BBL
Some are then instantly approved
Some are reviewed which can take a few days
Some get declined for a BBL
Some people are declined AFTER being approved and paid
If you are declined after being paid APPEAL that decision
Payments can take several days not all are paid in 24 hours
Reasons for a decline can include Metro Bank not having the "appetite" for your business model or business marketplace. They have something of a track record for declining bank accounts if they are do not like a business type, as for whether you can appeal that decision, you can try but they can be somewhat hard-nosed at opening accounts for businesses they do not like.
Business types some people (not all) have been declined an account for include Beauty, Web/Marketing and even the Care sector.
Other Banks
For the record not everyone is applying with Metro Bank currently, it may seem that way but there are still some other banks that are accepting new customers, and I have had a small stream of people letting me know they have been paid out by Barclays and Clydesdale.
One common problem with Barclays by the way is that when applying online people are not switching their business accounts to them and are applying for and opening one of their start up accounts instead therefore the bank will need to ask for additional documentation (as will Clydesdale and others) before you can then go on to apply for a BBL.
Lots of reports similar to the following: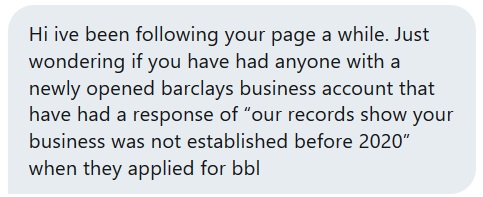 If you do get the above message when trying to apply for a BBL from Barclays, the link will become live to apply and that message will disappear once you have been asked to and have furnished them with additional information on your business, so they can ascertain whether you do meet the full criteria for a BBL.
Applying for a Bounce Back Loan
If you are new here and are looking for a list of banks that are accepting new customers then click HERE.
CEO Email Addresses
One way to get some action or some form of update from a bank when you have been waiting a long time for a BBL or bank account (including feeder and servicing accounts updates), is to contact the CEO of the bank and a full list of CEO email addresses are on this page of the website