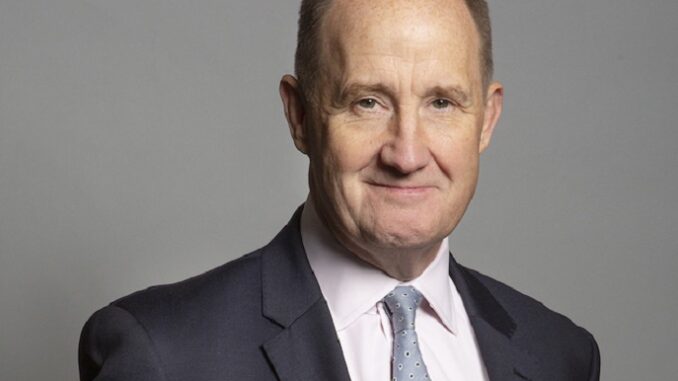 One has to wonder what is going on in Government these days, well it does not take too much effort to sus out something is not right.

As I mentioned the other day, Paul Scully MP who is the Parliamentary Under Secretary of State in the Department for Business, Energy and Industrial Strategy (BEIS) has flatly refused to entertain the idea of turning Bounce Back Loans into grants or turn the BBL scheme into a student loan type of scheme, whereby a business only starts repaying when their income levels return to a certain level, or they start turning a profit.
I was on Talk Radio the other day as I am sure you will be aware, and during my conversation with Julia Hartley Brewer she was aghast that some people took out Government backed loans who did not need them, saying that was immoral.
If you did not know, Craig Mackinlay MP has admitted to taking out a Bounce Back Loan, for the chartered accountants he has an interest in, whether that business needed it or simply took it out just in case I do not know, but either way that firm took one out.
Now, Kevin Hollinrake MP has been vocal recently in saying Government backed loans should not be written off.
Low and behold I then discover, that a few days ago when Kevin was discussing the fact that the EU had listed everybody with a CBILs loan on their website (something I have been rambling on about for months) he seemed somewhat pissed off about that, but much more so since Bloomberg compiled that data on the EU State Aid website and published it, probably exposing the fact the company which he has now sold bagged a CBILS.
The EU State Aid website is a nightmare to navigate and that info would have been deeply buried and probably would not have been made easy to access had Bloomberg not published it.
Anyway, the fact he had a business and took out a CBILs only came to light to me at least (did you know?) today when I set about reviewing what was said in Parliament last week when he mentioned it.
He did say it was in the Register of Members Interests, I looked back to February and found this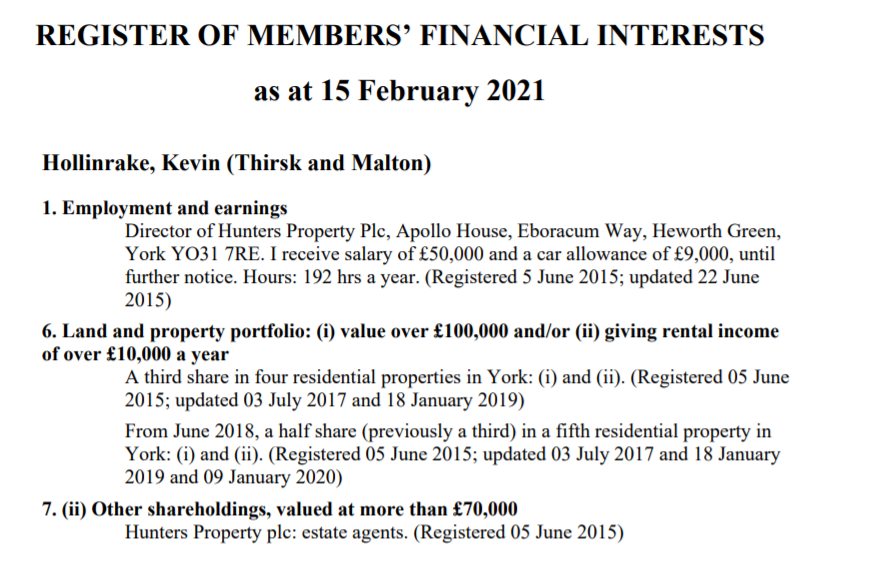 I then had a look on Companies House and found this: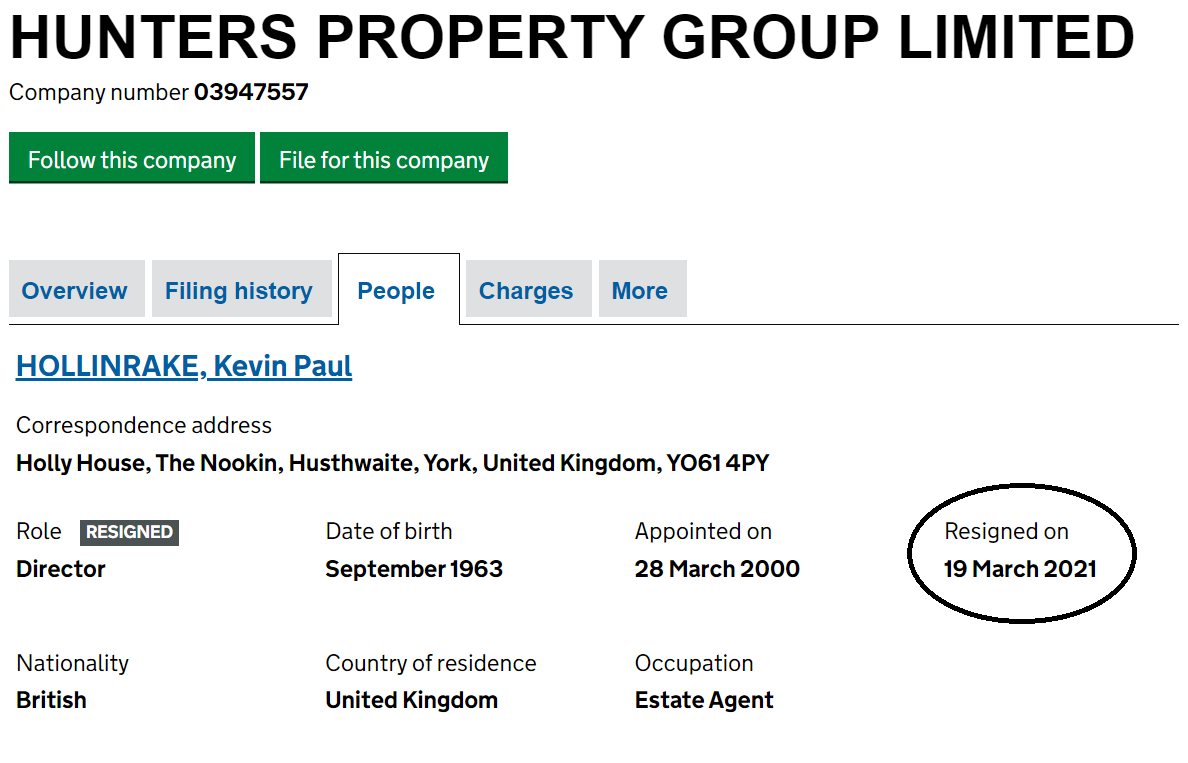 Then I trawled through the EU State Aid Transparency website, and low and behold: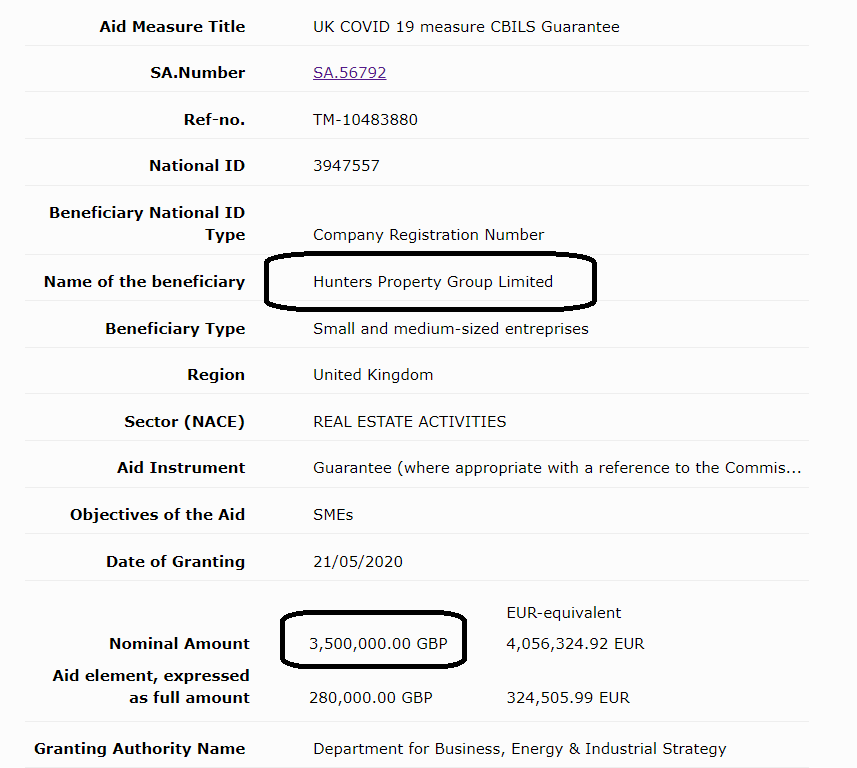 Nice job if you can get it……
Back track to November the 9th 2021 he was in a debate in Westminster Hall, discussing Access to Finance for Small and Medium Sized Enterprises, that being the debate in which Marion Fellow MP (SNP) stood up and suggested the Government adopts the SNP's idea of turning Bounce Back Loans into grants.
Kevin decided to interrupt her stating that would be a bad idea as some businesses had squirreled the loan money away. Paul Scully then stood up and says he agrees with Kevin and says they should not be turned into grants.
One has to wonder if Kevin whose company he has since sold but had taken out a CBILs, and squirreled it away and then paid it back is annoyed, for if they do get turned into grants he would have missed out.
He seems oblivious to the fact that most businesses that did not need a loan, either a BBL or CBILs loan has probably, much like him,  paid it back, in fact early figures released by the National Audit Office back that up with a small number of businesses having already paid their loans back.
He also seems completely oblivious to the bloody obvious fact that many people who took out a Government backed loan needed it, and have spent it and have a huge debt burden now through no fault of their own and writing the wretched loans off would give them a fresh start and piece of mind, and would allow them to continue trading and paying tax for 10, 20, 30 or however many years they have left in their working lives.
Oi Kevin, not everyone who took out a Government backed loan did not need it or squirreled it away like you said you did.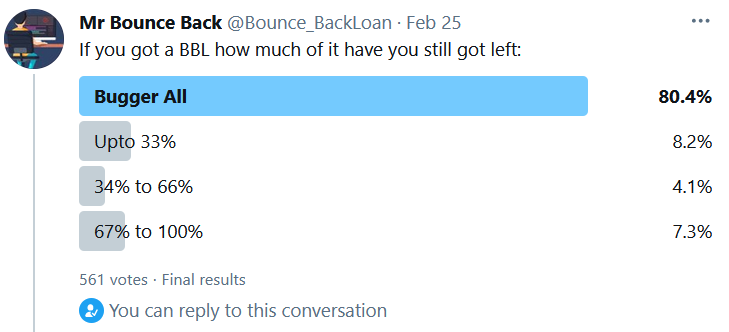 Anyway, here a short video of the above: