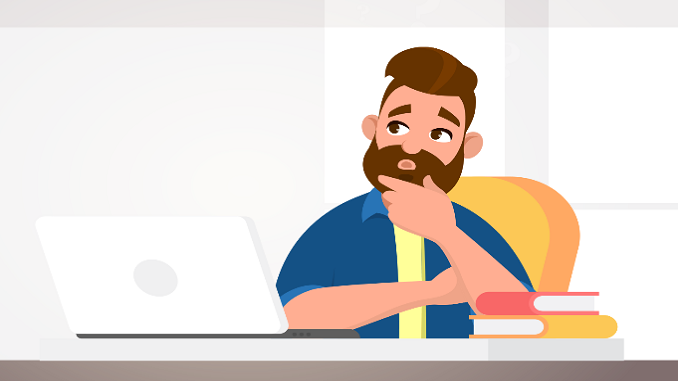 It is probably a blessing in disguise, that being the decision by Metro Bank to close down their new business bank account application systems yesterday morning at 08:00, and go on to announce they will not be accepting new customers for such an account until some time next year.


How can it possibly be a blessing in disguise for one of the last few Bounce Back Loan lenders to do just that I hear you say, well it's based on what they have been doing to new customers for the past few weeks, that being approving them for a BBL, and in many cases paying them out their loan then locking their accounts, snatching back the funds and then declining their Bounce Back Loan.
The mental stress, anxiety and financial worries they have heaped on business owners is hard to comprehend, but looking at messages I have received they have certainly distressed a huge number of people with their messed up system and their actions.
They have left huge numbers of people in limbo, not knowing whether their Bounce Back Loan is real or not, the customer support teams at Metro Bank have been completely overwhelmed and spouting complete nonsense to some people who have phoned up to find out what the hell is going on.
In a nutshell if you are one of the ever growing number of people getting frustrated at not knowing where you now stand regarding their BBL scheme, and whether the loan they approved you initially for and have since declined, whether they paid it out or not, is real, well they intend to write to you soon and let you know.
Their system was obviously messed up and looks like it hasn't been approving businesses they did not want it to approve and as such you will have to appeal any decline and be prepared to supply them with whatever they ask for to get a successful overturning of the late decline, even if initially approved.
For reference if you do have an application in for a new account before the 9th of October at 08:00 then you are still in with a chance of having a business account approved by them, but only if you meet their criteria.
However, their decision to stop accepting new customers, coupled with the same decision made by HSBC at 09:00 on the 30th of September means there are now just four Bounce Back Loan accredited lenders left that are accepting new customers.
The added pressure on the final four of twenty eight BBL lenders to service new customers could see any or even all of them also closing the door to new customers, with that in mind I ran a quick poll on my Twitter account, asking my followers  who they thought would be the next bank to close to new customers and the result of that poll are below.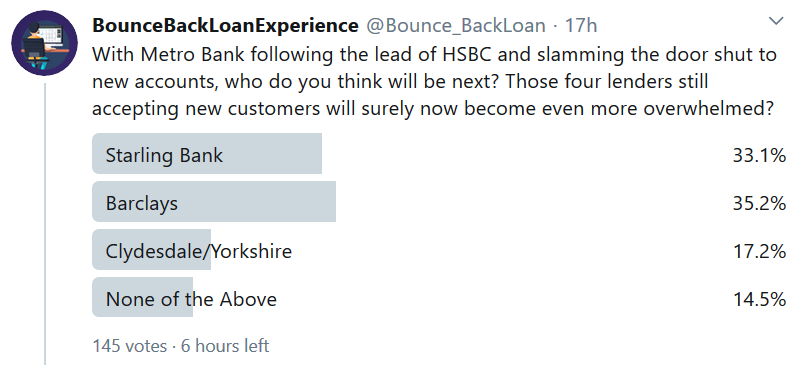 Applying for a Bounce Back Loan
If you are new here and are looking for a list of banks that are accepting new customers then click HERE.
CEO Email Addresses
One way to get some action or some form of update from a bank when you have been waiting a long time for a BBL or bank account (including feeder and servicing accounts updates), is to contact the CEO of the bank and a full list of CEO email addresses are on this page of the website