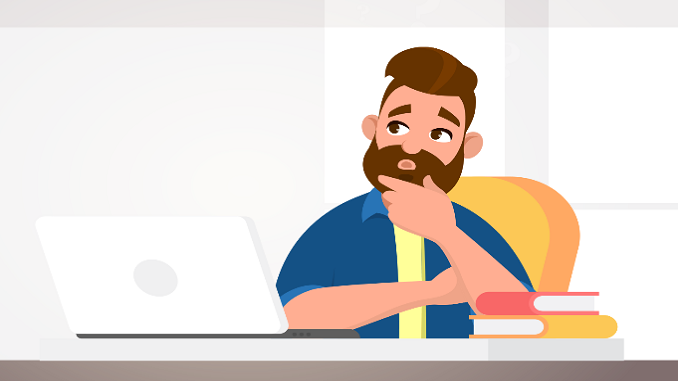 Well, today is the day when we finally discover just what Rishi Sunak has been planning to help hopefully everyone make it through the next six months or so.

Now, I know many of you were expecting to find out earlier this week when I announced the Bounce Back Loan scheme had been extended, however the press release was pulled at the last minute but no one told me, so oops on that one. 🙂
Anyway, things have changed since then and with us now facing months of financial uncertainly and with many of us also facing some major business decisions, Rishi will make an appearance later today and enlighten us on what help he is going to offers us all, and I do hope it is everyone he plans to help, for there are still way too many that have been excluded from any type of help during this pandemic.
Obviously until Rishi stands up and announces what he has up his sleeve  we can only speculate, however there is no getting away from the fact that something needs to be done about the Bounce Back Loan scheme, which is what my Twitter account and this website is dedicated to.
I ran a poll over on my Twitter account the other day, with a few possible suggestions/ideas and what struck me the most and was very sad to see too was the result of fourth option in that poll, as you will see below.
Many people already feel an additional six months of restrictions in their day to day lives and possibly the chance of further lock downs has sadly now killed their business stone dead, that is heartbreaking.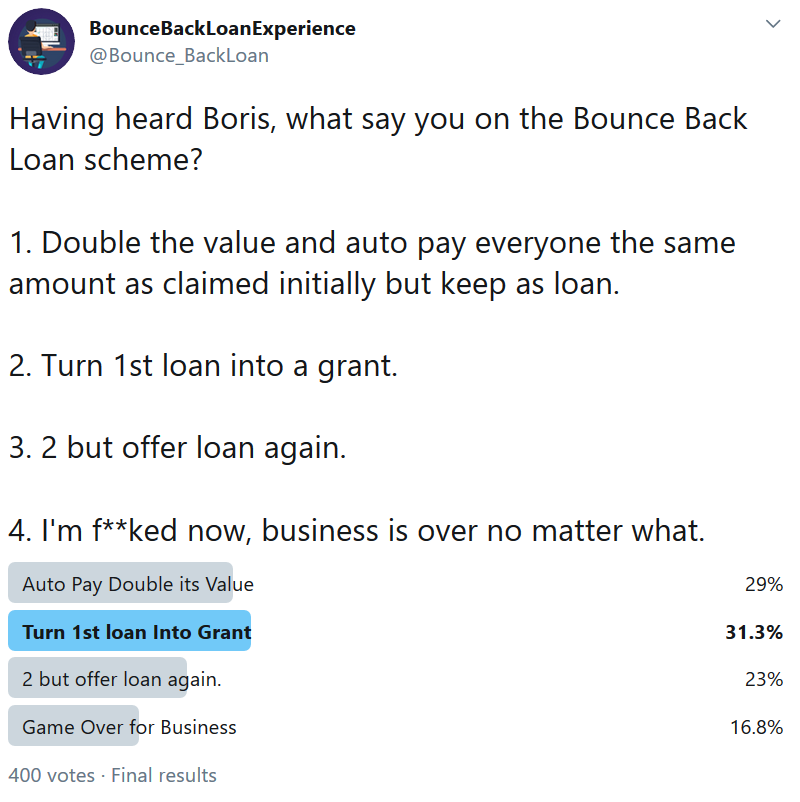 If around 16% of business think it is game over already then Rishi is going to have to do something big to help those who have got a Bounce Back Loan and quickly.
Many people according to the poll are happy to have the value of their loan doubled and still class it as a loan, but a much bigger percentage of people would much prefer to have their Bounce Back Loan turned into a grant, and lets face it having been actively encouraged by the Government to take out a huge loan to help them bounce back and when many who have received that loan months ago and have spent it keeping the lights on and have spent that money putting themselves in a position to help them bounce back but have now had the rug pulled from under their feet, they do have a point.
23% of those who took part in the loan would prefer for their Bounce Back Loan to be turned into a grant but then be given a fresh option of applying for a BBL again, and they too have a point.
Bounce Back Loan Repayment Time Extended from 6 Years to 10 Years?
All that Bounce Back Loan applicants will likely be offered if sources are to be believed is an extension from 6 years to 10 years to repay their loans.
Whilst other financial packages will no doubt be announced today BBL'ers are likely to only be offered the above and possibly see the extension of the Bounce Back Loan scheme until the end of November with banks having until the 31st of December to clear any BBL applications in their systems.
You need to rethink that too Rishi, for with only a small number of lenders offering new customers a business bank account and with them taking weeks and weeks to open such an account and then taking ages to process and pay BBL applicants, lots of people are still being unfairly declined the right to apply for and secure a Bounce Back Loan through no fault of their own.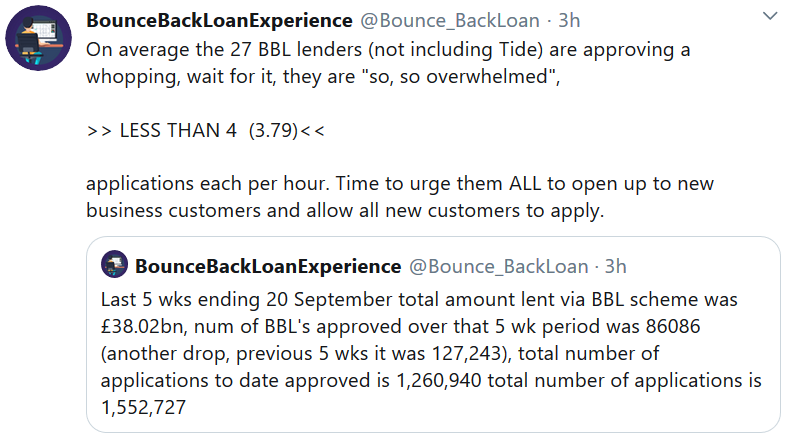 A 6 year loan becoming a 10 year loan? Not good enough Rishi sadly.
Oh, and Rishi Sort Out the British Business Bank
Those of you following me on Twitter that have been experiencing all manner of outrageous problems getting access to a Bounce Back Loan, and have experienced additional Bounce Back Loan related problems will already know I have a very low opinion of the British Business Bank.
Their lack of action at fixing the many, many problems I have exposed over the last almost five months is truly sickening. Rishi you need to drag them to one side and get them to listen and act on those problems, they are costing British businessmen and businesswomen a fortune and affecting their sanity too.
One case that has been dragging on for way too long, and one that I am expecting to be finally sorted out today is covered in my You are Better off Talking to a Wall than the British Business Bank news article.
That Rishi is one of 1000's of ridiculous problems some people are experiencing with British Business Bank accredited Bounce Back Loan lenders that needs addressing.
Carry On Bounce Back Loan?
I do of course like to keep everyone following my Twitter account not only informed on what is happening in the world of Bounce Back Loans, but amused at times too, so if the headline of this Bounce Back Loan news update  grabbed your attention and are wondering what that is about, well here is the answer: