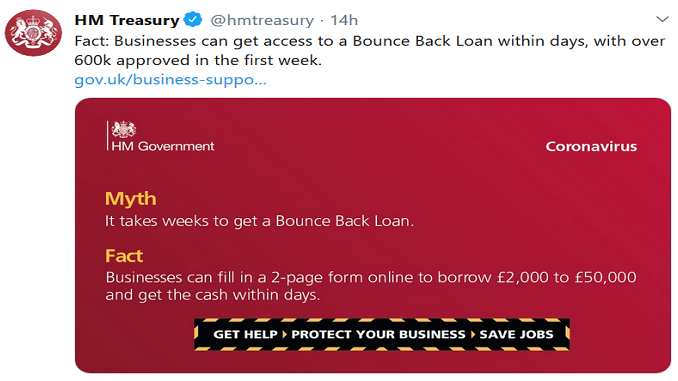 When you are caught up in the Bounce Back Loan saga, you are bound to be in a very delicate mental state. The lack of information coming from the banks or any reliable source can leave you confused, distressed and angry too.

It was on the 24th of May that some bright spark in HM Treasury decided it would be a good idea to send out a tweet letting people know the "Myths" and "Facts" of getting a Bounce Back Loan.
As you can see by that tweet above, much more so if you have been in no man's land for any amount of time, and haven't even had the chance to apply for a Bounce Back Loan, that tweet is somewhat false, and some would say an outright lie.
While some people have certainly been able to apply for a Bounce Back Loan rapidly and have been paid out quickly too, as of the date of that tweet many people have not even had the chance to apply due to the number of banks in the scheme.
Obviously the whole scheme was put together rapidly and as the backlog that each bank currently has becomes reduced and more banks come on board, hopefully that tweet will be much more factual and not as laughable as it was on the day they tweeted it out there.
Moving Forward and Keeping the Faith
As the days and weeks tick by, this news story and that tweet will begin to fade in peoples memory, but I want to keep it up there, just so you know how things where handled during the Great Bounce Back Loan saga of 2020.
Keeping the faith and having plenty of hope are just some of the things that did carry people through those exceedingly difficult times.