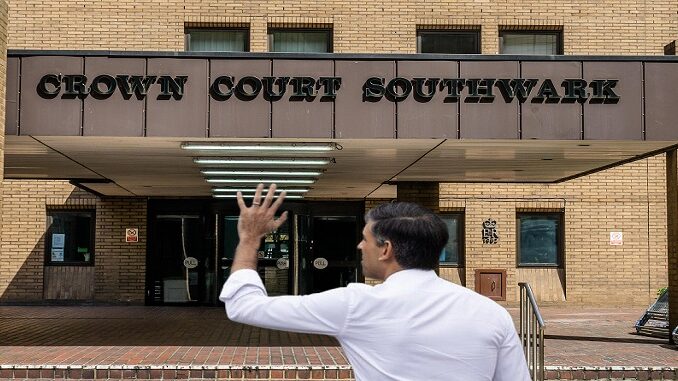 A fraudster who sought to exploit the taxpayer through a COVID-19 support scheme was sentenced yesterday 3rd July 2023 following a lengthy National Investigation Service investigation.

Rais Kayani, 31, pleaded guilty previously to a single count of entering into a money laundering arrangement at Southwark Crown Court and has been sentenced to 16 months imprisonment wholly suspended for 18 months.
The COVID-19 crisis brought huge financial viability concerns to businesses. The Government had made emergency funds available to companies in need of urgent help via the Small Business Grant Fund which was administered by local authorities.
A National Investigation Service (NATIS) investigation revealed that, between 4 May and 9 May 2020, multiple false applications were made for the Small Business Grant Fund at St Helen's, Thurrock, and Rochdale local authorities. The three councils were defrauded of £35,000, £85,000, and £75,000 respectively – leading to a total loss of £195,000.
The frauds were perpetrated by unknown individuals impersonating genuine ratepayers. For example, in the fraud against St Helens Local Authority, fraudsters sent correspondence to the Council impersonating Greggs, a well-known high-street baker. Genuine business rate account numbers were used to support false applications for rate grants which were awarded by the local authority.
Investigators were unable to identify who submitted the fraudulent applications, but the requested payments were all transferred for the benefit of the bank account of RAK Traders and Services Ltd., a company based in Luton. Rais Kayani is the sole director of the company. Bank statements from that account show that £195,000 had been received from the three local authorities and on 12 May 2020, £100,000 was transferred out to a US dollar account. On 13 May 2020, $47,500 was sent from the dollar account to an account in Hong Kong.
Tim Grinsted, the NATIS Lead Investigator for this case said: "We are very pleased Mr Kayani has accepted responsibility for his actions and entered guilty pleas to the charges against him.
Ben Reid of the CPS said: "At a time of national emergency during the COVID-19 crisis, vast Government funds were released to support struggling businesses across the country.
"Kayani was the cynical beneficiary of a series of false applications to local authorities in different parts of the country from where his business operated. Having dishonestly benefitted from the fraudulent applications for the Small Business Grant Fund, he transferred the proceeds overseas.
"NATIS have already recovered £155,000 of taxpayer's money and will now seek a confiscation order for the remaining funds".
This case is the first sentencing of many, that NATIS is investigating and working in partnership with CPS, are committed to bringing fraudsters, including those who have exploited the COVID-19 pandemic for their own gain, to justice.
The teams of the National Investigation Service, as always have worked with Police and other law enforcement agencies to ensure those that have defrauded the Small Business Grant Scheme, as well as other schemes, are brought to justice and the money they took is restored to the public purse as quickly as possible."
Rais Kayani (DOB: 30/01/1991): pleaded guilty to a count of entering into or becoming concerned in a money laundering arrangement and was sentenced to 16 months imprisonment wholly suspended for 18 months, 100 hours of unpaid work, an additional Compensation Order of £6,000 (£3,000 payable within 14 days and the remaining £3,000 within 12 months)