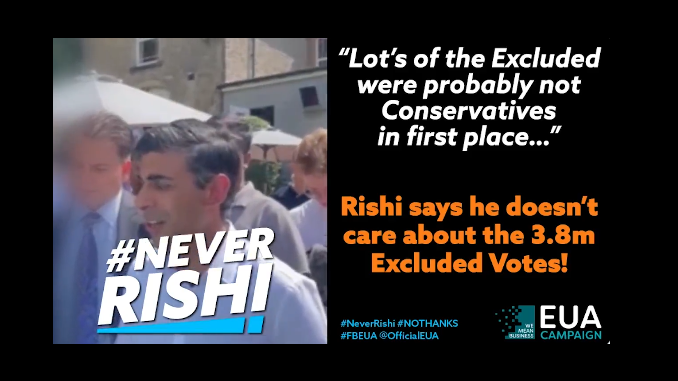 One of the benefits of doing this weird little job I have given myself, is that I get to meet some amazing people.

Take for example the guys and girls over at Excluded Unity Alliance (EUA), not to be confused with other organisations with a similar name.
I met their team at their events in Liverpool, London and even acted as a cameraman for one of their team when they made an appearance in Blackpool at the recent Conservative Party Conference.
They are, if you are blissfully unaware, a group who battle tirelessly for those business owners who were left without any meaningful support during the pandemic.
I have also been on a couple of other "secret missions" with them in the past too, however, yesterday they struck gold so to speak, on one of those secret missions, when they attended a hustings event where Rishi Sunak was proclaiming to anyone daft enough to listen, just how good a Prime Minister he would make.
Well, would you believe it, during a walkabout after his verbal ramblings to the crowd, when he must have felt confident he was among his own, he walks up to two of my chums in the EUA and engages them in conversation.
Low and behold he reveals his true, vile, inner self in his reply to them after they asked him about the lack of support for those who were Excluded.
The Help to Grow Scheme: The programme is 90% funded by the government so you only pay £750. Delivered in partnership with Small Business Charter, courses are running at leading business schools across the UK.
Watch and listen…….
So here you have it @OfficialEUA, #ExcludedUK, #ForgottenLtd – we have it on camera that @RishiSunak didn't give a flying f**k about the #Excluded as you probably weren't a Tory voter. Complete and utter discrimination from the truly callous and heartless #NeverRishi. #FBEUA pic.twitter.com/uny2T7iIaK

— Excluded and Forgotten (@AndExcluded) July 29, 2022