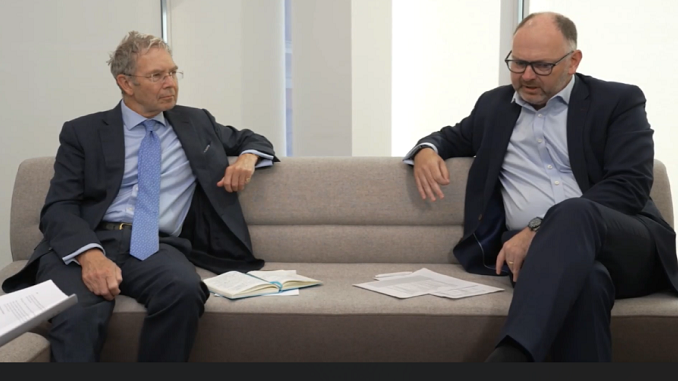 A big thanks to Patrick Magee from the British Business Bank and Stephen Pegge from UK Finance (the latter who was representing 28 of the BBL Lenders) who kindly volunteered to take part in my Fireside Chat, in which we discuss all things Bounce Back Loan related.

Please grab a coffee and tune in as I just know many of you will find the topics discussed relating to BBLs of interest. In the interests of openness the cost of the film crew has been split 50/50 between the British Business Bank and me.
If you want to help me to keep on doing what I do here at MrBounceBack.com and can afford to subscribe to the website or wish to donate, it would be appreciated.
Subscribe > https://mrbounceback.com/membership-join/
Donate > https://fundrazr.com/41zat7
As chatting about Bounce Back Loans to friends or family members is not something most people feel comfortable to do in their day-to-day life, and as approaching your BBL lender may currently make you feel ill, if you simply want a chat to me about anything that may be worrying you, you can do, I don't judge and am never shocked, my contact details can be found here:
Phone Me > https://mrbounceback.com/helpline/
Tune In
Topics Covered and Timestamps
Here are the main topics we covered in our fireside chat along with the location in the video you will find each discussion. However, if you do have time, please watch the entire video as it will enlighten you on the current state of play with the Bounce Back Loan scheme and some other things are discussed throughout the video too.
Build Up to the BBL Scheme Launch – 0 Min 22 Seconds
What is the Reservation Letter? – 4 Min 25 Seconds
Why is the BBL Scheme a Delegated Scheme? – 6 Min 47 Seconds
British Business Bank's On-Going Role with the BBL Scheme – 8 Minutes 1 Second
Argument for Not Publicly Naming BBL Recipients – 10 Minutes 36 Seconds
BBL Pay as You Grow Options – 14 Minutes 18 Seconds
Additional Tailored Forbearance/Support – 16 Minutes 18 Seconds
What Happens After Missed Repayments? – 21 Seconds 2 Seconds
Role of Debt Collectors / No Doorstep Visits – 22 Minutes 11 Seconds
Formal Demand for Full Repayment of a BBL – 24 Minutes 19 Seconds
Income/Outcome Forms When Arranging a BBL Repayment Plan – 25 Minutes 14 Seconds
Enforcement and Non Enforcement of Bounce Back Loan Debts – 27 Minutes and 20 Seconds
Can the British Business Bank Yank BBL Guarantees? – 28 Minutes 13 Seconds
Lenders Asking for BBL Guarantees to be Removed – 29 Minutes and 6 Seconds
Do Borrowers Get Told if Their BBL Has Had Its Guarantee Yanked? – 29 Minutes 29 Seconds
Complaining About Unfair Treatment by BBL Lenders – 30 Minutes 2 Seconds
BBL Facts and Figures – 31 Minutes 40 Seconds
Guarantee Claims Put in are Fully Audited – 32 Minutes 57 Seconds
Take Up of PAYG Options – 33 Minutes 19 Seconds
How Many BBLs Have Been Fully Repaid – 33 Minutes 40 seconds
Suspected Fraud Figure Discrepancies – 36 Minutes 42 Seconds
Annoying Account Reviews/ "Safeguarding" Reviews – 39 Minutes and 51 Seconds
Accidental/Inadvertent BBL Application Errors by Borrowers – 41 Minutes 54 Seconds
Are Personal Assets Safe If I Cannot Repay My BBL? – 43 Minutes 38 Seconds
What Other Services Does the British Business Bank Offers? – 45 Minutes 26 Seconds
Patrick is Leaving the British Business Bank – 49 Minutes 52 Seconds
Final Words For Anyone Struggling to Repay Their BBL? – 51 Minutes 5 Seconds