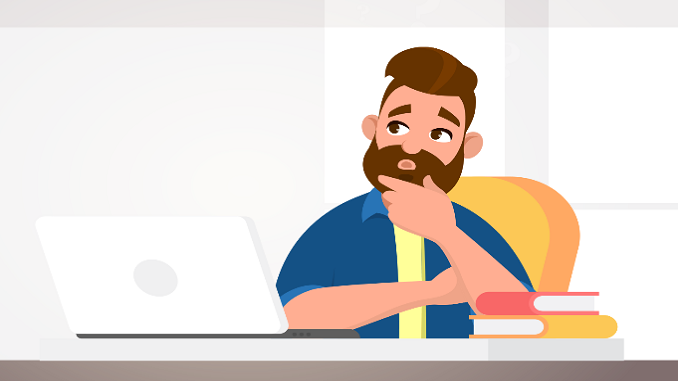 I am going to try not to rant about the new lockdowns, suffice to say if you are now stuck at home unable to pop to the shops to buy a pair of underpants/knickers, a chip pan or a new pillow then you may be starting to believe some of the weird and wonderful Covid related conspiracy theories out there.

I will however give you an overview on the current state of play regarding Bounce Back Loans below, so please do read on if you are still trying to get one, or are waiting patiently for any lender to process your bank account or Bounce Back Loan application.
Donations – A big thank you to everyone who made a donation over the last few months, your generosity allowed me to fire out payments to some of my Twitter followers unable to get a BBL who were in financial distress.
However, as the scheme is shortly coming to an end, I am no longer accepting donations. If you still want to donate, then please choose a local small charity nearby where you live that are often overlooked during times like these.
I am being contacted daily now by legal firms who want to advertise/promote/showcase their services on this website, due to the likely defaults and added stress that will no doubt descend on many business owners that took out a Bounce Back Loan who may not be able to pay them back.
Obviously, good legal advice and a smooth and cost-effective way for those of you that will have no other option to default on your BBL and possibly close your business is what is required.
I just know there will be many "Ambulance Chasers" coming out of the woodwork shortly, and I am very wary of many of them and as such I am considering my options on that.
The banks and lenders are eager to have a streamlined way for them to collectively handle BBL defaults, but I want borrowers to also have such an option.
I will look at the options on that moving forward, if you are a suitably qualified law firm and wish to purchase this website when I retire when the scheme ends and wish to offer me enough cash to buy a Ferrari/Holiday in Barbados or for a lifetime supply of Maltesers then do get in touch.
There is of course always the chance that old Rishi will see sense and turn Bounce Back Loans into grants, thus taking the pressure of those who took one out and due to recent events cannot pay them back, and by doing so give them the chance to continue trading.
Conister – I have had a handful of people (five) who applied with Conister contact me during the last few days letting me know that Conister contacted them out of the blue to ask them whether they are still interested in taking out a Bounce Back Loan.
So, it appears that 2 months after they started accepting BBL applications they still have not processed the 301 loans they have enough funds to lend out.
If you are still living in hope that Conister may contact you then please be aware they are soon going to have used up their allocation of funds, so that sadly is unlikely, but as the five people who contacted me found out, there is still a tiny chance of them doing so.
One of those five people did however get declined, the others have been sent out the final documents to sign and are awaiting payment.
Metro Bank – Those of you caught up in the Metro Bank fiasco be aware that they have been contacting people who may have been declined and either telling them their Bounce Back Loan decline still stands or letting them know what they have to do to get their loan approved.
Supplying proof of turnover appears to be one thing those with a chance of having their decline overturned are being asked to send into Metro Bank along with some other documents to prove they were trading before March.
I have also been told those that log into the BBL section of the Metro Bank website and see the "we are reviewing your BBL application and will be in contact with you in 3 to 5 days" ( or some such similar message) and may have received a decline email could still have a chance of being approved.
I have been unable to confirm this, but one of my Twitter followers contacted Metro Bank and was told their application had "timed out" in the system and as such the bank could now approve their loan after all.
That follower had been subsequently approved by Barclays, so took great pleasure in telling Metro Bank to……, well you can see from below.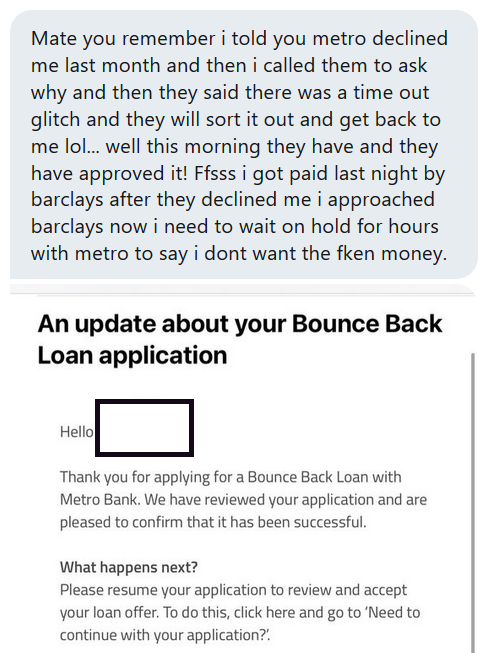 If you had a similar thing happen with your application and never contacted them after getting that message onscreen and were sent out a decline email, maybe its worth you giving them a phone call, its worth a try if nothing else.
HSBC – Now that HSBC have slammed the door firmly shut on new business and feeder account applications, I have noticed they have been working their way through their backlog.
Be aware that when you finally have either of those two accounts opened you can then go on to apply for a Bounce Back Loan, declines once an account is opened for a BBL are negligible.
As for just how long it takes for them to currently process a BBL application, much like previously there is no set timescale, but you will eventually be sent out an "EchoSign" at some point in time after you apply for a Bounce Back Loan with them, which is sent via an email marked "urgent".
Payment timescales after signing your EchoSign vary too, it can be the same day you sign if your funds are going into an HSBC business account, based on feedback from HSBC BBL applicants it can be from two working days up to 3 and a half weeks if it is going via a feeder account.
Starling Bank – Not a clue whether Starling Bank are going to have enough time to invite everyone on their waiting list to apply for one, they are keeping very tight-lipped on that.
It does appear though those they are inviting to apply are those who have had an account with them for quite some time and have been using that account.
So just be aware if you are on their waiting list there are no guarantees they will call you off it to apply, and even if they do there is still the chance they could decline you. Not want you will want to hear of course but sadly that is how it is.
Clydesdale and Yorkshire Bank – The last hope for many people who want a Bounce Back Loan is Clydesdale Bank and their sister bank Yorkshire Bank.
You still have time to apply for a business bank account with them and then if you get one can apply for a BBL. Just be aware they are not rapidly processing account applications and there is always the chance you will be turned down for an account if you have a low/bad credit rating.
Barclays – Over at Barclays the left hand does not know what the right hand is doing it appears. I am aware they are still processing new account applications and inviting people to branch to open a business account to those they had in their system before they slammed the door shut on new account applications.
You apply for a BBL with them via your online banking, but be aware the application form will only go live once they have verified your business was trading as per the rules of the Bounce Back Loan Scheme, so they will ask for proof, such as a self-assessment from 18/19 and all manner of other documents if you were not trading back then but are eligible.
Until the link goes live you may get an error message or a message saying your business was not trading in the qualifying period, that will be removed once they have verified your business once you send in the required documentation.
Be aware that if you get declined, they may make rules up that do not exist. The most common one I have seen them use to get rid of you, is that a business can only apply once for a Bounce Back Loan and if you are turned down with another lender you cannot apply to another lender (them), that is for want of a better term "a load of bollocks".
All Other Lenders – You can only get a Bounce Back Loan with the remaining accredited lenders if you had an account opened with them before their published "cut-off" dates.
I have seen some people managing to circumvent that rule by getting their local MP to step in and help them, or by sending in a good "begging" type letter to the CEO.
It really does prove how messed up the scheme has become when you have to send in a begging letter to get a loan that is guaranteed by the Government, but sadly that is the what the BBL scheme has become.