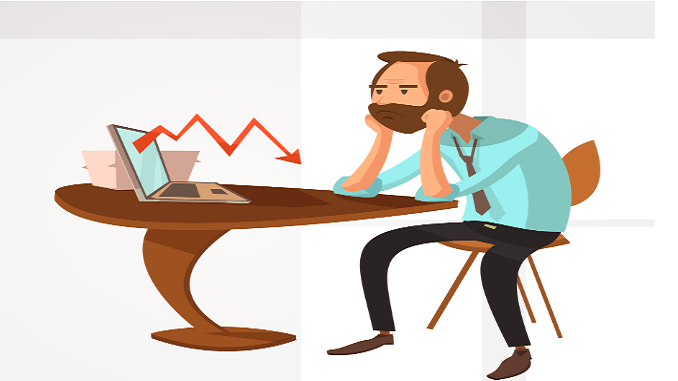 OK, here it is, be aware I go all sweary at times, however I do calm down at the end. Please read this through in full, verify everything yourself that I state in this article, then make up your own mind on the facts and proof supplied.
Deep Breath, Here I Go
I know many of you are applying for Recovery Loans and are getting declined, in fact my inbox is full to overflowing of messages saying just that, and sadly I have something even worse to tell you.
This will make you feel like Rishi Sunak has stuck a big knife in your back and is vigorously swirling it around, and guess what he is as good as doing just that.
I have had message after message from those applying telling me how the British Business Bank lenders, (the few they have so far been arsed to accredit, see this news story later for that saga) have been declining them at great speed.
My Twitter feed is full of those messages, I will post them up here when I get around to it, edited up of course to ensure anonymity.
Anyway, seeing so many negative and upsetting messages I was getting worried about many of you, from a personal point of view, for I know how most of you have been suffering business-wise for the best part of a year now, however this message dropped into my inbox which caught my eye, by what it said: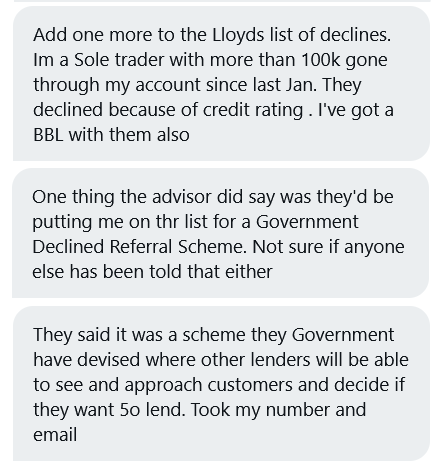 I started digging around and rather than me ramble on I will show you the proof of what I am saying, do your own research, to see how dirty, filthy (insert your own adjectives here) the Recovery Loan scheme has been designed.
1. Recovery Loan Scheme designed with a high decline rate for those who apply.
You can of course vouch for that yourself if you have applied.
However, here are the results of a quick poll I ran on my Twitter feed, the figures speak for themselves: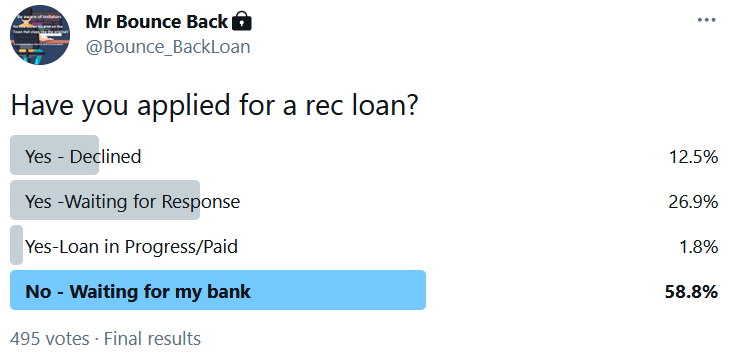 2. Bank Referral Scheme
In 2016 HM Government set up a very shady/seedy little scheme whereby anyone declined a business loan would be asked, by the bank that declined them, would they like their details passed over to one of three "Government approved portals" who may help them get a business loan.
Those three portals are:
Funding Xchange
Business Finance Compared
Funding Options
They then search a range of "wonga-esq" type lenders to find you a "deal", the portal owners then get paid a nice healthy commission from those lenders.
The interest rates and terms of those loans are, how can I say, (keep in mind I am furious) fucking outrageous, however do not take my word for it go take a look, one follower told me the following take it as you will:

In fact, check the websites out yourself and connect the dots.
3. Guess Which Lenders Get Accredited for Recovery Loans First?
Now, remember I told you earlier that the British Business Bank only accredited a small number of lenders at the launch of the scheme, well would you bloody believe it, 80% of the banks that are required to pass over, if you are vulnerable/confused/desperate enough to agree, your details to each of those wonga-esq type portals are the ones the BBB accredited first, what a bloody coincidence.
RBS
Lloyds
HSBC
Barclays
Santander
Clydesdale
Yorkshire Bank
Danske Bank
Oh, but Mr Bounce Back how do we know that is all true, here you go my dear website visitor go see for yourself > https://www.gov.uk/government/news/new-matchmaking-service-for-small-businesses-looking-for-finance
Imagine being one of the CBILs Lenders who are eager to offer Recovery Loans, knowing your customers could apply with HSBC right now and when they are declined, they could get sent to another lender who can bag some juicy interest whilst you get sent nothing.
4. Lloyds Bank Employee Speaks Out
I was inundated with feedback and tip offs during the evening and one was a confirmed Lloyds Bank employee who told me they had been "actively encouraged" by their bosses to push the "Bank Referral Scheme" on those declined.
Now, keep in mind those business owners who do get as good as an instant decline are at their most vulnerable and by offering them a loan that Lloyds Bank know is nowhere as near on as good a set of terms as theirs is sick, no other word for it, Lloyds Bank, you are sick for doing that to vulnerable people.
Your lovely little horsey adverts gained my praise during the BBL scheme for you broke banking rules, got slapped for doing so just to ensure your customers got their loans paid out quickly, now you shit all over them.
Oh and once again here is the proof they are doing just that: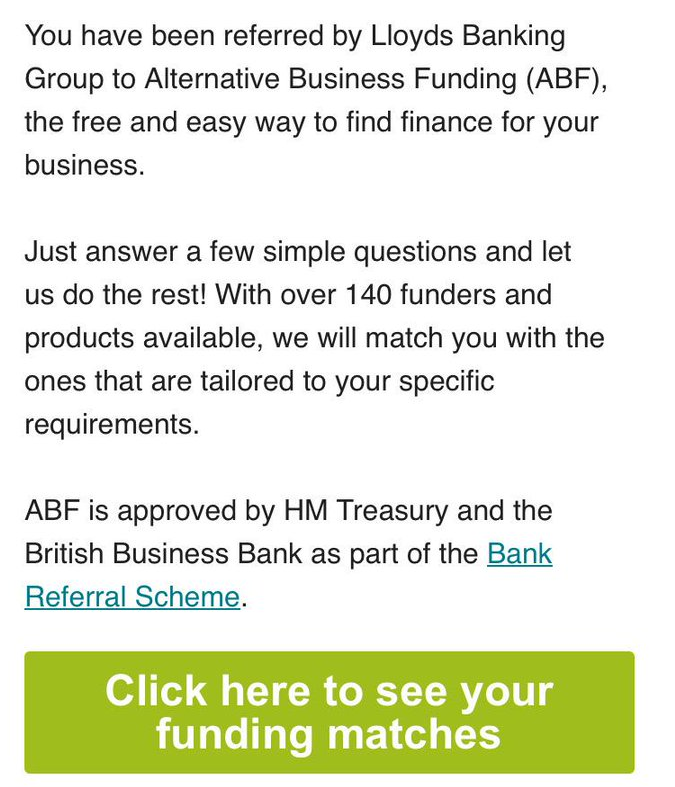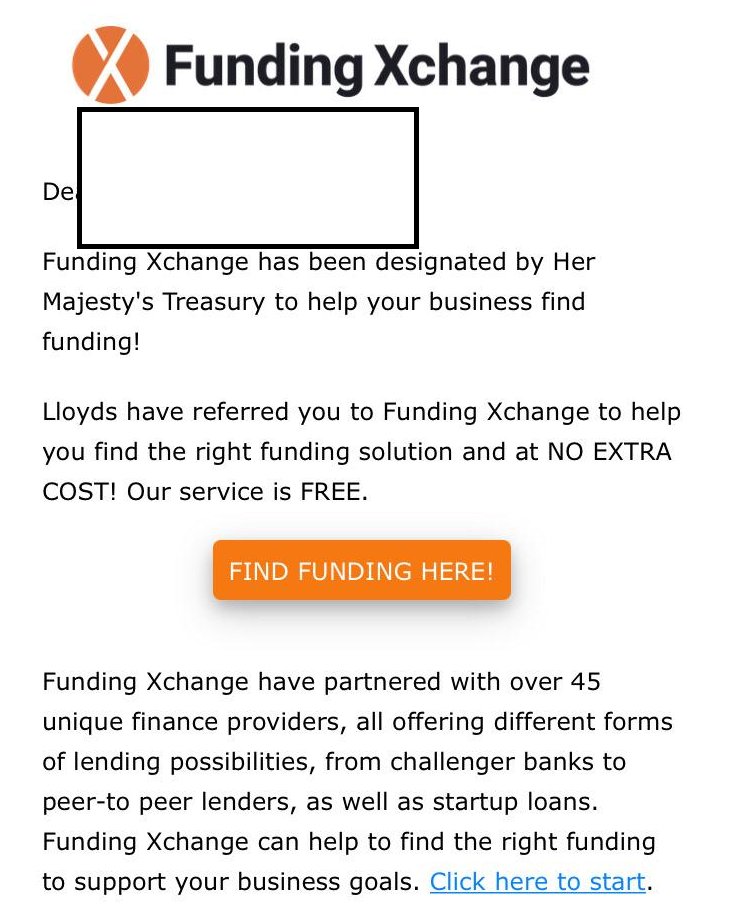 5) British Business Bank
Now, dear website visitor, pick your chin off the floor and wipe the coffee you just spat out off your PC/Mobile screen off, and read on.
As you can see, the scheme has been designed in an evil cunning way, Rishi knows that, you will see that yourself above and below, however let me move onto the British Business Bank, they love that seedy portal scheme.
However, what I discovered next somewhat surprised me. For the ex-CEO of the British Business Bank made me chortle not long before he "resigned", for he released a letter in which he states that Bounce Back Loan borrows could simply claim that they had to sign away their rights under the Consumer Credit Act when applying for a BBL and could say they were vulnerable and use that as a rather accurate excuse not to pay it back.
Well, bash my bum with a biscuit tin lid, this Bank Referral Scheme that as you can see above, targets vulnerable SME's got his blessing! You could not make it up:

Once again here is the proof feel free to look at it yourself on this website >
https://www.gov.uk/government/news/new-matchmaking-service-for-small-businesses-looking-for-finance
The Conclusion
I am now 100% convinced Rishi Sunak and the team at the British Business Bank knew exactly what they were doing with the design and launch of the Recovery Loan Scheme, and knew very few SME's would get approved for those loans.
To hopefully keep it quiet they decided it would be a fabulous idea to ensure the Bank Referral Scheme and the lenders who are part of it that charge rip off interest rates and terms compared to the accredited Recovery Loan Lenders, were there to mop up the SME's who desperately needed a loan and were in such a venerable and dark place they would agree to those rip off interest rates and terms.
Make no mistake about it, Rishi has pulled one of the most disgusting tricks here with the above, worse it could be said than David Cameron's alleged dodgy dealings with Rishi and Greensill.
It is as obvious as a fart in a lift what he has done, and he should hang his head in shame, he announced this replacement loan scheme months ago, and extended the CBILs and BBL schemes which meant the launch of the Recovery Loan Scheme was delayed.
He then launches it and as you can see very few people are being approved, how the fuck can people "recover" when they are being screwed with obscene interest rates by the very lenders you send them to when the scheme set up to help them recover fails them and they are declined a loan?
I suspect the numpties at the British Business Bank or even Rishi himself will say, "but people are not forced to go with one of those Bank Referral Scheme lenders".
Well, when you are a business owner, need to feed your family keep the roof over your head and pay your bills you will do whatever you need to do, and sadly Rishi you are now forcing people into the grubby open arms of what most people would call legalized Government approved loan sharks.
In fact, looking at their interest rates and the terms, that is what I am calling them, HM Government approved loan sharks.
Bounce Back Loans very few bounced back with, now a recovery loan no one bar a few can get, you are taking the piss.
OK I Have Calmed Down and Had a Coffee
Rishi, you launched the Bounce Back Loan scheme, and you took a lot of stick for doing so, but I salute you for doing that, I have spoken to 1000's if not 10,000s of people who got one, didn't get one and I have been there for them.
I heard stories that affected me, many people told me about the dark places they were in, they told me things I never want to hear again. When I spoke the National Audit Office giving them my input with their "Investigation into the Bounce Back Loan Scheme" I made it clear people were in a dark place and told them things others very clearly, by their stunned silence, had not told them.
The pandemic went on longer than expected, people have their own views on that, please my friend, give them a fair chance to recovery, your Recovery Loan Scheme is broken, seriously broken, do the right thing PLEASE, fix it, or even offer a new BBL top up facility, you can route out the fraudsters.
You are a decent man, SME's are decent people, do not stitch them up, it will take a big man to say it is broken, but hey you have always been prepared to change things, you did with the BBL scheme and once again I thank you for that.
Fix It Rishi, Please Fix It.
UPDATES:
Good news if you are a millionaire with one of the BBB accredited Recovery Loan Lenders and bank with their "rich peoples" arm of the bank, you will not be pushed into the grubby open arms of the loan sharks if your Recovery Loan is declined. No, we would not want that.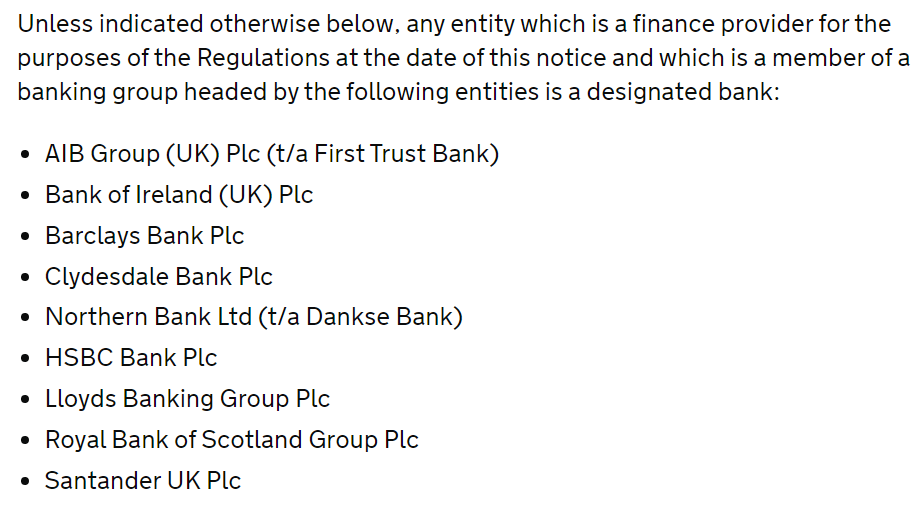 Mp's Who Were Giddy with Excitement About the "HM Government Approved Loan Shark Portals"

Harassing the Vulnerable – Rishi PUT A STOP IT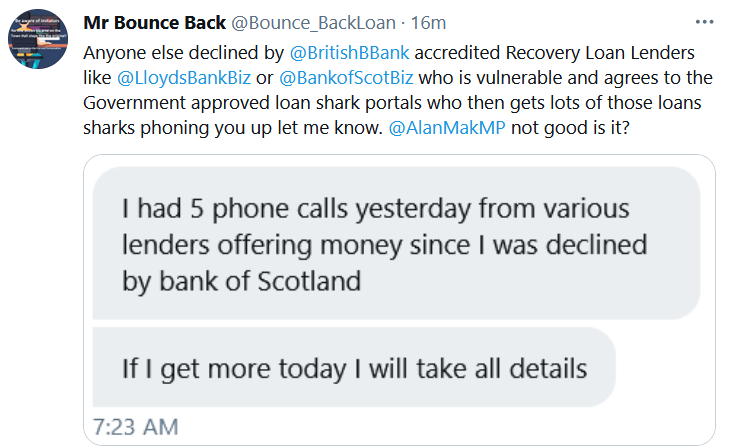 Just Putting it Out There: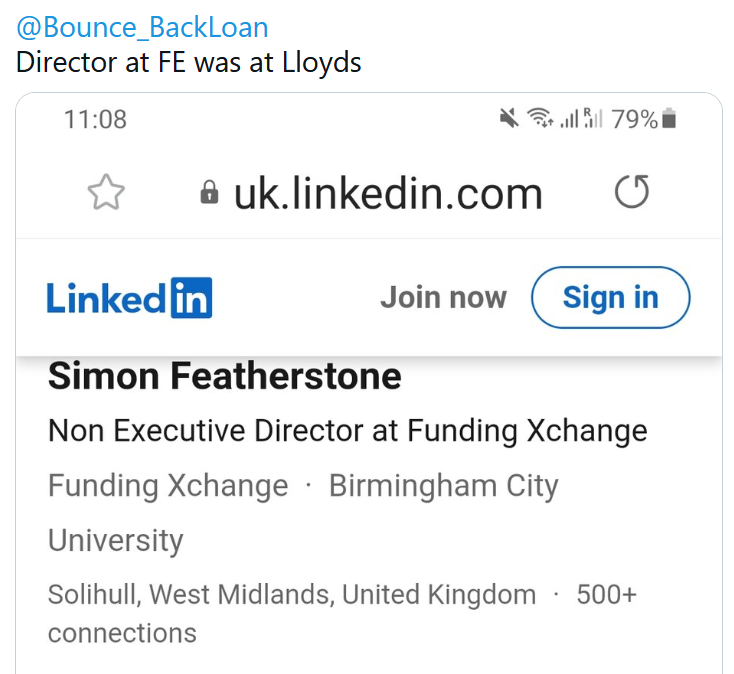 >>> https://uk.linkedin.com/in/simon-featherstone-93b14552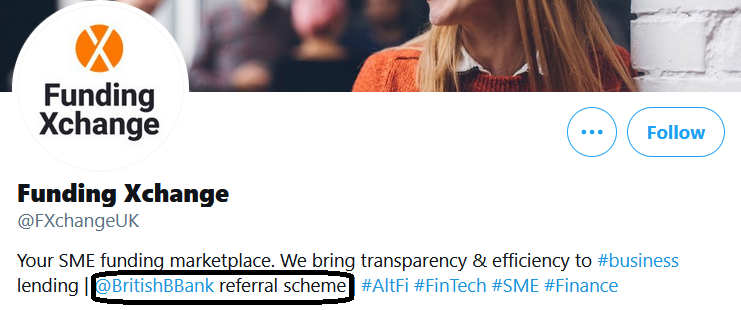 Nice Job If You Can Get It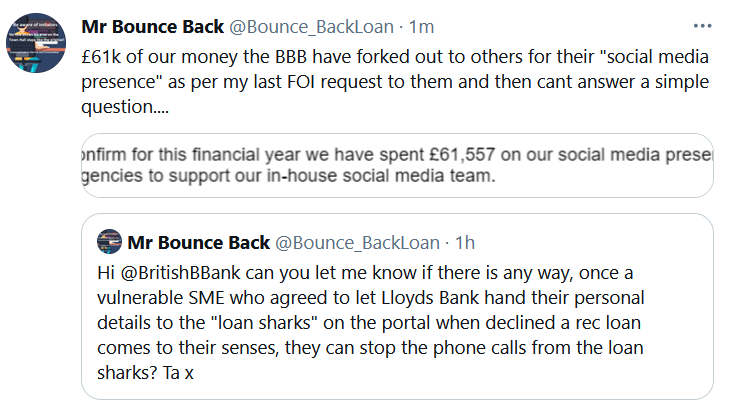 NatWest Doing the Same