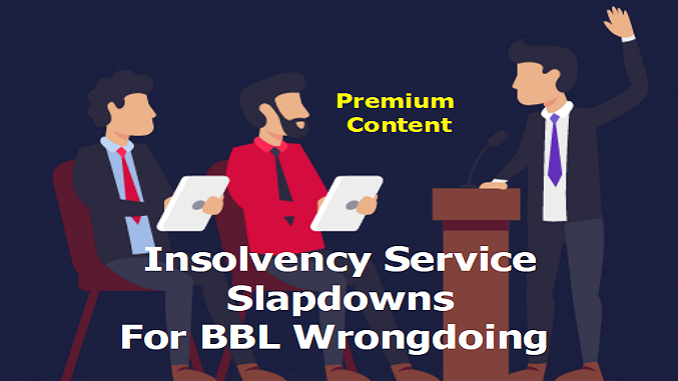 This story is enough to make many of you choke on your cornflakes this morning, much more so if you have been refused a local council business grant of any type or did not get a Bounce Back Loan.

The two separate companies submitted false documents to at least 41 local authorities and the Government's Bounce Back Loan scheme to secure £230,000 worth of grants put in place to support businesses during the pandemic.
LV Distributions Ltd and SIO Traders Ltd were wound-up in the High Court in separate hearings on 27 July 2021 following confidential enquiries conducted by the Insolvency Service, which proved neither company ever traded.
Investigators uncovered that SIO Traders registered their offices in Whitchurch, Shropshire, but provided false lease documents and utility bills to 14 different local authorities to fraudulently claim they traded out of premises in their respective areas.
SIO Traders claimed they supplied PPE and secured £95,000 worth of business grants from 10 local authorities. The company also received a £50,000 Bounce Back Loan they were not entitled to.
LV Distributions had registered their offices in Redhill, Surrey, and claimed to sell medical care products. Similar to SIO Traders, in a 10-day period between 17 and 27 August 2020, LV Distributions provided false lease documents and utility bills to 27 local authorities.
The company fraudulently secured £35,000 in business grants from 2 local authorities, as well as a £50,000 Bounce Back Loan. Investigators, however, uncovered that the premises LV Distributions falsely claimed to operate from were either unoccupied, up for rent or occupied by a different company.
Herefordshire County Council was targeted on two occasions by SIO Traders. The local authority initially paid £10,000 after SIO Traders' first fraudulent application but was able to recover the funds in full, before rejecting a second £10,000 application and reporting the company's activities.
The Council also received a further £10,000 application from LV Distributions, which was also rejected, saving the local authority a total of £30,000 in fraudulent grant claims.
After the two companies were wound up in the courts, the Official Receiver was appointed Liquidator of the two companies.
The Insolvency Service will also soon have extra powers to investigate Bounce Back Loan fraud in cases where the company has been dissolved. The Ratings (Coronavirus) and Directors Disqualification (Dissolved Companies) Bill, currently before Parliament, if passed will give the Insolvency Service powers to investigate, and if appropriate take action to disqualify directors of companies which have fraudulently claimed Bounce Back Loans but which have since been dissolved. This power will be retrospective to allow conduct that took place before the law comes into force to be investigated.
Company Investigations, part of the Insolvency Service, uses powers under the Companies Act 1985 to conduct confidential fact-finding investigations into the activities of live limited companies in the UK on behalf of the Secretary of State for Business, Energy & Industrial Strategy (BEIS). Information about how to complain about a live company.
Check out this section of the website for more stories similar to this one:
>> https://mrbounceback.com/category/the-disqualification-files/