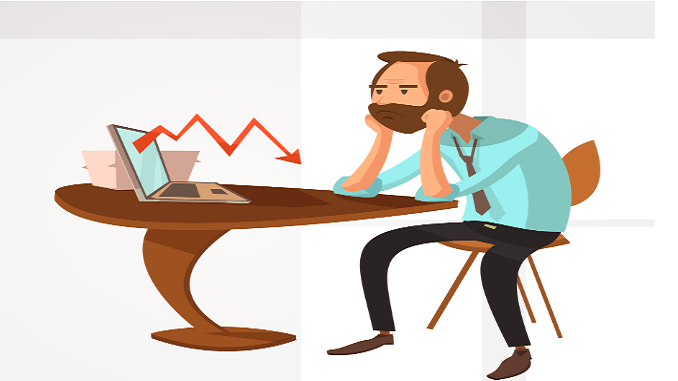 Tomorrow we will find out how many Bounce Back Loans have been approved over the last few weeks, and I can guarantee it will be a low number of them.

How can I make such a prediction, well if you have been reading these daily updates you will know all of the major banks have stopped accepting new business account customers who want to go on to apply for a BBL, thus the options for getting one of those loans are limited.
Starling Bank have a monopoly on standard BBL's and whilst they do have their waiting list, they do have a long list of business types they will not allow to apply for a business account, so it is a lottery whether you will get one if you do get onto their waiting list.
Tomorrow however when those figures get released, and I will Tweet them up the second they are released as usual, you can bet that the British Business Bank, HM Treasury and Rishi Sunak will also be tweeting out gleeful gif's and memes proclaiming just how many BBLs have been approved, probably in total by the way since May, and not over the last few weeks.
One thing to keep in mind about those figures, is that many people have more than one BBL, as they may own more than one business, so do not think or be under the impression the total amount of them approved represents individual people as that is not the case, in fact a fair number have been fraudulently acquired, so they only helped crooks and not real small business owners.
Sadly, most people who have not been able to get a BBL have given up and are now being forced to close their businesses and look for employment.
One follower of mine posted up the following heart-breaking Tweet yesterday: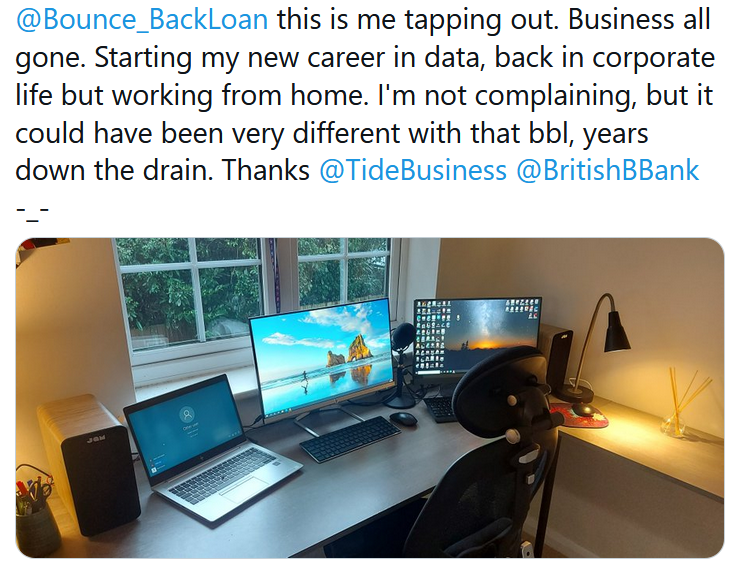 I did reply of course, (and so did many other people):


This is the harsh reality many people are now faced with. That Follower by the way was one of my first ones, back in May he had been pinning his hopes on getting a Bounce Back Loan, but Tide failed him. He tried applying with his Halifax account via Lloyds, but Lloyds failed him too.
I recently heard a boss at Lloyds proudly proclaiming that by only accepting existing customers he was confident that fraud would be minimum regarding his BBL facility and he seemed quite smug saying that too, he failed to mention HM Government had expected his bank along with all others to open up to new customers at some point in time during the scheme's life, which they never did.
Tide of course failed tens of thousands of other people too, getting them to join a waiting list, when they knew they only had enough funds at hand to process approximately 1,333 BBL's.
In fact, Tide did go on to get a BCR Grant worth a cool £25million, for getting so many new business customers, nice trick for them to pull you could say.
Rishi Sunak is now of course in the position to right those wrongs and ensure anyone who has been declined the right to apply for a BBL to get one somehow, but he is in no rush and does not appear to have any inclination to do so.
As for new loan schemes, he seems in no rush either to announce the launch of them but has hinted they will be forthcoming. Just do not hold your breath and do not expect them to be as generous if you can call the BBL terms generous. Do we all want to be lumbered with even more debt anyway?
If you have now also come to the conclusion you need to stop trading and close your business, due to not being able to access a BBL or even a grant or extra Government help, then always remember that decision is not a failing of you, it is a failing of the Government, Banks and in the case of grants your Local Council.