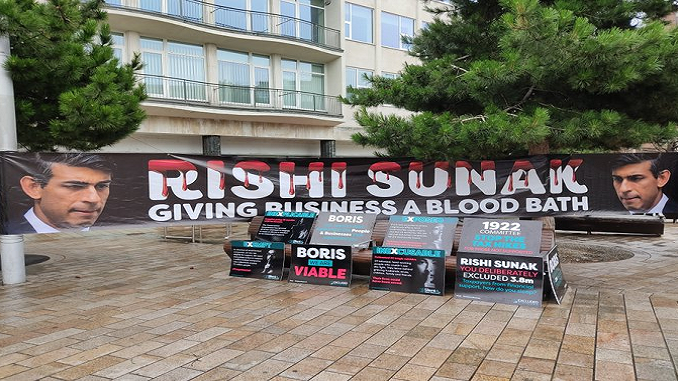 The weather may have been against us, but there is no doubt in my mind the message got through far and wide at the Excluded Unity Alliance event yesterday. I turned up a tad early now knowing what to expect and not personally knowing anyone who was attending the event.
I had nothing to fear as I was made most welcome, and as the minutes ticked down to the start of the march through Liverpool City Centre I was invited to pick a banner/sign call it what you will, and we then set off snaking our way through the streets.
I opted for this one: (excuse the hair, its a new trending bouffant that will be all the rage soon)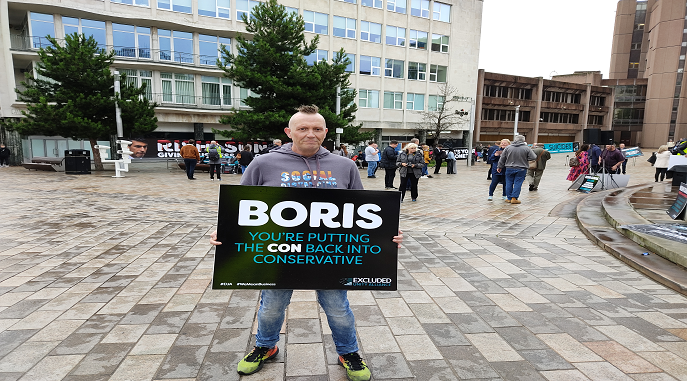 I have to say, there is something completely liberating about chanting out phrases whilst waving such a sign about in a large group of people all doing the same, I saw thousands of shoppers watching us, cheering us on, filming us, taking pictures, clapping etc and that support makes you more determined to continue fighting for such a cause.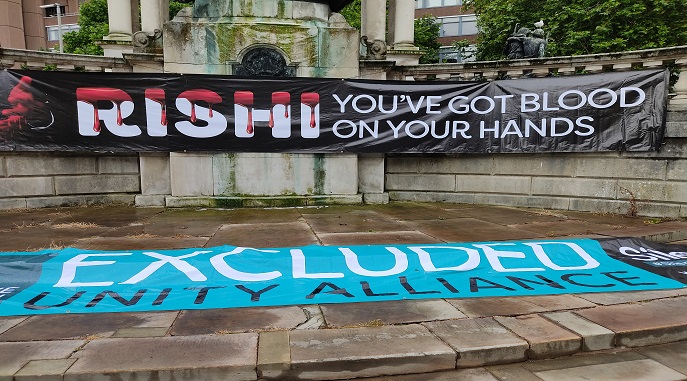 It was when we finally made it to our destination, I realised the time and effort that Excluded Unity Alliance had put into the event, with the stage, banners, and the signs we had all been proudly holding and waving around.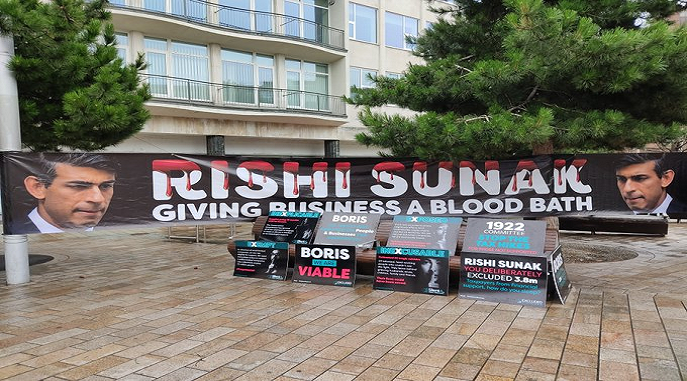 The sound equipment was top of the range and speaking to the EUA team later they told me someone in that line of business had volunteered their time and supplied equipment for the event, a big pat on the back to that person.
The speeches then started with a rallying call from Ricky Tomlinson of TV fame, Pete Price, Radio Host "the voice of Liverpool", MP's, Local Councillors, elected mayor Steve Rotherham and many others, the on stage host kept spirits high too despite for want of a better phrase, it beginning to piss it down.
The guest speakers start to arrive: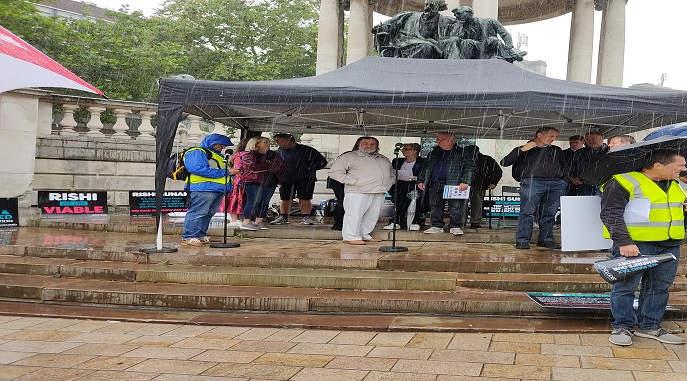 Everyone had a story to tell, and as I mingled around the crowd I managed to speak to many people and did bend the ear of Labour MP for Sefton Central and Shadow Minister for Trade Bill Esterson and asked about how his party thought the Bounce Back Loan scheme should be changed.
I gave him my ideas and suggestions and asked him to ensure the MP's on his side of the house keep on being vocal in the Commons and beyond, and to please do everything in his/their powers to get those changes implemented.
All I will say on that is he and the Labour Party 100% "get it" as does the Lib Dems and SNP (having spoken to MPs from those two parties previously and more discussions are planned).
Had a long chat with the team from Excluded Unity Alliance as the event drew to a close and have to say they are a great bunch and know the score and I was proud to be there with them.
Moving forward, and to quote Ricky Tomlinson "This is just the start"
Liverpool Echo
https://www.liverpoolecho.co.uk/news/liverpool-news/ricky-tomlinson-blasts-government-not-21254003
ITV Granada Reports
https://www.itv.com/news/granada/2021-08-07/ricky-tomlinson-when-you-want-a-bit-of-support-you-get-nothing
Excluded Unity Alliance