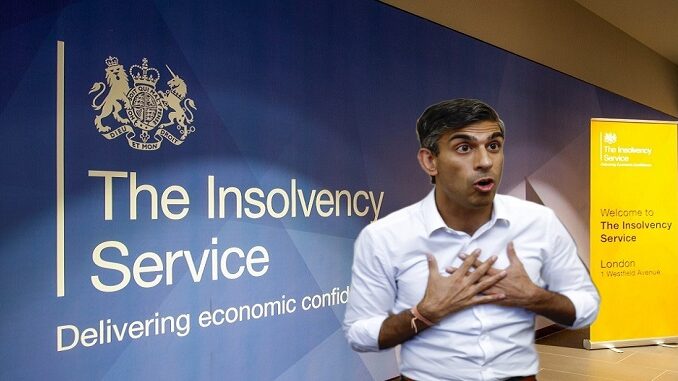 It has always been a subject that the Government liked to shy away from, however they have finally woken up and smelt the coffee and are now promising action to stop rogue Insolvency Practitioner Firms ripping off and/or professionally failing their clients and the creditors thereof.

When you have no other option but to take the Liquidation route for example with a Ltd Company and are on the hunt for an Insolvency Practitioner, you are going to come across some out and out rogues, you only have to look at some of the stunts Insolvency Practitioners have pulled and have ended up being sanctioned for regarding their misconduct to realise you are at risk when taking the Liquidation Route.
Stories are rife such as people being told to meet Insolvency Practitioners in car parks and hand over cash to start the Liquidation process, and I have heard from a great number of people being told by some out and out dodgy Insolvency Practitioners they can make a Bounce Back Loan related problem "vanish" when taking the Liquidation route, if of course you hand over to them a huge amount of cash.
If you are about to take the Liquidation route with a LTD Company or even a Personal Bankruptcy and want an outstanding, decent and above all else honest Insolvency Practitioner, I do of course have plenty of them on file some of whom I have spoken to and met over the last few years, who I can point you in the direction of.
Anyway, this is what the Government are doing to hopefully put an end to dodgy Insolvency Practitioners.
The government has announced an overhaul of insolvency regulation to modernise the framework, increase transparency, and bolster confidence in regulation.
Central to the reforms are plans to introduce new rules requiring firms offering insolvency services to be regulated, in line with other regulated sectors such as audit and legal services.
Currently, only individual Insolvency Practitioners (IPs) are subject to regulation, which means regulators cannot hold their firms accountable for failures when things go wrong.
The insolvency sector has evolved considerably since formal regulation was first introduced in 1986, with the rise of larger, more complex firms and volume-based business models. Extending regulation to firms will transform the framework by closing a gap in regulatory coverage and offer greater protection for those using insolvency services.
The reforms come as the Insolvency Service published the government's response to its consultation on the future of insolvency regulation, with respondents overwhelmingly supportive of the proposal. The government will bring forward the necessary legislation when parliamentary time allows.
The reforms will also introduce the creation of a public register, which will list all individuals and firms that are authorised to provide insolvency services and show whether they are subject to sanctions by their regulator. This will improve transparency and allow users of insolvency services to make more informed choices.
The four recognised professional bodies (RPBs) that currently regulate individual IPs will continue to have oversight of the profession. In addition to providing them with additional tools, the government will work with the RPBs to deliver transformational improvements to the regulatory framework without the need for legislation and create a modern regulatory framework that will increase public trust in the vital work done by the insolvency sector.
The government proposes to take a power to implement the single regulator should that prove necessary, and the need and options for introducing a single regulator will remain under review.
Kevin Hollinrake, Minister for Enterprise, Markets and Small Business, said:
Our insolvency sector is highly-respected around the world, with the vast majority of Insolvency Practitioners doing a good job, making a valued contribution to our economy, and supporting those in financial difficulty.
But there continue to be instances of poor conduct that have a direct impact on those closely involved. When that happens, it tarnishes the reputation of the whole profession, and undermines confidence.
This forward-looking package of reforms reaffirms the government's commitment to ensuring the insolvency profession is effectively regulated, with a regulatory framework fit for the future. These reforms will deliver transformational improvements, modernise the regime, and, crucially, increase public confidence.
Further reforms that will be introduced following the consultation include:
Reforming the way ethical and professional standards are set for the insolvency profession to ensure they are more agile in responding to changing circumstances
Further consultation to devise a new compensation and redress scheme for people affected by insolvency professionals' mistakes or misconduct
Reforms to the Insolvency Practitioner security ('bond') scheme to cover losses in the event of fraud or dishonesty, including increasing some cover levels to better protect creditors.
Insolvency Practitioner Wall of Shame
Details of the sanctions are provided by the Regulatory Bodies in an agreed format which gives a summary of the misconduct, the details of the sanction and how the Common Sanctions Guidance has been applied to the case.