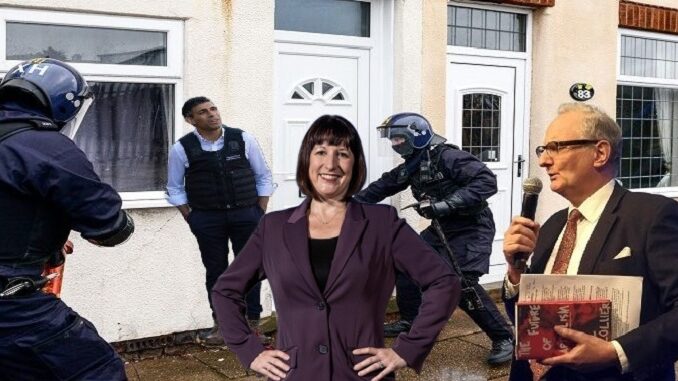 If you got a Bounce Back Loan, a Council issued Business Grant during the pandemic or even money from the Eat Out to Help Out (EOTHO) Scheme, but committed any form of wrongdoing, such as over-egging your turnover to get a BBL, spending it in a way you were not allowed, or fiddling the figures to blag the EOTHO Scheme, or even skanked a council covid business grant, you may be about to have your collar felt, well if Labour get into power.

A Labour administration is poised to establish a formidable Covid corruption overseer, with the aim of recovering billions of pounds of public funds lost due to mismanagement, fraudulent activity, and flawed contracts during the pandemic, according to an announcement expected today by Rachel Reeves.
This newly appointed commissioner would possess the authority to convene various public agencies, including HMRC, the Serious Fraud Office, and the National Crime Agency, in the pursuit of at least £2.6bn of ostensibly "misplaced" public resources. Their task would entail a meticulous examination of contracts, and they would be obligated to provide updates to parliament on their progress in the recovery efforts.
The House of Commons library indicates an approximate loss of £7.2bn due to fraudulent activities within Covid support initiatives, encompassing business loans, grants, furlough, and the "eat out to help out" scheme, although this figure might potentially escalate to £10.8bn. Labour is of the opinion that a more conservative estimate of £4.7bn could be realized if losses are effectively contained.
During her conference speech in Liverpool, scheduled for Monday, Reeves is set to disclose that a Labour government would conduct a thorough review of the sentencing protocols for fraud and corruption pertaining to UK public services. Additionally, reforms would be implemented in public procurement regulations, incorporating a robust system of "debarment and exclusion" for individuals involved in defrauding the state.
Furthermore, future public grant and loan schemes would be subjected to heightened vigilance, with the inclusion of counter-fraud experts, data management, and analytical resources to avert financial losses.
"The estimated cost of Covid-related fraud to the taxpayer stands at £7.2bn, with every one of those checks bearing the signature of Rishi Sunak, the chancellor. However, a mere 2% of these fraudulent Covid grants have been recuperated," Reeves will assert.
"We will appoint a Covid corruption overseer, armed with the necessary powers and a clear mandate to take whatever measures are required to pursue those who have exploited the taxpayer, bringing them to court and retrieving every penny of public money possible. This funding rightfully belongs to our NHS, our schools, and our police force, and we demand its return."
Throughout the pandemic, the government temporarily suspended its customary procurement procedures and introduced a highly confidential VIP "fast track" channel for the acquisition of goods, including protective equipment. Subsequently, it had to write off £8.7bn spent on substandard or overpriced PPE.