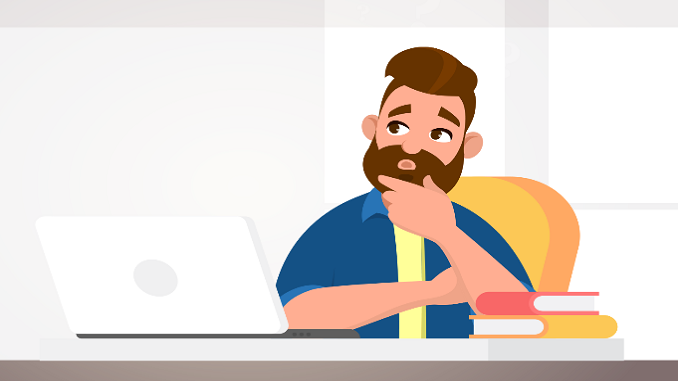 Well, it has been another rollercoaster of a week here on planet Bounce Back Loan, and as we all rattle towards Christmas, I will give you an update on the current situation.
Firstly, you may have noticed I have been slowly but surely adding a new section to this ever-growing website, that being my "timeline articles". You may be wondering what all that is about, well if you have been checking them out you will see they give you a round up of what happened during each week of the Bounce Back Loan scheme since week one.
I have one planned for every single week of the schemes history and inserted into each one is a YouTube video I have put together which is packed full of some of the 10000's of messages I have received, all related to each individual week.
The idea behind those articles, is that I am aware that the banks and lenders that are part of the scheme, HM Treasury, the British Business Bank and HM Government are all in disagreement of how they are going to handle things such as defaults next year.
Having watched a Treasury Select Committee meeting the other day I am also aware they all have a crazy mixed-up view of the Governments Guarantee of those loans and how those guarantees will kick in.
I am also aware thanks to a Public Accounts Committee report that was published the other day, some banks seem to be suggesting that some of you may have committed, as they put it "soft" or "hard" fraud, when in fact it is much more likely to be a bank "fuck up" that gives that impression and you are probably guilty of nothing.
What on Earth is "soft fraud" I hear some of you say, well believe it or not I heard bankers trying to argue that by declaring too high a turnover could be soft fraud. Look at this example from Santander:

It says clear as day "estimates can be used", you can draw the obvious conclusion from that. By the way when applying for a top-up you cannot change your "estimated" turnover, to either a higher or lower figure, so if you, as in their words committed "soft fraud" you may have to do so again to get a top up, as you are not allowed to change your original estimate as per the rules into an "actual" figure, which may be lower of course and not higher , as that turnover amount may now be known by you.
LOL utter unadulterated madness and certainly a mess they will have to mop up, or someone with a legal brain can sort out.
There was, as one banker has said "no rule book" when the scheme launched and all banks just made up the rules as they saw them or made up their own set of rules and often their own additional criteria for approving BBLs, that situation should never come back to bite an innocent business owner on the arse.
So, a long story short those weekly timeline articles and guides are there to act as a reference and are chronicling many other people's personal experiences of the BBL scheme.
For come next year if any of you are accused of anything untoward you can refer to them and tell the banks, Government or whoever to get stuffed if they attempt to accuse you of anything that was not your fault when it was down purely to a complete Wild West approach by the banks.
I will continue to put a timeline article and supporting video up for every single week, as all will become apparent of just how helpful they will be next year.
HSBC Top Ups Update
Onto this week's events, well HSBC were proving to be as slow as ever regarding top ups, I did badger the powers that be about those delays, and yesterday I did finally see some movement and plenty of EchoSign's started to get sent out for BBL top ups.
The British Business Bank did launch an "investigation" after I contacted them demanding they do something about those delays:

I also contacted the Chinese UK Ambassador, just to annoy those in power in the UK, to take the piss and of course to make a point in my own unique way. If you have not "got" my humour by now, well that is your problem not mine…?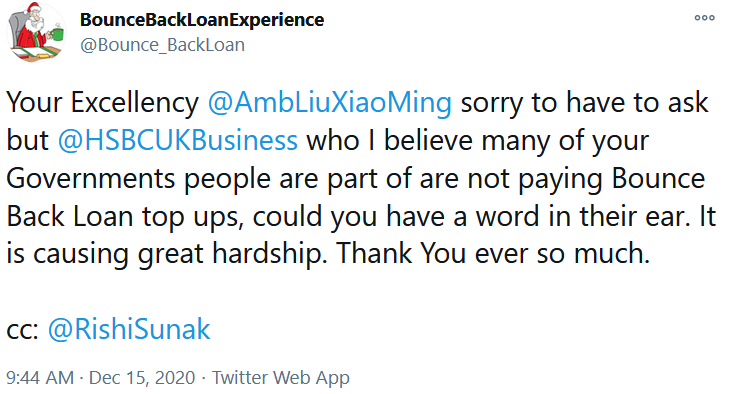 I also got a sympathetic HSBC Manager to "escalate" people I sent their way and looking at some of the replies from that Manager sent to me by those that contacted that person, many are now being ushered through the top up system.
Oh, and today should be the day when HSBC finally clears its entire backlog of standard BBL applications, so if you have been waiting expect an email update or final payment EchoSign off them very, very soon. Amanda Murphy said the other day they just have 3000 BBL applications to work through and then they are all up to date.
The Bounce Back Loan Scheme has been Extended
You may have also heard that yesterday the Bounce Back Loan scheme has been extended once again, which is no real surprise, the only problem with extending the scheme is that with no lenders bar Starling Bank offering new customers accounts and then letting them apply for a BBL that bank will be the only one those still waiting for a BBL can apply to, and that bank does have its waiting list.
The scheme will now end on March the 31st, also be aware the next set of Government Guaranteed Schemes are now planned to go live when the BBL scheme ends, which is a kick in the teeth for those who had been hoping that they would go live as planned in January.
However, there is no information on what shape or form those schemes will take yet, so do not expect them to be anything like a Bounce Back Loan scheme, as they may be nothing like them, just be aware of that fact, they could be but its highly improbable they will be.
Latest Set of Approved Bounce Back Loans
Total BBL's approved over last 28 days was 34,512 that is less than 2 (1.83) BBL's per hour on average between the 28 lenders (not including Tide who have no money to lend out), the banks are very clearly NOT overwhelmed, and demand is still there.
All Other Banks Processing Top-Ups
All other banks are processing or at the very least inviting people to apply for a top-up, for some reason by the way Close Brothers have vanished from the list of approved Bounce Back Loan lenders listed on the British Business Bank website.
One of my journalist friends did contact the BBB only to be told "it was an error" and they will soon be back up there, for reference it has been quite a few days and no sign they have been added back onto that list, well not at the time of compiling this update they had not.