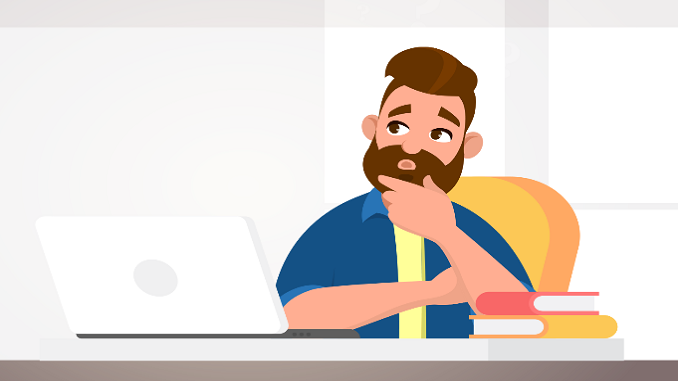 Discretionary Business Grants (Additional Restrictions Grants – ARGs's) that Rishi entrusted Local Councils to distribute did of course turn out to be a farce, with many Council's making up their own rules at one stage, some even held back the funds and others paid them out at a snail's pace.
In Fact,  councils that hadn't distributed previous ARG's at one stage were told that they wouldn't get the next funding allocation until the previous ones had been paid out. You will already know all that if you tried and failed to get one.
However, down in Bournemouth in March the local Council added a Bounce Back Challenge Fund "stream" in which local businesses could apply for a Bounce Back Challenge Fund Grant as part of those ARG's.
Here is a basic insight into that Stream 3 funding: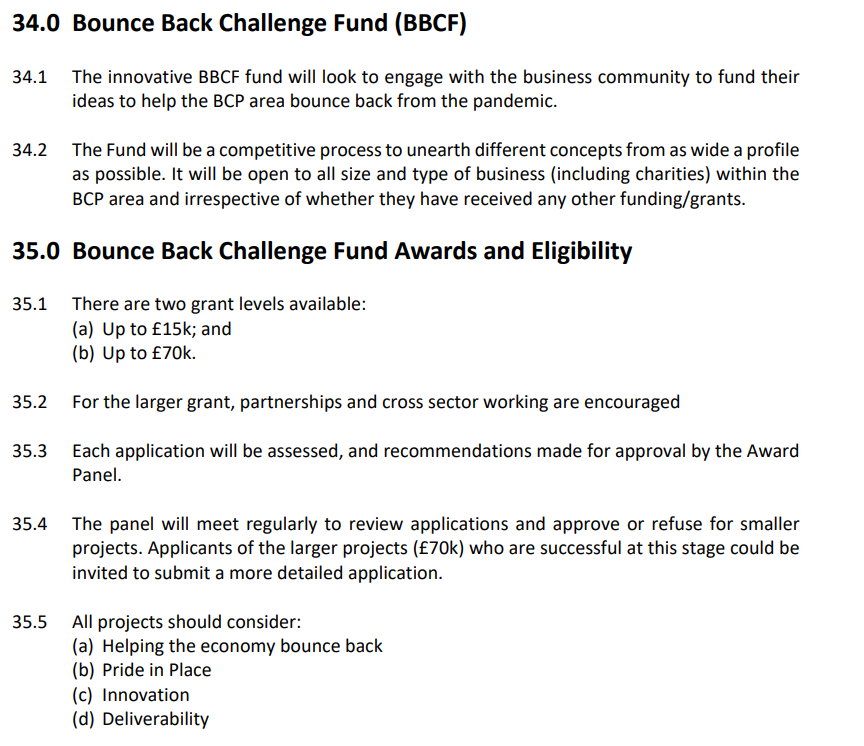 You can find more details on how that scheme operated by reading the PDF File on the Councils website here >https://www.bcpcouncil.gov.uk/News/News-Features/COVID-19/Employers-and-businesses/Documents/BCP-Additional-Restrictions-Grants-ARG.pdf
Andy Martin from the Bournemouth Echo has revealed the list of businesses that had received funding, that list by the way was not circulated to Councillors unless they asked for it, that list includes the business names and amounts and the proposed use of the funds those lucky enough to get one of those grants obtained via the Bounce Back Challenge Fund, which are listed below.
Marsham Court Hotel: £70,000
Adding new facilities for guests.
Adventure Is Out There 365 Ltd: £70,000
Towards a planning application for Lagoon water park at Hurn.
Image Glossy Ltd: £8,000
PP Printing would like to help support our business community by offering subsidised promotional material to promote individual venues and events. PP Printing believe that this will encourage more businesses to be involved and for the community to work together.
DP Seals Ltd: £70,000
To fund two new innovative moulding machines incorporating vacuum technology. It will allow production advancements in processing of highly complex miniature rubber mouldings. The investment will enable the company to move into a new area of specialist and more rapid prototyping ability.
Kitchen & Lounge Ltd: £70,000
To help create a venue for private dining. An indoor garden, creating seven private pods that can offer a further seating for 50 who can benefit from self/group isolation in an enclosed environment while eating out.
Tache Crafts Ltd: £70,000
Funding to source a new suitable location and kit it out to offer combination of coffee and personalised greetings card making experience.
Picnic Park Deli £15,000
To develop and run a summer themed pop-up experience called WESTOVERTON. The regency themed pop up has transformed the Westover Gardens generating pride in the local area playing host to a wide range of free activities, live music, fitness and wellbeing suitable for all ages.
Afrodisiac Live Radio CIC: £15,000
To deliver first-ever Bournemouth Reggae Weekender from July 30th to August 1st of 2021 in King's Park. The festival celebrates diverse African-Caribbean culture with live music, world food and family entertainment whilst offering cheaper entry to frontline workers.
BH Area Hospitality Association (BAHA) £70,000
To work with every hotel and guest house across the area to enhance online image on website such as booking.com and Expedia through professional photography and video. Second is to offer a range of staff training including first aid, food hygiene, customer service, licensing and GDPR.
Founders (Bournemouth) Ltd: £70,000
Split up small warehouses into light, industrial, self-contained spaces for start-ups. Primarily built for small business owners and self-employed to create cheap flexible space.
Truly Scrumptious (Dorset) Ltd: £1,883
An awning installed to shop front, to enhance to look and allow queuing customers a opportunity to shelter from the rain.
The Fisherman Café Ltd: £4,000
To install an outdoor awning to the shop front and a heater to allow it to be used throughout the year to its full potential. Also interested in looking at ways to promote local business on the Old High Street.
Syd's Slaps Limited: £15,000
Funding to improve the Southbourne Crossroads area. Includes flowers for the toilet block, signage directing to the beach and back to the shops, additional planters for the area, purchase of gravel to fill in potholes in the car park opposite.
 Square One: £8,000
Investing in more equipment for gym to help more people get in to fitness including backend systems such as Facebook ads, fitness heart monitor belt displaying heart rate on a TV and software which would allow an app to be created for clients.
English Classic Story Time: £14,975
Business is an online video library of English literature that entertains, educates, and empowers. Grant will allow business to establish itself within its target market of learners and improvers of English and raises the company to a position of self-sustainability within one year.
Polygon Pets Limited: £15,000
Promoting responsible dog ownership within the community, Polygon Pets Ltd create safe space dog enclosures for dog training, fun and socialisation; for BCP residents and visitors.
Smokin Rooster No2 Ltd: £15,000
Purchase awning and decking seating area at the front, new ordering system, new indoor booth searing, partner with local charities, gyms and schools, recruit 4-6 new staff, product research, exploring local suppliers, upskilling existing staff.
SM Humphries trading as Pale Blue Hat: £15,000
Explore what role can cross-cluster collaboration play in building supply-chain resilience, opportunity and competitive advantage in hybrid/blended workspaces (online & office).
Grab and go (Eva's Café): £12,000
Currently expanding the business in to a second unit which is currently being fitted out with required painting, plumbing and electrical work. Funds will contribute towards costs.
South Coast Makers Market: £12,000
South Coast Makers Market have been awarded £12,000 to create and deliver free pop up night markets which will bring the community together and include live art, music, entertainment, workshops, food and bar along with vintage, retro, clothing, accessories and homeware stalls in various pop up locations around Bournemouth.
New Street Flowers: £20,000
To improve the appearance of the shop to make it more appealing and to act as a conduit to draw more people to the shop and nearby businesses. Includes new signage, refreshing / decorating the exterior, replacing the door and windows, new low energy lighting for the windows and air conditioning.
You Are The Media (IDG Design Ltd): £15,000
A series of events from autumn 2021 to spring 2022 where the marketing and media learning and training community, You Are The Media, deliver online format in local theatres to create a new hybrid event format.
Leges Support CIC: £15,000
Collaboration involving local social prescribing services within GP surgeries in the BCP area to help support individual and families to access information and support with legal issues. The project will take place in Southbourne but will also support the wider BCP community via zoom, live chat and community advocacy service.
Carry on Costumes Ltd: £28,000
Promotion of live theatre in Christchurch for local families and holidaymakers during the summer.
Quompco Ltd (T/A Thomas Tripp): £12,000
Funds will be used for staging and infrastructure for musicians whilst making the staging covid compliant. Personally match funded. Pledge to offer free live music, support diverse musicians, artists and genres.
We Are Sustainable Limited: £70,000
To create the first Passive environmentally sustainable apartment block in the BCP area, built and supplied by local organisations. They will provide training and knowledge, ensuring the use of sustainable methods and materials throughout the development, reducing the carbon footprint of future living, meeting the goals of National and International Climate Change.
KW Engineering (Poole) Limited: £70,000
Manufacture of Fire Suppression Hardware. Funds to contribute to contribute to research, development and prove out costs associated with this project. Successful outcome would give KWE a stabilising effect of secured business and add valued contribution to manufacturing.
Conker Spirit: £15,000
Investing in a new commercial gas supply, flu installation, chilled water plant and alterations to the fire alarm. Contributes to the launch of new alcohol free spirit brand Bowser LEAF.
Branded Marketing T/A Branded Studio's: £14,600
Production of 35 free promotional videos for local businesses, which are 60 seconds in length and ideal for their website and social media. Businesses will be selected across the BCP. Filming to take place in Bournemouth, Christchurch, Poole and Southbourne.
The Kings Head: £10,018
Funding for an outside area at the front of the building which many of the neighbouring businesses have done to contribute to an enjoyable and continental vibe.
Dorset Community Radio Ltd: £70,000
To create 2 new digital studios and 2 community podcasting facilities with disabled access. £67k spent to date but need this grant to complete. Funds will be spent on new studio equipment, building materials, new studio furniture. Commitment to spend
Contender Events: £30,000
Contender Festival event to be held over three days (10th to 12th September 2021) at Parley Lane. Exercise, gym classes, fitness challenges, street food, stage for entertainment, etc. Event is to encourage people within and beyond BCP.
Green & Grainy Limited: £15,000
Increase production and make processes more efficient, enabling employment opportunities and increased profits. Company produces health conscious food for local wholesale as well as online sales further afield. They have just been accepted by the Government's Kick Start scheme to offer new roles to young people. Funds will contribute towards this.
Helping Homeless Veterans UK: £70,000
Helping Homeless Veterans UK are transforming the upstairs building of the RBL Club in Winton into 6 flatlets for homeless veterans for temporary accommodation while permanent accommodation is sourced.
Quayside Bed & Breakfast: £9,126
Setting up an outdoor space to offer Alfresco breakfast dining to encourage guests to see everything going on around them. Takes advantage of high street being pedestrianised and neighbours committing to an outdoor scene.
Seasoned Spirits Ltd (T/A Parlourmentary): £8,600
In Southbourne, an independent cheese shop, supplying cheese, cured meats and provisions from local producers. Now able to supply the sale of freshly caught fish from Poole Harbour. This was possible by alterations made to the shop front and supports another local trader.
U-Escape Ltd £15,000
Funding to support diversification into mobile escape games transportable to any location required and designed to maintain the immersion of escape rooms. Funding would be spent on purchasing equipment to house and furnish 4 different mobile experiences
Nursara Ltd: £70,000
Funding is to be part of approx £150k investment into 40-42 High Street, Poole which will be the second site for the Thai restaurant brand, Nusara. The work is part of the regeneration of Poole as part of the placemaking and regeneration work in Poole Old town and Quay.
Pronto Italia Ltd: £16,135
To purchase: a canopy, floor to ceiling bi-fold doors, barriers, tables chairs, topiary, outdoor heating/lighting and external painting. These improvements will increase footfall to Italian Diva, improve Poole Quay and provide job opportunities
IEC Limited: £15,000
A Stock Management Optimisation Programme to assist in improving a fundamental aspect of the business.
Cerebus Organic Dog Food Ltd: £15,000
A new dog food product range called Health Pods (nutritional snacks consisting of organics powered and solid ingredients). Funding would contribute to the ongoing plans.
BBD Boom Ltd: £15,000
BBD Boom is introducing an "Employee Engagement' Programme coupled with an 'Engaging Leaders Programme', followed by an integrated '90-day Motivational Action Plan' for all staff. BBD Boom will develop the programme to harness the full potential of all their employees.
Bournemouth Sevens Limited (Diamond Sporting Group): £70,000
Bournemouth 7s Festival has secured funding from the Bounce Back Challenge Fund to assist in the delivery of a Covid-secure sport and music festival in 2021. Funding will be used to assist with testing, tracing and the security of festival attendees and the wider community and technology solutions to support this.
Highstreet Outlet Clothing Ltd: £15,000
Contribution of efforts to grow the business, employ local staff and use local suppliers. Will be investing heavily in a new website and fitting out a new premises.
Wilmic Precision Engineering Ltd: £15,000
Purchase of a new machine to will enhance the skill set of staff and potentially create new role whilst safeguarding seven existing. Will also allow to bid for new contracts.
CMP (UK) Limited: £15,000
Employing a consultant to help improve employee performance, which is expected to assist increasing turnover by £0.25m. Project will implement innovative operations and performance metrics to safeguard current jobs and recruit four more locally.
Born Bilingual Ltd: £15,000
Funding for a project called Diverse Business Connect Partners (Diverse BCP). Includes building a new website (directory focused on businesses in BCP where owners/directors come from ethnic and linguistic minorities). Organise a trade fair to raise awareness of these brands.
Urban Reef Restaurant: £35,000
Building of an additional decked terrace on the beach outside Urban Reef. Community asset used by customers and also the local community for events and fitness classes. This adds to the external capacity of the restaurant and responds to the recent needs of needing to keep customers outside.
Podcast Labs: £70,000
Building the South's first designated creative hub for podcasting featuring two audio and one video production studio, a live streaming centre, screening room and creative workspace for creative team.
Goddards QS LLP: £15,000
Investing to upskill people and culture and to increase productivity of business with training and mentoring to become better leaders / managers / mentors. Five jobs to be safeguarded with job creation expected for two more locally.
Pen Gallery Community Interest Company: £10,000
Pen Gallery is a non profit gallery and store based in Poole. They sell and exhibit local artists' work and work with the local community to bring free art installations to the high street. They are planning on using the Bounce Back funding to create paid roles in the gallery, improve the exhibition space and connect more with the local community.
Precision Hydration Limited: £15,000
Contribution to development of online tools e.g. 'Carbohydrate Calculator' and another tool that athletes can use to develop hydration and fuelling race plans. Support from BCP allows company to bring in external consultants to enable launch during the summer of 2021.
Bournemouth Airport: £30,000
Marketing campaign including social media, press trips and influencer content to promote BCP region to the easyJet routes from Belfast and Edinburgh. Supports the airport's aim to secure long-term commitment from easyJet and support the hospitality sector.
Poole Arts Trust Limited: £15,000
Lighthouse, Poole's Centre for the Arts, will present Global Rainbow – a large-scale public art light installation that will signal its resilience and re-emergence from the dark days of the pandemic. Shining across the entire BCP conurbation, this will connect communities and provide an economic boost for town centre businesses.
Consilium Management Limited: £15,000
Film Ready Bournemouth will establish "film ready" cluster areas to bridge the gap between local businesses, residents and the film industry. The project will provide a post covid economic uplift encouraging movies to shoot in the region whilst also increasing international film tourism showcasing the area's natural beauty and cultural assets.
Citizens Advice Bournemouth Christchurch and Poole: £15,000
To provide guidance to clients and small business owners who may encounter difficulties with financial recovery as pandemic restrictions ease.
Train Hard Parkour Ltd: £14,405
Running 10 six week 'Introduction to Parkour' courses and creating three specific video idents of Bournemouth, Christchurch and Poole being used for innovative ways through parkour. Videos will be produced by a local company to document and create the idents which will be used to springboard participation.
Waste Management Facilities Ltd: £15,000
Build a resilient team of leaders to become an 'employer of choice' in the BCP area by building the capability to expand and grow, whilst keeping and attracting new talent from the local area. Deployment of an expert to advise on how we can achieve these performance management protocols.
My Sewing Box Ltd: £15,000
Plan to grow subscription model within the business to be a more profitable level to make it scalable. Key element of this will be the purchase of an innovative new cutting machine due for release this summer, which allows smaller businesses to access the cutting power and scalability of manufacturing sector.
The Complete Entrepreneur Ltd: £15,000
Deliver a week-long Bournemouth, Christchurch, Poole business festival entitled 'The BCP Business Festival' with tag line 'Bounce Back, Learn & Grow'. To be held November 2021.
Bournemouth Coastal BID: £55,000
Improvements to the trading areas of Westbourne, West Cliff, Pier Approach, East Cliff, Boscombe, Pokesdown, Southbourne, Tuckton and Hengistbury Head. Achieved through installation, upgrade and planting of existing planters, bins and other street furniture.
Treehouse Digital Ltd: £70,000
Building a world leading LED Virtual Production Studio and media centre of excellence which will benefit current students as well as providing employment opportunities after graduation. Negotiations are with Bournemouth & Poole College to take on a 30,000 sq ft warehouse facility to house the studio.
Terroir Tapas: £5,000
To remove glass waste from the business. Funds needed to purchase a machine which reduces the glass waste to a safe to touch sand that can be used in many ways including local artists, the building trade and educational schools. Project is also about raising awareness of a waste product that can be transformed.
Bournemouth Coastal BID (joint project with Town Centre BID): £50,000
Funding of £25k per BID to create a not for profit Comedy Festival in the town centre and Coastal Villages. Funding will be used to appoint a curator, and to pay for marketing to highlight the events taking place. Similar styling to the Edinburgh Fringe Festival
ESE Lighting Direct Ltd: £15,000
Funding will be used for local trades people and businesses. Installing outdoor lighting concepts to the front of the building, install the latest innovation in solar lighting, enhance the website with 3D virtual tours and showroom walkthrough, and undertake a large digital marketing campaign.
Recreate Dorset: £15,000
Providing a unique six month training programme providing specialist business support training aimed at SMEs, developed with AUB and local agency, Outset. Outcome is to provide support for 100 creative businesses on the training programme and provide start-up creative office space for 20 new businesses over two year period.
SMS Ventures Limited: £4,000
Investment in equipment and skills training in order to set up and provide clay workshops where customers will be encouraged to get creative and make items out of clay. Workshops will be tailored for different age ranges and abilities, including an option to use a potters wheel.
Pop Paper City: £68,987.79
Production of the first series of Pop Paper City will create 30+ new jobs in the BCP area. Funding is needed to address challenges including infrastructure / covid safety including alterations to the building. Specialist cooling software is needed for the new servers. A growth officer will oversee recruitment. Training the new recruits in Cinema 4D so they are ready to produce the series.
Poole Printmakers: £1,400
Poole Printmakers is a collective voluntary organisation with 60 members. PP is based just off Poole High St. The grant will enable PP to mount an exhibition of prints within a vacant retail property for 2-3 weeks. The exhibition will be run by volunteers and increase footfall and cultural offer for Poole High Street.
Aspirin Business Solutions Ltd: £15,000
Aspirin Business Solutions Ltd will provide 30 leaders with their leadership programme. Their aims: 1) Develop leaders equipped to build and lead high-performing teams in a hybrid work environment. 2) Help BCP organisations bounce back by increasing performance, productivity and innovation, and retain talent.
BEAF Arts Company Ltd: £15,000
To deliver a Christmas market for creative businesses from November through to December 2021 in the Boscombe precinct. Space will allow for up to 30 creative businesses to trade for 20 days. Adds new event to the Christmas programme for Boscombe. Alongside the event will be programme workshops and family activities.
Country Fare Foodservice (Stockbounty Ltd): £70,000
Get back to business in an innovative way with funds contributing towards
Restock and retrain staff
Build additional storage space and salad washer
Organise Tradeshow
Dedicate more resources to 'Yes Chef' – a Masterchef style competition in schools for years 7-11.
BOH Gaming Ltd: £6,885.60
Encourage customers / community back to the area with the appeal of social interaction following over a year of lockdown. All that's needed to succeed are some new tables and chairs.
LNRS Catering: £8,660
Fixing up the outside of the unit to improve the look of the Old Town High Street in Poole including reinstating a pre-existing crank handle canopy, redoing the signage, adding secure hanging flower baskets, new tables and chairs plus a barrier for the outside, an infrared heater. In addition will sponsor one of the life rings in the Quay for advertising.
Venator Capital Limited: £70,000
Venaspace is restoring the old Freemasons Hall on St Michaels Road to create a new business centre in the heart of the triangle. This listed building is being sympathetically restored and renovated to give it a new lease of life as a modern and attractive place to work. With mezzanine floors in both halls to maximise space and a brand new co-working and events space, it is set to provide local businesses with modern, flexible workspace.
The Way Outback Brewing Company Limited: £60,000
Recently acquired the space adjoining the brewery (146 Seabourne Road) which will become a devoted events space. The plans include a complete renovation of the frontage to include bifold doors / windows, a soundproofed ceiling, creating a barrel aging cellar, build accessible toilets and a small kitchen space for pop ups and tasting events. Including small bar space for hosting classes and pairing events.
Bournemouth Symphony Orchestra: £15,000
Plans for four concerts between June and August at the Lighthouse. BBCF will allow BSO to deliver a concert on 12 August modelled on the Friday Night Meyrick Park Classical Extravaganza programme. Available free to online audiences and broadcast on big screens in lower gardens and Ashley Cross green as part of Festival Coast Live.
The Black Cherry Club Ltd: £15,000
With BBCF funding Black Cherry have been able to support the launch of a brand-new theatre cafe that will create opportunity to continue the development of culture within the community. There is an abundance of creatives within Bournemouth, Christchurch and Poole and council funding has meant that Black Cherry can continue developing sustainable creative opportunities, representing local and diverse talent in the south.
Mathmos: £15,000
Expand the current output of lava lamp production line by purchasing new equipment to allow a second line to be installed for new products including a giant lava lamp.
WSX Enterprise Ltd: £15,000
A package of publicity to shine a light on some of BCPs best businesses. Achieved by engaging business owners and leaders to feature in short video showreels, podcast episodes, press articles and an e-book brought together by a launch event. Campaign to feature at least 10 businesses to change perceptions and encourage business in BCP.
WSX Enterprise Ltd: £15,000
Mobile business support and advice covering a number of different location in the BCP area, initially rolled out in June, July, September and October offering 8 events with two mobile units. Match funded.
Ookkee Ltd: £15,000
Project primarily focused on staff training, which will help safeguard 7 jobs and potentially create seven positions over the coming year.
iMAG Displays Ltd: £70,000
Funding is to assist in the purchase of additional screens that will create the required volume for fixed studio space. Project completion expected 1st September 2021. Project safeguards two full time positions with four new hires expected once traction achieved.
Beep Digital Ltd: £15,000
As a means to draw attention to, invite further investment into and encourage growth, Beep will be producing a documentary celebrating Bournemouth, Christchurch and Poole's exciting — yet not widely understood or known about —related start up community.
Transition Town Poole: £9,186
A reusable take-away cup scheme for local food and drink outlets in Poole. Funding will pay for staff time, 2,000 cups for roughly 5-10 cafes to sign up without financial risk, plus extras. One pilot café to run 4 week trial by September, followed by 4 cafes within the next 4-6 weeks, with additional cafes afterwards (aim is one per week).
UK Maritime Services Limited: £15,000
Aim to put vessel Summer Nights into commercial service for the 2021 season with operations out of Poole Quay for day, half day and evening charters for up to 12 persons. Funding needed for coding of the vessel, renewing upholstery / carpets, polishing the hull.
Limetools Limited: £69,733
Working Live! will disseminate high-level expertise interactively, using transmedia techniques, to support the economic bounce back, with attendee inclusivity (job seekers, small/large company workforces). Using a simulcast platform, it will explore national issues from a local perspective – bringing opportunities, enthusiasm, and greater understanding to business in the BCP region.
OverExposure Sports Ltd: £70,000
The Project Climbing Centre will be building a brand new climbing area specifically designed for children between the ages of 4-12. This space will be designed to help children develop their physical literacy skills in both coached and uncoached sessions.
Bournemouth Town Centre BID: £20,000
Creation of art / sculpture installations in those areas that reflect the 'shape' e.g. Triangle / Square. Using local artists from BCP. These would be brought to life using augmented reality and thus creates a trail for people to follow through the town bringing them in to contact with local business including those that may not naturally visit.
Go South Coast (Excelsior Coaches): £5,000
Set up and market a programme of day trips to places of interest in the BCP area. Funding would contribute towards the online digital ticketing solution and the marketing of the day tour programme. Planning to begin started the programme by end of June 2021.
Westover Beauty Ltd: £15,000
Project is for renovation of the salon and training for new services. Committed to take on two apprentices.
Poole Harbour Festival Ltd: £9,000
Funding for an annual hallmark event (Poole Seafood Festival). Grant will be used to springboard the first year of 2019 in to where the event would have been by now. It reduces the financial risk and enables them to proceed fully with the content including fireworks, live bands, walkabout performances and Wave FM advertising partnership.
Hillman Enterprises Limited: £15,000
Renovations to an empty salon in Westbourne to create space for additional services requiring extra staff. Additional facilities including CCTV, a new front / back door are also planned.
Centre VR Limited: £70,000
There is a requirement for children to be taught how to be, and stay safe. It is increasingly difficult to attract the attention of children in the interconnected digital world. Safer Kids VR uses children's desire to experience virtual reality to engage them in activities that teach them about safety.
Exhibit-UK.Net Ltd: £15,000
Project is to create a function/service within our company, to design, build and host 'Exhibition MicroSites'. These are mini-websites that will enable an exhibiting company to greatly leverage their presence at the show. Funds will contribute to recruitment of two website designers / developers from the BCP area.
Timeless Engineering: £15,000
A marketing and new product development initiative; new stainless steel tube shapes and sizes integrated with concealed metal hinges for a range of bespoke applications for marine architects and existing boat owners. The awareness campaign celebrates the highly skilled, creative BCP based marine engineers and promotes the region as a destination for boat refitting.
Poole BID: £55,000
Identified 2 key areas which will support the businesses / retailers operating across Poole Town in aid of their recovery. Poole Town Centre and Quay Town-wide Wayfinding Maritime Murals commissioning local artists via Lighthouse, Poole. Bespoke Cross Street Motifs designed to celebrate Poole with a Maritime theme across the High Street and Old Town.
Motion Control Products Limited: £70,000
A new plan to cope with selling products while abiding by new rules of currently no face to-face meetings, with social distancing, wearing masks and no meeting inside. An automated studio set up allowing interactions with suppliers and customers all from the newly constructed presentation studio on site.
Seaweed Purveyors of Pure Limited: £11,000
Funds to be used for marketing, holding competitions with local like-minded businesses, flyer drops using local people and printers to showcase products, produce a promotional film with a local video company and create a local completion for new businesses creating natural, pure products that respect the environment.
Source: https://www.bournemouthecho.co.uk/news/19513282.list-businesses-given-bounce-back-grants-bcp-council/