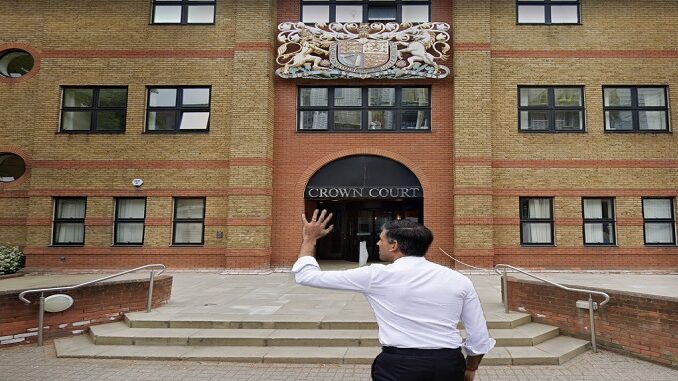 Whilst allowances can and are sometimes made to anyone who broke a minor rule of the Bounce Back Loan scheme, some people did of course set out to scam the scheme from the start.

There were loopholes when the scheme went live that hadn't been plugged, and as with most other things in life, there were plenty of people who made use of them to try and blag a BBL with no intention of repaying it.
However, as time moved on, and with the powers that be ever eager to go after those who set out to and succeeded in scamming the scheme, those loopholes have been plugged and regulations and laws brought in that allows for the prosecution of those who did make get a Bounce Back Loan, shoved it in their back pocket and managed to get a Voluntary Dissolution or a Compulsory Strike-Off of their Company.
A great number of ne'er-do-wells managed to do just that, and with several cases having gone through the courts under new laws, and with the Insolvency Service successfully prosecuting people, if you are one of those who did defraud the Bounce Back Loan scheme that way, then the net is closing in on you.
A Limited Company Retains its Loan by Seeking a Voluntary Dissolution
Definition: A Limited Company has no intention to repay a Bounce Back Loan and retains the funds by seeking a voluntary dissolution.
There are others who managed to get a compulsory strike-off without paying their Bounce Back Loan and they too are being chased and hunted down.
A Limited Company retains its loan by failing to file accounts
Definition: A Limited Company has no intention to repay a Bounce Back Loan and fails to file accounts so that its director is subject to a compulsory strike-off application.
Directors Prosecuted Under the New Powers
They Are Coming Thick and Fast Now, and Here is Another Director Jailed for 8 Months for Over-Egging His Turnover to Get a Bounce Back Loan Then Applying for a Strike Off the Day After the Money Arrived
Director Banned, Electronically Tagged, Given a Curfew and a Suspended Prison Sentence at Snaresbrook Crown Court for Bounce Back Loan Related Skulduggery
Another Bounce Back Loan Bad Boy Sentenced, This Time By Willesden Magistrates Court to Six Months in Prison Suspended for 18 Months
You will find many more listed in this section of the website >https://mrbounceback.com/category/bbl-jailbirds/
Insight Into Those New Laws
The Insolvency Service has now been given new powers to investigate directors of companies that have been dissolved, closing a legal loophole, and acting as a strong deterrent against the misuse of the dissolution process.
The process will no longer be able to be used as a method of fraudulently avoiding repayment of Government backed loans given to businesses to support them during the Coronavirus pandemic
Extension of the power to investigate also includes the relevant sanctions such as disqualification from acting as a company director for up to 15 years. These powers will be exercised by the Insolvency Service on behalf of the Business Secretary.
The Insolvency Service has powers to investigate directors of live companies or those entering a form of insolvency. If wrongdoing or malpractice is found, directors can face sanctions including a ban of up to 15 years.
The new measure will also help to prevent directors of dissolved companies from setting up a near identical business after the dissolution, often leaving customers and other creditors, such as suppliers or HMRC, unpaid.
The measures included in the Ratings (Coronavirus) and Directors Disqualification (Dissolved Companies) Bill are retrospective and will enable the Insolvency Service to also tackle Directors who have inappropriately wound-up companies that have benefited from Bounce Back Loans.
Kwasi Kwarteng (Ex-Secretary of State for Business) said:
As we build back better from the pandemic, we need to restore business confidence, but also people's confidence in business – which is why we will not hesitate to disqualify directors who deliberately leave employees and the British taxpayer out of pocket.
We are determined that the UK should be the best place in the world to do business. Extending powers to investigate directors of dissolved companies means those who have previously been able to avoid their responsibilities will be held to account.
Dr Roger Barker, Director of Policy and Corporate Governance at the Institute of Directors, said:
Company directors fulfil a central role in ensuring that their businesses are well governed. Although corporate dissolution may be inevitable in some cases, it should only be used as a last resort – after all other realistic avenues for protecting the interests of stakeholders have been exhausted. Using company dissolution as a mechanism for the evasion of a directors' duties has no place in the governance of a responsible enterprise.
The measure, which will sit with the Secretary of State for Business, is contained in the Ratings (Coronavirus) and Directors Disqualification (Dissolved Companies) Bill.
The measures have been introduced under the Ratings (Coronavirus) and Directors Disqualification (Dissolved Companies) Bill and the legislation will cover England, Scotland, Wales, and Northern Ireland.
The Directors Disqualification Measure implements a policy first announced in August 2018. The Government announced it would implement when Parliamentary time allowed and was introduced on 12 May in part to deliver on measures to combat Bounce Back Loan fraud as announced in Budget 2021.
Top 10 Bounce Back Loan Scheme Fraud Risks
Both of the two activities listed above were listed on the British Business Banks top 10 list of Fraud Risks associated with the BBL scheme.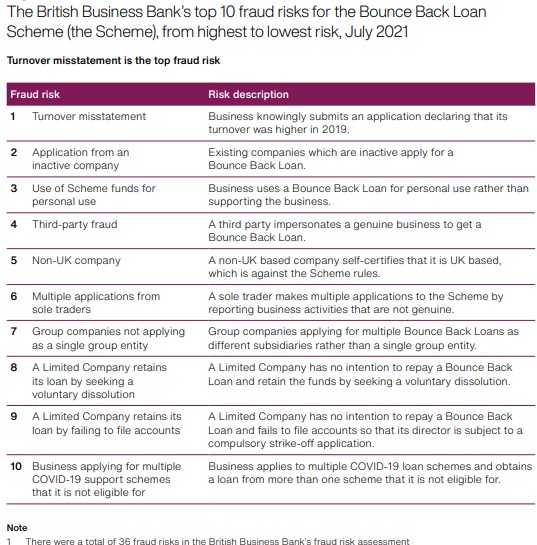 For an insight into the others, take a look at the following section of the website > https://mrbounceback.com/category/bbl-wrongdoing/
Need a Chat? Give Me a Bell