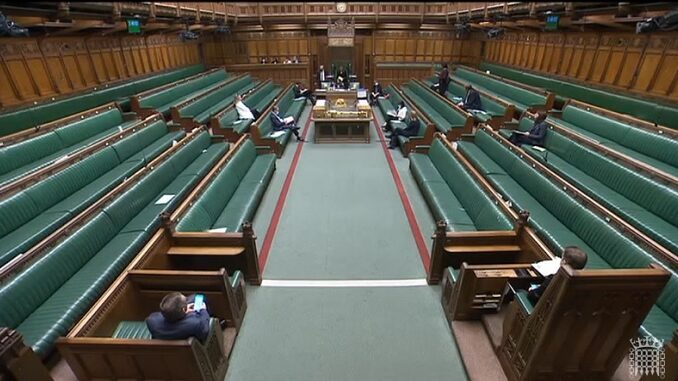 Not a lot of MPs mentioned the Bounce Back Loan scheme in the House of Commons last week and the pending nightmare many people with those loans face moving forward when repayments fall due.
In fact, the only references to the BBL scheme were in the Commercial Rent (Coronavirus) Bill debate, sadly only nine MP's, from what I saw, actually tuned up for that debate.
That Bill is one that will see a new arbitration service being set up for those with commercial rent arrears that they amassed due to them experiencing financial problems during the pandemic.
Whilst such a service is to be welcomed, Paul Scully MP who is of course the Parliamentary Under-Secretary (Department for Business, Energy and Industrial Strategy) hinted at some sort of fee being payable to those wishing to use that service and quoted a figure that could be as high as £1,250.
Proving once again just how out of touch he is with the real world, if those SMEs did not have access to Government help and got behind with their commercial rent, how on planet earth are they going to be able to pay a huge fee to get their problems associated with rent arrears resolved?
Anyway, back to Bounce Back Loans, the few MP's in the Chamber on the 24th of November that did mention BBLs can be found below, and it was once again Ruth Cadbury and Seema Malhotra that did stand up and mention Labour's plan to turn the BBL scheme into a Student Loan type of scheme, so businesses only make repayments when they can afford to and their income levels rise.
Sadly, and as expected Paul Scully did not comment on that suggestion but taking a leaf out of Boris's book he ended the debate by mentioning Peppa Pig….
Matt Rodda
Labour Reading East
"There are a number of other worthy and worthwhile groups that deserve further attention from the Government, and I ask the Minister to address the matter when he speaks later. This is a matter of huge significance to many of my constituents. I have had constituents in tears while speaking to me about this issue on the telephone, but unfortunately I was unable to offer them any help because of the limitations of Government policy."
Ruth Cadbury
(Brentford and Isleworth) (Lab)
"I of course acknowledge the support that the Government provided for businesses during the pandemic —bounce back loans, VAT deferrals, rates relief, the furlough scheme, and the rents-based schemes—but too many businesses missed out on many of these schemes: those refused loans because their bank was not on the Government-approved list; or supply-chain businesses to sectors such as hospitality whose customers were required to close but they were not. They missed out.
Despite the relief schemes, many are still struggling; loans and VAT deferrals still have to be repaid, and those not yet making a profit are still required to pay their bounce back loan. Labour has sought to amend the rules so that a business has to repay its loan only when it is making money. The pain has been particularly hard on small independent businesses and family-owned businesses, which are anchored in their communities, and many sectors—such as the arts and events, and, particularly in the constituency of my hon. Friend the Member for Feltham and Heston (Seema Malhotra), travel and tourism—still face great uncertainty for months and years ahead."
Seema Malhotra
(Feltham and Heston) (Lab/Co-op)
"Labour has also called for the Government to help ease the covid debt burden faced by firms across the country by creating a British business recovery agency. The reason why we would want to convert the bounce back loan scheme into a student loan-style arrangement is so that businesses would have to start repayments to the British Business Bank only when they are making money. It is important that we have an integrated set of policies on business recovery so that we do not deal with one aspect while there are crises in other areas of life for businesses."
The link below is to Hansard which gives a round-up on that debate, should you wish to read through what was said:
https://hansard.parliament.uk/Commons/2021-11-24/debates/B85416B1-8B89-4ED3-92AF-C6F274C4937F/CommercialRent(Coronavirus)Bill