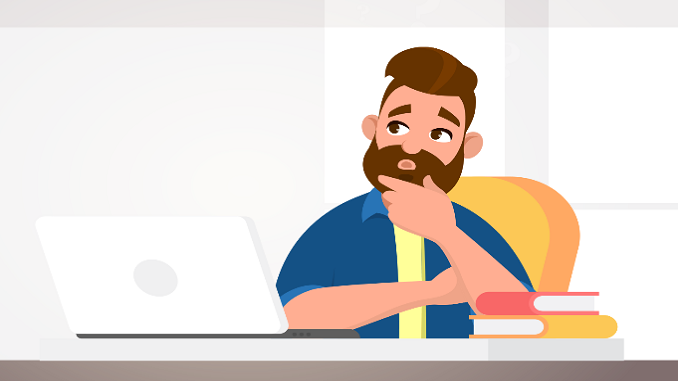 I am still getting messages and emails from people waiting for a top up to their Bounce Back Loan from HSBC, as it has been over 11 weeks now since many of them applied it is time the Treasury Committee hauled in one of that banks bosses to grill them on what on earth is going on.
I have received some messages from those who applied over 11 weeks ago telling me HSBC have finally pulled their finger out and have sent them out their EchoSign and paid them their top up, so it cannot be a case of all those still waiting are "dodgy" or "fraudulent".
Having contacted the British Business Bank they are adamant that HSBC are approving top ups, after investigating:

However, the total lack of support and information for those who have applied for a top up from the HSBC support team, and even the CEO's office at HSBC is appalling and needs looking into, making people wait almost 3 months with no help or support whatsoever is a disgrace.
Now, back on Monday the 14th of December 2020 Amanda Murphy from HSBC told MP's the bank had just 3000 BBL applications left to process, and they would be done and dusted by the end of that week, which one would imagine would leave her staff clear to fire through top ups at lightning pace.
That appears not to be the case, surely it does not take 3 months to process top ups, if it does why is her bank ignoring requests from those seeking an update?
Here is Amanda Murphy telling the Commons Treasury Select Committee the above, in reply to a question posed by Alison Thewliss.
I am worried she may has misled them, much more so when I am still as of yesterday receiving messages such as this one: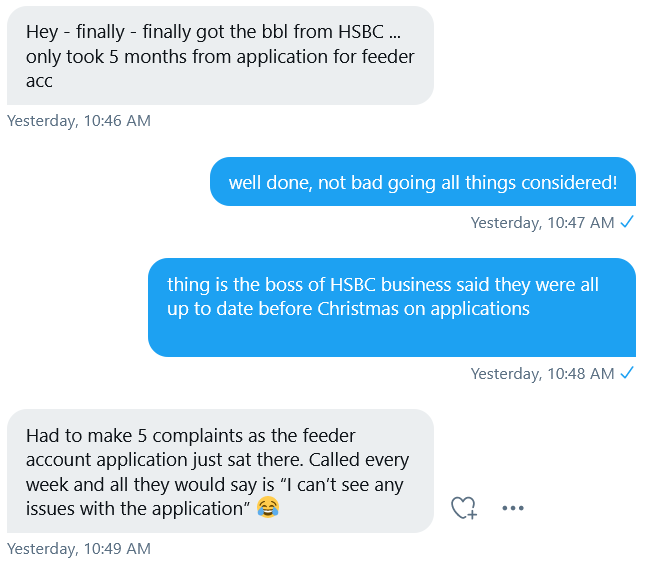 and another, this person got paid out this morning, but had to get their MP involved, what an absolute disgrace from HSBC, utterly pathetic, as though MP's are not busy enough at this time without running around trying to mop up HSBC failings: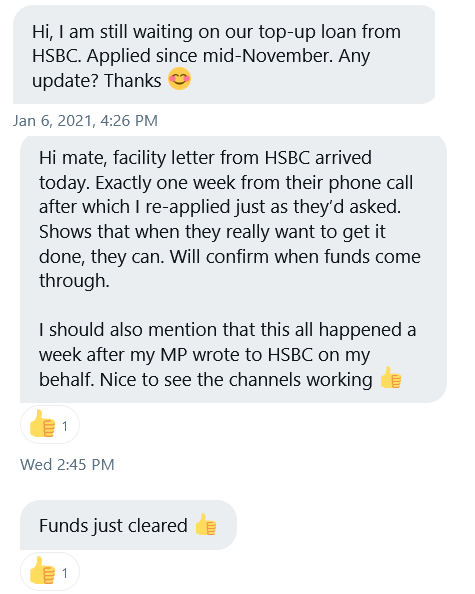 Hopefully, the Treasury Committee will haul her in and question her on this, as the British Business Bank as usual do not seem to care or be interested.
Perhaps she should simply let the Treasury Committee know what the delay is, and they can relay it on to HSBC customers via a statement or Tweet? How hard is that Mr Mel Stride (Chair of the Treasury Committee)?