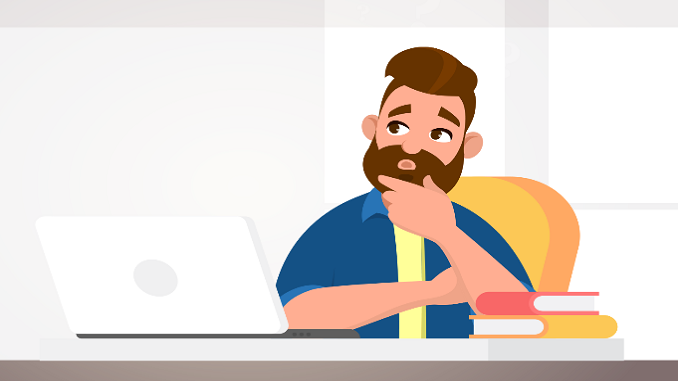 Today I have submitted several complaints regarding the Bounce Back Loan scheme with the Competitions and Markets Authority. Be aware I could write a book about the many individual complaints I get day in day out, well probably could write many books, however I have included the most problematical/repeated ones in this initial complaint.

I have made contact with them as of 8am to work out whether they have the remit to work through the following complaints, and this is their reply:
"To manage your expectations, I must make you aware that the CMA is not formally able to investigate other government departments, public bodies or market regulators. Accordingly, we have no formal powers to assist you with the enquiry you have raised.
However, the CMA has an advocacy role working with government departments and public bodies to ensure they think about how polices might affect competition.
As this scheme is administered via Her Majesty's Treasury, we have highlighted your enquiry to our External Relations Team which analyses and assesses complaints and enquiries we receive which do not relate to private businesses.
In line with the advocacy role we hold, we are keen to hear about your experiences, so we can ensure they are raised with other regulators who may have powers to assist you that we do not."
I have spoken to one of their team on the phone, and he was an amazingly helpful chap who understands 100% the problems with the scheme, and has said if the CMA cannot assist with any of the following complaints/problems he will escalate them to the right department. I thank him personally for that.
I have therefore to make life easier for all concerned published in the spirit of openness this list of complaints so their team can look over them and get back to me on each of them rather than spend hours on the phone explaining each of them.
I Shall Begin:
Due to the closing date for Bounce Back Loans to be submitted I wish to express the urgency of each complaint, for without a resolution, many small business owners will be declined their right to apply for a Bounce Back Loan.
Complaint Overview
There are currently 29 accredited Bounce Back Loan lenders listed on the British Business Bank website, however only one of them is taking on new customers, albeit telling them they must join an "interest list". That lender is Starling Bank.
The CMA remit is to "investigate entire markets if we think there are competition or consumer problems"
Obviously with just one lender accepting new customers, there is no competition, no market and that one lender does have a monopoly.
**Starling Bank has applied for Banking Competition Remedies Grants and therefore it is in their interest to attract as many new business customers as possible, in the hope they can obtain one of those multi-million Pound grants.
Therefore, their monopoly currently of the Bounce Back Loan marketplace could be deemed to be giving them a potential financial advantage if they do secure one of those grants at a later date.
In fact, one lender listed on the British Business Bank website, that being Tide have recently successfully got a BCR Grant worth I believe some £25million. However, it was quickly established they only had limited funds to provide Bounce Back Loans, and once used up they ceased lending.
They put in place a "waiting list", which is could be argued was put into place to "lure" in many new business customers to pave the way to getting that grant, when they knew full well as per the terms and conditions they signed up to when joining the scheme they couldn't possibly offer a Bounce Back Loan to the estimated 80,000 people that joined that waiting list.
One must therefore wonder why the British Business Bank still has them listed as a lender, when they have no funds to lend out, and by doing such could have helped increase the number of new customers they got as their application for a BCR grant was being evaluated, and whether they are complicit in your remit of "we take action against businesses and individuals that take part in cartels or anti-competitive behaviour".
Despite HM Treasury making it clear (**See resources below) that Bounce Back Loan Lenders should open up to new customers the majority of them have not done so since the day they launched their respective facilities.
Those lenders are stating they are so busy they cannot accept BBL applications and process them and the ones that were accepting new customers all slammed the door shut on new customers. However that excuse doesn't appear to stand up to close scrutiny based on figures released by HM Treasury: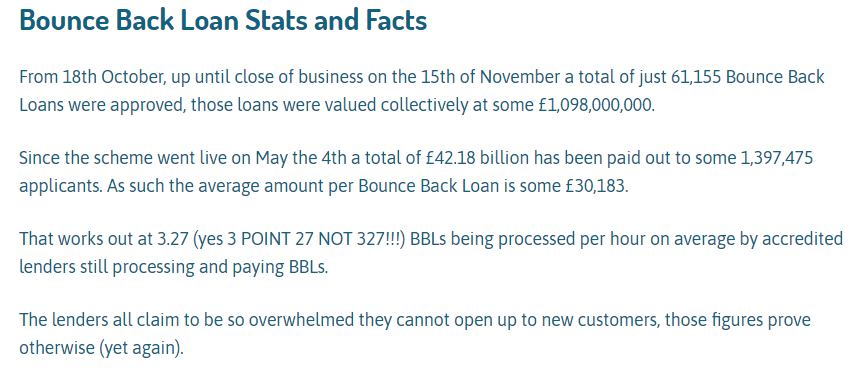 The lenders that are part of the scheme must open up their doors to new customers for as mentioned without them doing do there is no competition and no market for people to get a BBL that may have been declined for an account with the one lender that does accept new customers. and many cannot wait for weeks to save their business by going on an "interest list" with do set in stone timescale when they will be called off that list, if at all and invited to apply.
**Resources:
The Treasury has started to push the issue in recent weeks, telling banks in high level discussions that that the government expect applications to be opened up to non-customers. However, officials have stopped short of forcing banks to do so, as the matter is still considered a business decision.
Source: https://www.theguardian.com/business/2020/oct/07/its-unacceptable-smes-unable-to-access-bounce-back-loans
Shared Industry Database
All Bounce Back Loan Lenders also have access to a secretive "shared industry database" that was put into place to stop fraudulent and duplicate applications for a Bounce Back Loan, and obviously such checks and double checks should be in place.
However, the majority of those applying for a Bounce Back Loan are not aware of its existence, and there have been many documented reports of people being listed on that database erroneously.
Those applicants then find that they are denied a Bounce Back Loan as a lender checking that database believes they have already obtained a Bounce Back Loan when that may not be the case and those applicants are not given an explanation of how they can correct such errors.
Not giving those declined a Bounce Back Loan a way of appealing a decline due to erroneous entries on that database could be argued, as per your remit of being an unfair trading practice "we protect consumers from unfair trading practices".
Below in an extract from an email sent by Barclays to Starling Bank in which the former pointed out the latter had made an error on the shared industry database, by stating they had paid out a BBL to a customer who had gone on to apply with Barclays for a BBL, and Barclays would not give the applicant a Bounce Back Loan until that error was corrected.

Ultimately in that case Barclays got tired of the shenanigans of Starling Bank and flatly refused to give the applicant a BBL. Starling Bank then had to save face for their grotesque error and let the applicant apply for one with them, ultimately approving them.
Other similar problems which have been ongoing are when people added their name onto the Tide waiting list, and even though Tide alerted the British Business Bank any entries they made onto that shared industry  database where not progressing way back in July people have still been declined the right to apply and get a Bounce Back Loan elsewhere, having been listed by Tide on that database, and other lenders then erroneously seeing that entry as an approved, in progress or paid out BBL: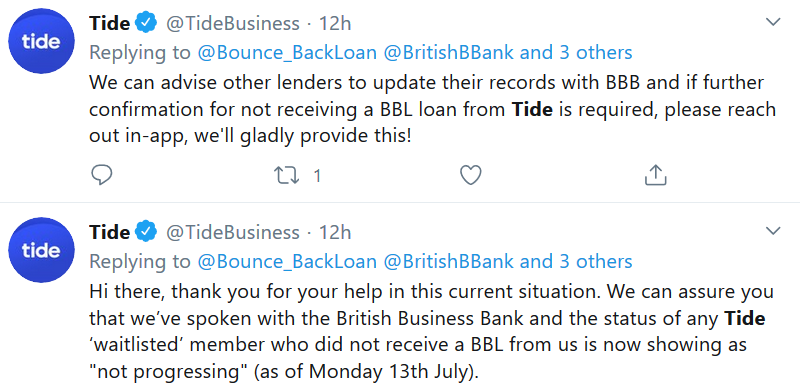 The solution to that ongoing problem would be to make applicants aware of the shared industry database and put into place a fast track system to get such errors corrected.
Turnover disputes
One final complaint that is now becoming a regular one is that those applying for a Bounce Back Loan top up are being told the amount they can claim is lower than they feel they are entitled to.
They are being told the amount they originally entered as their turnover is lower than the figure they are adamant they entered. Whilst that is always going to be open to debate, I am aware of one lender that has approved someone's top-up but then went on to lock that customers account, stating their system messed up and offered them more than they were entitled to claim via a top-up.
Proving, if true of course, that there are now documented cases of such errors. BBL Top-Up applicants should therefore be given a right to appeal rather than a blunt copy and paste rejection of their top-up, for an error could have occurred.
Many people are also asking why they cannot amend their "estimated turnover" if it is now a higher or even lower "actual" turnover amount. However, the rules state that their original turnover must be the one used when applying for any top-up. One must wonder if that is also something you could investigate and rule on as per your "we protect consumers from unfair trading practices" remit too.

As surely, anyone with common sense does know an estimate can change over time.