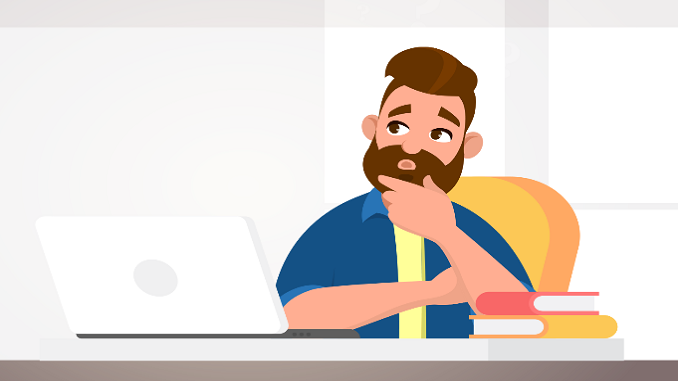 Oh, dear reader, I have seen it all in the last twenty-four hours with these bloody Bounce Back Loans and BBL tops ups. So where shall I begin?
GC Business Finance
Well, let us start with the newest accredited lender that being GC Business Finance. Being new they are of course making all the usual mistakes new lenders make and I have seen plenty of people complaining about their applications with that lender.
Much like a couple of other banks they have now started a waiting list, and oh my dizzy aunt, we know the problems they cause…..
They have also been declining Bounce Back Loans and telling those who applied they are not getting one off them as the bank the applicant banks with offers BBL's.
You would have thought that a lender such as GC Business Finance would have been told by the British Business Bank about the problems people face with getting a BBL, even from a bank they do bank with if they are offering them.
Seems not to be the case, so if any staff members are reading this from that lender, by aware Monzo do not offer BBL's for a start, and secondly, even though people may bank with the likes of TSB or Co-Operative Bank for example they may have opened those accounts AFTER the cut-off date those lenders impose on their new customers, meaning that even though those banks do offer BBLs many people cannot get one even if they have an account with them.


Also, keep in mind some people may have gone on a waiting list with Starling Bank and have not been invited off their "interest list" or bank with the likes of Tide who ran out of money to lend and then moved over to let's say Barclays and that bank does have a bad reputation for declining people if they are on a waiting list with another bank.
For in the warped minds of some Barclays employees they seem to think you can only apply for a BBL once and if declined or in the case of Tide that lender has no money to lend out or even being with Starling on their interest list you cannot apply with Barclays as per the non-existent one BBL application rule they dreamed up.
So, for those who are hard of thinking at GC Business Finance, even though someone may have an account with an accredited lender there are lots of different reasons and grossly unfair ones why they cannot get a BBL with that lender, so booting them out of the door so to speak and turning them down for a BBL based on that is grotesque and you need to be ashamed for doing so, many of those people have suffered enough, just saying.
Starling Bank Finally Processing Top-Ups
Yesterday I had a huge number of Starling Bank customers contacting me on Twitter filled will anxiety and worry that their top up application had not been look at.
A very long story short, I made a point of badgering Anne (CEO) and her team to pull their finger out, and some people even put up screenshots for me to retweet in the hope Anne would take pity on them or as in the following case, process their top up for ordering 30 copies of her book: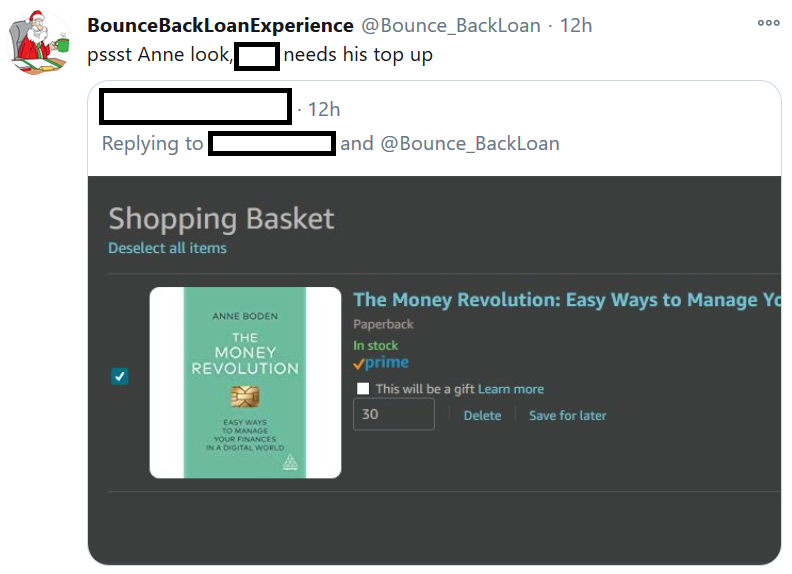 But sadly it appeared that Anne was rather giddy with excitement about being chosen as a "toping bank" by Which magazine, and making rushed Tweets, such as this corker: (maybe she didnt want to mention the word topping as so many of her customers were crying out for her to start topping up their Bounce Back Loans)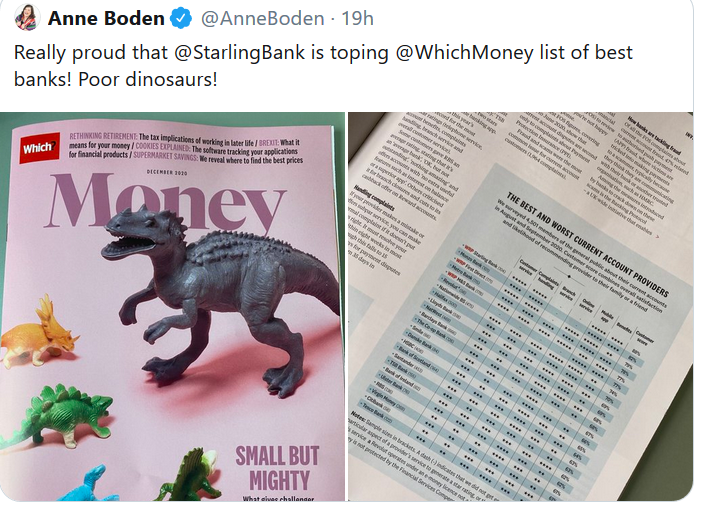 Someone did point out her typo, and wondered if it was a typo or whether she was pissed as a newt, well not in such a direct way, but she could have been with all the top-up delays she put her customers through, who knows?

Eventually she got around to pressing the button and plenty of people did finally get sent out their documents to sign for their top-ups.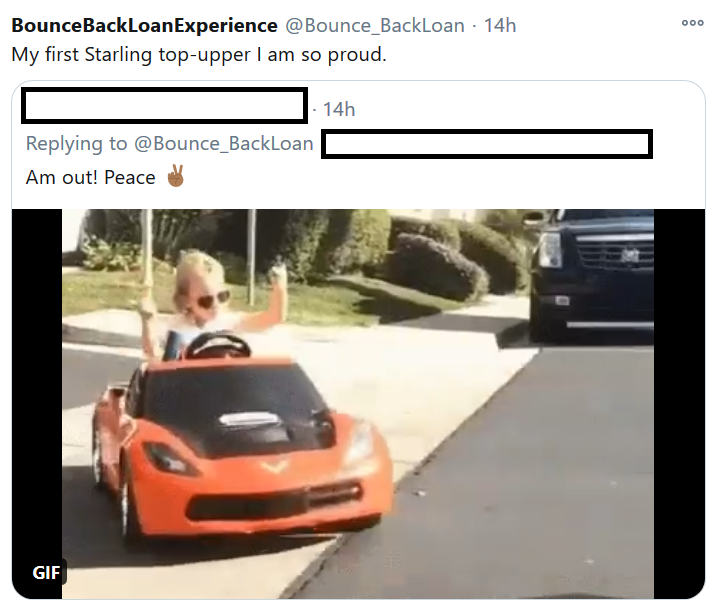 HSBC Feeder Account Top-Ups
Looks like sadly you are going to be in for a huge delay if you want a top up for your Bounce Back Loan with HSBC if you used a feeder account as still no one has received the Feeder Account re-activation paperwork yet.
Those after a top up via an HSBC Business Account be aware they have processed some of them however they now appear to be getting backlogged, so you are going to be in for a wait sadly.
Metro Bank
The team at Metro Bank are in no rush whatsoever to offer top-ups so if you are waiting you sadly are still nowhere closer to being able to apply for one.
Lloyds Bank
Lloyds Bank appear to be informing people they have either a Cifas marker or haven't been using their accounts in the way they like and as such have been emailing people turning them down for a Bounce Back Loan top-up.
One of my followers posted up the email they got from Lloyds and double checked with Cifas and appear to have been given the greenlight and do not have any markers, so not sure what they are playing at.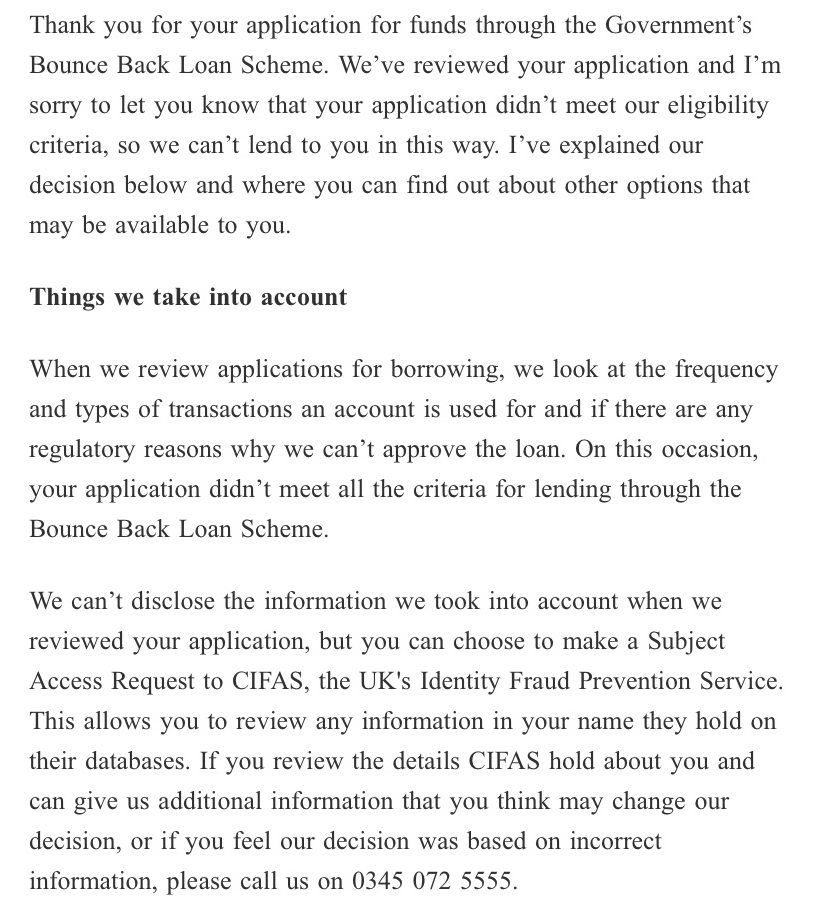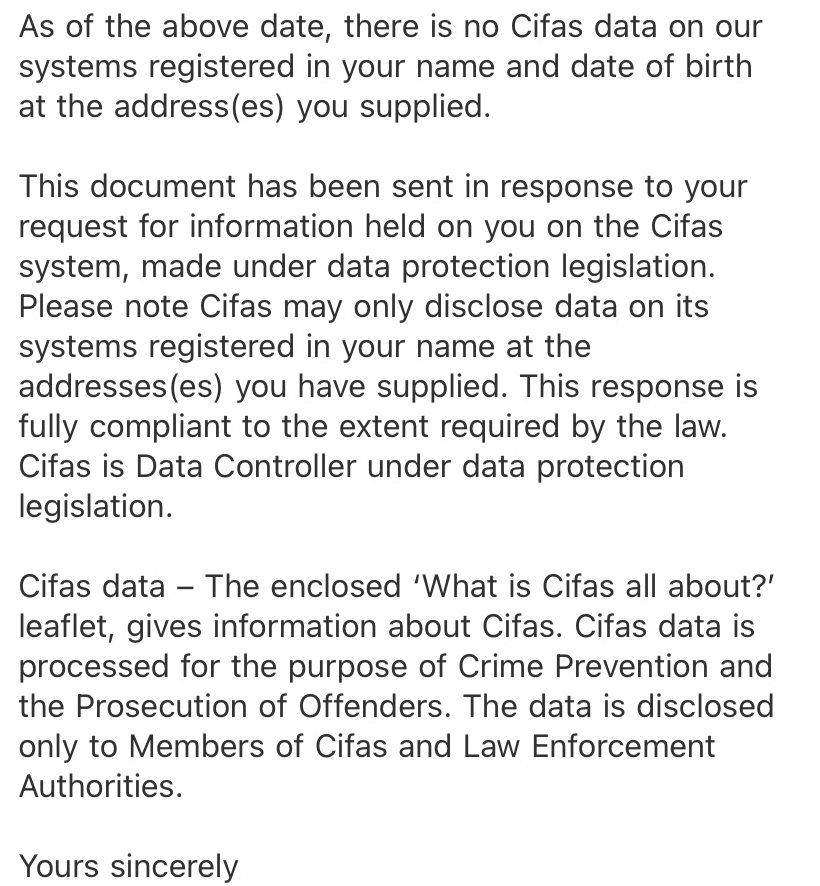 NatWest – Barclays
NatWest and Barclays are getting a tad overwhelmed it seems and have been telling people it could be up to a week or so before they get around to processing their top-up requests, so hang in there if you are with any one of those lenders.
However, some people have finally been sorted out quicker than they were told, even after being informed of a week long delay.