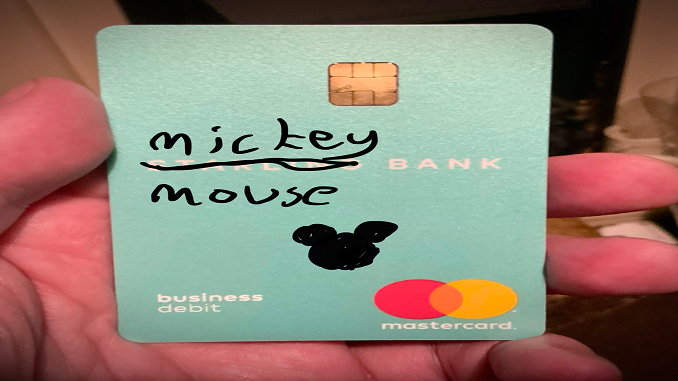 I am still trying to get hold of Rishi Sunak, as per the mission I set myself yesterday to have a chat with him regarding the direction that the Bounce Back Loan scheme should now be taking to ensure no one misses out on getting a BBL. I am hopeful I will get a reply from one of his team to set that up, or even better a reply from the man himself in the days ahead.
Starling Declines
Also, it appears that Starling have sadly slipped back into (or possibly never changed) their liking for declining people for a Bounce Back Loan. Sad to report that yesterday I had a stream of people contact me who had been on the Starling Bank waiting list who had just been invited to apply for a BBL who then went on to be declined for a loan.
Keep in mind therefore that as they say on their website and in the email updates they send out to those on their waiting list, they cannot and do not guarantee to give anyone on their waiting list a BBL, so do not pin your hopes on getting one from that bank, even if you are a long-time customer.
Barclays App
Barclays are still accepting new customers, the quickest way to get an account with them appears to be for you to first download their app, then apply for a personal account via that app, then go on to apply, via telephone for a business account, ideally offering to switch a business account you have with another bank to them, rather than apply for a new business account with them.
Be aware that phone calls to Barclays (which then get answered) are taking a good few hours, so set aside plenty of time for that phone call if you take the bank account switching route, which entails a phone call so they can talk you through that option and send over the paperwork and connect you with your local branch staff.
HSBC Kinetic
The HSBC Kinetic App available to apple device users is another rapid way of opening a business account with that bank, rather than applying online for either a feeder account or a business account.
There is of course the chance of an instant decline when applying via their Kinetic App, however you will soon know your fate.
One follower was approved for an account and then went on to apply for a BBL (took a week and a half) with HSBC and got paid within an hour yesterday (from returning/signing the final EchoSign), which is impressive when you think most people have to wait months to open an account, apply for a BBL then get paid it out when applying online. So if you haven't yet applied for an account and want a much faster rote, then their Kinetic App is worth a try.
Keep in mind though that HSBC can be slow at times processing BBL's so no matter how you got an account with them you could be waiting weeks to get a BBL.
Clydesdale Bank and Yorkshire Bank
Both Clydesdale and Yorkshire Bank continue to accept new customers for a business account and once opened you can then go on to apply for a BBL with them, it appears that despite the BBB website listing the former on their website as being a bank that "operates in Northern Ireland" that is not the case, I am investigating this.
Metro Bank
Metro Bank continue to accept new applications for a business account, but no guarantees you will get one, as many people have been declined when making a trek to visit a branch to set one up.
As it stands, apart from those banks listed above, all other lenders are only offering BBL's to their current customers.
BBL Approved Figures
One final thing, the number of BBL's approved each week was proudly released by the Treasury each week, and my Twitter followers will know I always published those figures as soon as they were released.
Sadly for reasons unknown, those figures are going to be released monthly from now on, for reference the number of BBL's approved each week has been falling in number weekly, last week being just 17,558 BBL's approved, which when divided by the 26 lenders with money to lend (not including Tide of course that have no money to lend out) that means 4 people per hour per lender on average are approved.
Perhaps that shockingly low figure is the reason why the figures are now going to be published monthly?
Tides Official Response to Their Problematic Waiting List
I have been banging on about the Tide waiting list for quite some time. In a nutshell if you are on that waiting list, and keep in mind they have no money to lend out, then you are likely to find that when you apply with another lender for a BBL you may initially get approved, but during the final checks, those being interbank checks some lender will then decline you for being on that waiting list.
The reason for approval but then a decline is that other lender sees your name upon that waiting list as a BBL in progress, not simply being on a waiting list. Below is a tweet I sent to Tide and their official response about this situation: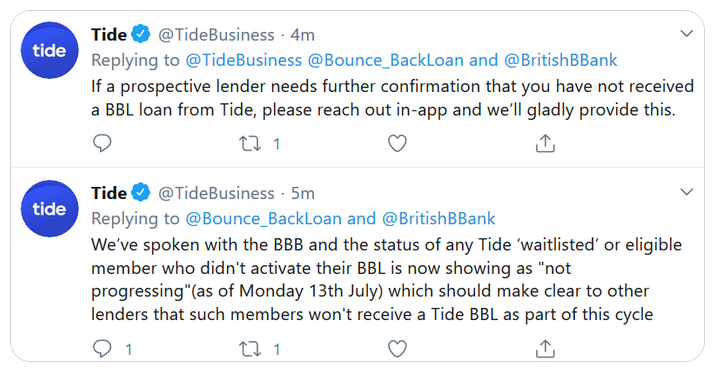 Be aware though that despite what they are saying, people after July the 13th applying with other banks have still been declined for being on that waiting list.
If you find for example you get approved by but then are declined by Clydesdale Bank Yorkshire Bank or Metro Bank you will need to ask Tide for proof you have not got a BBL from them and supply that proof the respective bank to get the decline overturned.
This is madness but sadly it is something you need to do, as for who is to blame, well the British Business Bank do have Tide listed as an accredited lender even though they have no money to lend out, Tide have, or state they have told the British Business Bank about the problem with their waiting list and other lenders, but other lenders appear not to have been told hence them still declining people solely for people being on the Tide waiting list.
Been Declined a Bank Account or BBL?
Please read below for some reasons as to why you may be declined a bank account and/or a Bounce Back Loan with some lenders.
Many people who are declined tend to fear it is their credit rating/score that is the cause of a decline, and whilst that can and may play a part obviously, there can be a whole host of other reasons, some of which can be sorted out, and when the latter is the case you may find it much easier to open a bank account and/or obtain a Bounce Back Loan.
Some Lenders can and will and are in within their rights to decline anyone for an account and/or BBL based on their own criteria in additional to that laid down by the British Business Bank.
With that in mind, if you have checked all of the following and/or have been declined by one lender then you are also within your rights, and encouraged to apply to any other lender that is part of the Bounce Back Loan scheme.
Potential reasons not relating to credit score/rating
SIC Code – Not matching on companies house vs what you put in your application.
SIC Code – considered a reputational risk – you would be surprised how many business types fall into this category.
Directors/owners name(s) not matching companies house and/or
Voters roll e.g. Chris vs Christopher, as your middle name.
Business address not matching, has your accountant used their address to register? What is your correspondence address at companies house?
Business name not matching e.g. Ltd v limited
Recent changes of directorship and/or ownership – red flag at the moment due to BBL fraud
Markers registered against the company or director
Previous financial relationship with the bank or one its subsidiaries that did not end well
Compensation
Many Bounce Back Loan applicants that have been through hell and still are experiencing problems have been offered compensation from a bank ranging from £50 up to £2500 for the more complicated problems.
It is your choice as to whether you accept any offer of compensation and the amount you accept too.